Paul Petersen: Donna Reed Show star finds role of a lifetime in fighting for children
Paul Petersen, Donna Reed, Carl Betz and Patty Petersen from The Donna Reed Show.
Paul Petersen, former child star, pop singer, novelist and spokesman, has worn many hats in a career which started with a gig on the Mickey Mouse Club. And while Paul will forever be remembered for the eight years he portrayed Jeff Stone on The Donna Reed Show, it is his advocacy for children and former child stars that electrifies his life today. Paul will be in Baltimore this week to meet and greet fans at the Mid-Atlantic Nostalgia Convention. We spoke with Paul last Saturday, as he was enjoying some family time at his home in Los Angeles.
BPE: Thanks for taking some time to speak with us today. I can hear a lot of noise in the background. I understand you're a huge football fan?
Paul: Oh, yes, we have all sorts of things going on here. Football, and of course, this is the last big race of the season for NASCAR, so we're enjoying that as well. What shall we talk about?
BPE: Well, I guess to start, you're going to be in town this week for the Mid-Atlantic Nostalgia Convention. Have you ever been to Baltimore?
Paul: Yes, I have. I usually fly into BWI when I'm in the area, and have friends in Maryland that I will stay with. But this is the first nostalgia convention there I've ever attended.
BPE: Many of your fans still remember you from playing Jeff Stone on The Donna Reed Show, but you got started in the business at, what, 10?
Paul: I was actually nine when I was cast as one of the original Mouseketeers.
BPE: And you continued doing that until 1957 or 58?
Paul: No, no, no. I have the distinction of being the first kid fired!
BPE: Oh, really? Tell us about that!
Paul: Well, it was my first job, and I didn't know that kid actors are not supposed to be children. They wanted talented little robots, and I was a kid who liked to throw a baseball or climb up a ladder, and if someone ticked me off, I got angry at them. So I lasted long enough to open Disneyland at The Mickey Mouse Club Theatre, and then I was fired for conduct unbecoming a mouse.
BPE: Holy cow! That must be a real badge of honor.
Paul: Actually, it is. There's always something about being number one.
BPE: I don't know how much you interacted with Annette Funicello after your time on the show, but is that experience something you talked about?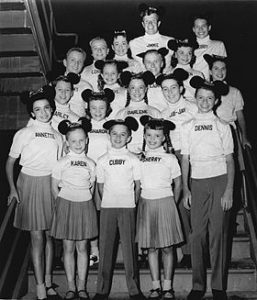 Paul: Oh, sure. Annette was Shelley Fabares' best friend. I stayed friends with all the other Mouseketeers. It's a very small group, when you look at the young performers – at least the good ones – and they all know each other's parents because their careers are quite public. You know, we had some stand-outs besides Annette. Sharon Baird and Bobby Burgess, Doreen Tracey, the kid from The Rifleman – Johnny Crawford. Don Grady, of course his name was Don Agrati back then. We had wonderfully talented people.
BPE: And you managed to get fired!
Paul: How about that? You know, in quiet moments when I talk with my friends, I was never really cut out to be part of a chorus. I had other strengths, and when you look at my adult life and the legislation that we've drafted for the betterment of other kid actors, I think that's really where my skills were. I'm not trying to detract from my acting work, and things like doing the movie Houseboat with Cary Grant and Sophia Loren. It was a good movie and I'm pretty good in it, not to mention we had seven wonderful months while making that film in Washington, D.C.
BPE: Speaking of Shelley, did she get much fan mail?
Paul: Oh, my God, yes. Next to Annette, she was America's Sweetheart. Especially once "Johnny Angel" became such a monster hit. And remember, Shelley starred in three Elvis Presley movies, so she had a different career track entirely. I believe next to Betty White, Shelley has been on more TV shows over more years than anybody. When you count One Day at a Time, The Brian Keith Show, Coach and Mary Hartman, Mary Hartman, you've got a hell of a career!
BPE: She left Donna Reed to make the movies, but that made room for your younger sister, Patty?
Paul: Well, that's true in a sense, but Shelley never really left the show. She went off to college and would return episodically for the remainder of the show. But you have to understand that her biggest supporter was Donna Reed. There was nothing difficult about this. There were no screaming matches or contracts being torn up. We were all rooting for each other.
BPE: So, you went from Cary Grant and Sophia Loren to working with Donna Reed?
Paul: Yes, Donna and Carl Betz. People should not forget that Carl Betz won an Emmy, after The Donna Reed Show, for his work on Judd For The Defense.
BPE: Wasn't Carl in something of a unique position on The Donna Reed Show, in that it was the first family show on television built around the mother's character?
Paul: Right, and it took an extraordinary actor to accept that supporting role and to make it work. Donna was very appreciative of Carl's character and his attitude. The fact of the matter was, getting a steady job in show business is every actor's dream. It's nice to go to work every day and have people appreciate your work.
BPE: How was it working with Donna? From everything I've read about her, what you saw on the screen was the same strong, yet gracious woman you saw off screen.
Paul: That's absolutely true. Here was a woman who, in one part, was the oldest of five children, raised on a hard scrabble farm in Iowa during the Depression. But she was also an MGM trained star. All of that was not lost to me, because my ancestors came from Iowa. Donna was a big deal in our family. Once we hammered out our working relationship, I called her Mom because that's who she was. But I never forgot that it was called The Donna Reed Show. She had an Academy Award sitting at home on her mantle, and she was the boss.
BPE: Her then-husband was the producer?
Paul: Yes, he was. Tony Owen, and he was a wonderful man. We had learned at Columbia Pictures a lot of lessons on how NOT to do a family show. You couldn't have people who were alcoholics or had other limitations. You had to put together a real family and work hard at it.
One of the truest examples of how well we worked together is that, to this day, I am very close with Donna's real children. Shelley and I strived to be considered amongst the six, rather than just the two kids from the TV show.
BPE: I've heard Johnny Crawford talk about that aspect of being a child actor in those days – how he even went on vacation with Dick Powell and his family. It was just a different time.
Paul: Absolutely. This isn't just about professionalism. It is recognizing there are roles to play within your job. And when you're a kid, and growing and developing, you need support. Let me tell you, when you're young, you get a lot of grief away from the studio. There are a lot of fights, a lot of black eyes. A lot of "upsets" in your family.
BPE: Because you're on television?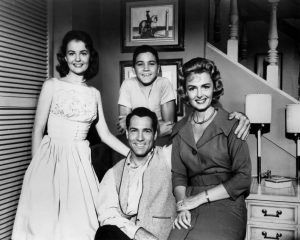 Paul: Yes, and it's so easy to understand why. My father had it beautifully. He said, "Paul, I loved to introduce you as my son, but I hated it when I was introduced as your father." It alters the dynamic of the family. The people who understand that the most keenly are your coworkers. Donna and Carl were deeply sensitive to what was going on. They were experienced in the industry, and they knew the downside of not paying attention.
BPE: When you talk about the family dynamic as portrayed on television in those days, it's interesting to see how that has changed so dramatically over the last few decades.
Paul: Yes, and to our cultures detriment. It's a tragedy. People cannot pretend that what they see on their TV or movie screens has no impact. It does. The absence of good manners, morality and ethics, are right there for everybody to see. From my perspective, as an advocate for children in the industry, the bars for behavior have been steadily pushed down. The sexualization of children is an abomination, and it has had deadly consequences in our culture.
BPE: As you say that, I'm thinking about Miley Cyrus…
Paul: You can backtrack to Lindsay Lohan, but go even further back to Judy Garland and Shirley Temple. Think, if you will for just a minute, about those Shirley Temple movies. At the end of every movie, this little girl was sitting on a man's lap – making all of his troubles go away. Richard Schickel, writing for the New York Times, identified that. But the use of children in films like that has always been edgy.
BPE: Before Shirley Temple, there were The Little Rascals, of course, but that was more of a soapbox for kids.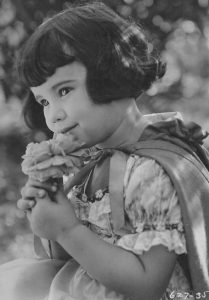 Paul: Yes, and you had Hal Roach running the show. As a result of our group, A Minor Consideration, I was friends with all of the surviving Rascals, even going back to the silent era, with Diana Serra Cary, who was Baby Peggy. The very same negative impacts of juvenile celebrity were present in her life in the 1920s! She wrote about that in some wonderful, graceful books – Hollywood's Children, among them. She also wrote a pretty damned good biography of her contemporary, Jackie Coogan.
BPE: Of Coogan's Law fame?
Paul: Right.
BPE: I guess Jackie is best remembered today as Uncle Fester on The Addams Family.
Paul: That's right, but it was a long forty years in between. He was always a fine actor. He just didn't grow up to be Cary Grant. I, on the other hand, grew up in an era where what I thought passed for success for a man was radically changed as the sixties rolled around. Today, we have a new version of what passes for a competent and attractive leading man.
BPE: This is going somewhat afield of my prepared questions, but I'm thinking now of actors like you and Shelley Fabares, Angela Cartwright, Tony Dow and Don Grady, who were teens in the mid-sixties portraying members of the typical family of that era. That all got turned on its head in the late '60s. Can you tell us what it was like to live through those times, given the very identifiable Middle American characters you had portrayed on television?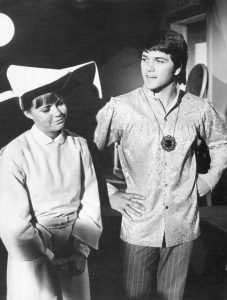 Paul: Well, it was a cultural shock to say the least. Values that I thought were important and held dear were suddenly being sneered at. It wasn't just burning flags. People had actually turned their backs on the American family; on the role of women and what it means to be a man. For a long time, it was like living in the wilderness. Thank God for residuals, and for networks like Nick at Night, TV Land and Me-TV, because people missed those shows. That's why they remain a popular staple to this very day.
But more to the question, I can tell you, as a person caught up in this mix, it was distinctly unpleasant.
BPE: When you were speaking a few moments ago about Shelley's recording of "Johnny Angel," it made me think about your biggest hit record. Groucho Marx once noted that there have been numerous songs written about mothers, but only two songs about fathers: "Pop Goes The Weasel" and "Oh, What a Crum is My Old Man."
Paul: (laughing)
BPE: But you helped to change that with your recording of the song, "My Dad." Would you tell us how that number came to be?
Paul: Sure. You remember Barry Mann and Cynthia Weil – they did songs like "On Broadway" and "You've Lost That Lovin' Feeling." Barry wrote "My Dad" after the death of his own father. It became a much-loved episode on The Donna Reed Show, with me singing the song to Carl Betz. It's become a classic Father's Day record. There's Eddie Fisher's "Oh, My Papa" and Mike & The Mechanics' "The Living Years," but the most popular one by far is "My Dad."
BPE: Post-Donna Reed, you had a number of guest starring roles?
Paul: Oh, yeah, I did shows like Matt Houston, Custer, Mannix, The Virginian. I did a lot of guest starring roles.
BPE: You also did an episode of F-Troop. I see that Larry Storch will be joining you at the convention. What was that episode about?
Paul: I played Johnny Eagle Eye (haha). It was just a madcap, funny show. I did several shows like that, The Flying Nun and Love, American Style. Just some odd things.
BPE: We can't talk about your experience as a child actor and your friendships with so many other child actors without getting a bit into your organization, A Minor Consideration. Please tell us how this came to be.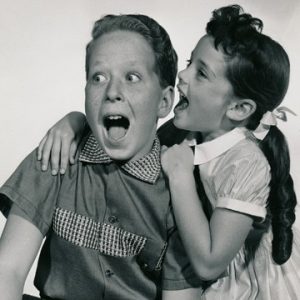 Paul: Well, once I had finally grown up and become a grounded human being, I began to think about my fellow kid-actor friends. When I'd run into people, I noticed some similarities in our life stories. The issues we had to deal with, starting with stage parents; of dwindling fame. Sometimes alcoholism and drug abuse. After the death of three former kid stars, I knew it was time to help. I started, on the morning that I learned of Rusty Hamer's suicide, to call the kids who I knew were in trouble. There were quite a few of them – about half a dozen. The most famous of these was Jay North, from Dennis the Menace. I told Jay that Rusty had killed himself, and if he didn't get help, he would be next. I asked him if I could get him that help, and for the first time in years, he agreed.
Before you knew it, we had a working foundation which advocated for changes in the child labor laws, and we were welcomed in the halls of power.
BPE: Your work, though, goes far beyond the studios in Hollywood?
Paul: It does. I had no idea that five and a half million children go to work every day in America. Nor did I know that many children who work are exempt – and have been exempt – from child labor laws, since the passage of the Fair Labor Standards Act back in 1938. It is shameful, and the kids who suffer the most are the ones who work in agriculture. Back in the day, they all worked for mom and dad on the family farm, but you can't find the family farm these days. And yet, we still have 800,000 children working in agriculture. They do not have limited hours, they do not have automatic education. Kids who live in Texas, when they move up to Oklahoma to pick crops, don't take their education tools with them.
BPE: Education on the lots in Hollywood isn't an issue, but there are other problems?
Paul: In terms of the entertainment business, there are a lot of realities that frankly people do not want to deal with. The fact that the money kids earned belongs to their parents. We changed that with legislation in California. The fact that ten-week-premature infants were being hired by Hollywood. We stopped that practice.
BPE: Could you elaborate on that?
Paul: Well, the law we got passed was called the Preemie Law. Let me explain:
In California, which has pretty extensive child labor laws for the entertainment business, a baby can work after they are fifteen days old. But that wasn't good enough for Hollywood. They like to hire twins and triplets and quadruplets. So they would hire premature babies, wait fifteen days, and bring a three pound newborn onto a filthy set. Two or three of them at a time with shows like ER and Chicago Hope. In the span of ninety days, we wrote the law with the help of Studio First Aide and Studio Teachers. It passed 74-0, and the governor promptly signed it. The industry was denying their practice of hiring premature babies, and we proved that they did.
BPE: So, these young mothers were being contracted when the children were born at 7-8 months?
Paul: If you give birth to a premature child anywhere in the Los Angeles area, you are given the card of one of these baby wranglers before you even leave the hospital. The younger the child, the better. Eight -10 weeks premature, because they really look like premature babies. They were taking these children onto sets, jabbing them with pins to get a reaction and smearing them with strawberry jam to simulate a new birth. It was an outrageous thing to do – until we caught them.
Look, Hollywood deals in fiction. They've let generations think that their treatment of Shirley Temple, Mickey Rooney, Judy Garland, Baby Peggy and Roddy McDowell was just wonderful. And yet, if you'd ask those people, it wasn't wonderful, and that's the great lie. That's why our merry band of former kid stars is so effective. We've been there. I'm not trying to get my childhood back. This has nothing to do with my past. This has to do with the welfare of today's working children. And tomorrow's working children.
BPE: I don't want to close on a down note, but can we talk for a moment about Erin Moran?
Paul: Erin Moran was kinda sad in that we had hoped she would be here (in California) so that we could take better care of her. But in her mind, she was taking care of her mother-in-law. Her cancer was diagnosed in December, and by April she was dead. Where she died was her choice, but she didn't die broke. It's true, she was in a trailer park, but we were able to get residuals for kids like her who worked on a series after 1974. Kids like me and Johnny Crawford had worked on shows before that 1974 cut-off, so there is no obligation for anyone to pay me for the reruns of The Donna Reed Show.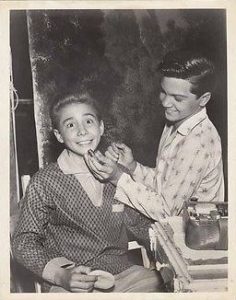 I signed the contract with my eyes wide open, and there was a lot of legal language. But that's the Hollywood way.
This is why what we do, at least in my mind, has some value. Very few people were able to go after Rhino Records when they started putting out all of those collections and did not pay the artists. In their business model, they said, "Well, we set the money aside and when the artist came to us, we paid them what we owed them." I said, "Wait a second. How come you couldn't find them before you put the music out?" It wasn't like Shelley Fabares and James Darren and Paul Petersen were invisible. Three phone calls, and you could have done it.
But you see, that's what we've allowed to happen in our culture.
We had one here where the State of California claimed they couldn't find Bob Hope to give him the four and a half million dollars of his money they were holding. They couldn't find Bob Hope! It's one thing when you're doing this to an adult who can look after himself, but when you're doing this to a three or four-year-old child? When you're a treasury agent and you're going after a child because his mom and dad or his manager forgot to file a form on their income tax?
But that's what really happens. And that's the kind of stuff our organization is fighting.

Anthony C. Hayes is an actor, author, raconteur, rapscallion and bon vivant. A one-time newsboy for the Evening Sun and professional presence at the Washington Herald, Tony's poetry, photography, humor, and prose have also been featured in Smile, Hon, You're in Baltimore!, Destination Maryland, Magic Octopus Magazine, Los Angeles Post-Examiner, Voice of Baltimore, SmartCEO, Alvarez Fiction, and Tales of Blood and Roses. If you notice that his work has been purloined, please let him know. As the Good Book says, "Thou shalt not steal."