Nostalgia convention draws collectors, kids of all ages
Actress Terry Moore chats with a fan at the 2015 Mid-Atlantic Nostalgia Convention. (Cheryl Fair)
Parking was tight but manageable this past weekend at the Hunt Valley Wyndham Hotel, as record crowds descended on the 10th annual Mid-Atlantic Nostalgia Convention. The convention, which is billed as a combination film festival, and Hollywood memorabilia charity auction, presented local fans with a rare opportunity to recapture a slice of their childhood while also meeting a number of stars from yesteryear. The convention also featured slide show seminars delivered by historians, authors, museum curators and film preservationists.
On hand for the event were luminaries like Lee Majors, Lindsay Wagner and Richard Anderson from the Bionic Man franchise; Lassie actor John Provost and his wife, Hollywood historian Laurie Jacobson; Tina Cole, Stanley Livingston and Barry Livingston from My Three Sons; burlesque icon Tempest Storm; James Bond girls Martine Beswick and Caroline Munro; and Lost in Space and Make Room For Daddy actress Angela Cartwright. Also spotted were Peyton Place actress Terry Moore; Bob Crane biographer Carol Ford; area actor and producer Mark Redfield, and "B" movie legend Conrad Brooks.
Manning a table in the exhibitor hall was nostalgia collector Marty Kircher.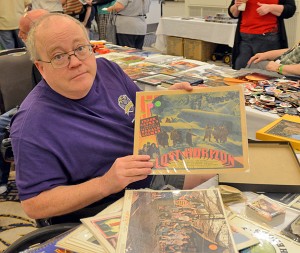 "I'm not really a vendor," admitted Kircher. "This is just stuff from my collection that I'd like to sell."
Kircher had brought a pile of buttons he was ready to part with, along with some boxes of miscellaneous movie memorabilia. A stack of lobby cards on Kircher's table caught Bob Osborne's eye.
"I'm not an autograph hound," said Osborne, "but I'm here looking for sci-fi movie lobby cards." Gently fingering Kircher's cards, Osborne noted, "I collect a lot of different things, but you don't see movie paper like this at any other show."
Kircher explained, "All of these cards came from the old Apollo Theatre on Harford Road. I was able to retrieve them when the theatre shut down in 1982."
Across the aisle from Kircher was Angela Cartwright – posing for a picture with one of her many fans. Sitting at the table right next to America's space age sweetheart was the ever alluring Tempest Storm.
"I just got back from England where I did a show," said Storm. "It was actually fabulous. I've been to London years ago but hadn't been back in quite a long time. I've got a new documentary about my life which will premier in the early spring of next year. We're already getting interest in the film from all over the world."
Taking in the sunny sight of the two Bond beauties was Richmond, Virginia resident Ernie Ford. During a brief but engaging chat with Munro, Ford said he was a serious collector of movie memorabilia. Ford then produced a pocket sized photo album with pictures of some of his impressive collection.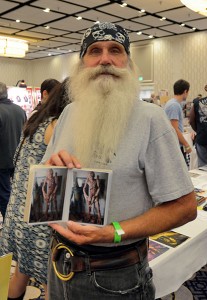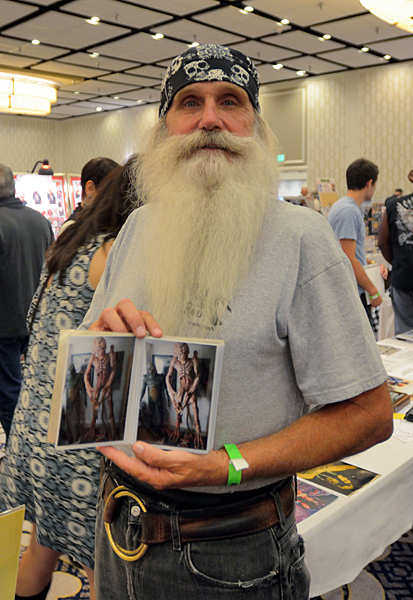 Leafing through the album, Ford said, "I've been a collector since the early seventies. These are all originals." Then, pointing to a picture of two masks, he said, "That's Boris Karloff, and that's Glenn Strange. Glenn played Frankenstein three times: in The House of Frankenstein, The House of Dracula, and in Abbott and Costello Meets Frankenstein. He also played the bartender in Gunsmoke." Beside the Frankenstein masks, Ford had pictures of full length costumes from Alien and Creature from the Black Lagoon, as well as masks from The Mole People and from James Cagney's portrayal of Lon Chaney in Man of A Thousand Faces.
Ford admitted he was unsure of just how many pieces he has in his collection but did say that he has an entire room full of them. "I love this stuff. This is my passion. I have over 6000 video tapes. I also collect 16mm films. I've got films like The Omega Man in Cinemascope and Dr. Syn: Alias The Scarecrow – all prints that I can show."
Artifacts which caught this reporter's eye included period TV-inspired board games like Twelve O'Clock High; Welcome Back Kotter action figures; a far-out photo of modly dressed Angela Cartwright as Penny Robinson, and an original Fireball XL5 lunch box.
Photographer Cheryl Fair and I were given a free demonstration of the T.A.R.D.I.S. photo booth by Steve Young of See To Net Productions. The blue-screen background in the booth allows participants a chance to picture themselves time-hopping in a manner wholly befitting Dr. Who.
In the lecture hall, Bob Crane biographer Carol Ford presented a slide show of the man most fondly remember today simply as Colonel Hogan. Working her way through a lifetime of Crane's professional and family pictures – many of which had never before been publicly displayed – Ms. Ford said, "Everyone I talked with while writing this biography told me the same thing: Bob Crane was a wonderful man. I don't gloss over the circumstances of his death, but no one should be remembered for only one part of their life."
Back in the vendor gallery, Bond girls Beswick and Monro were busy signing autographs.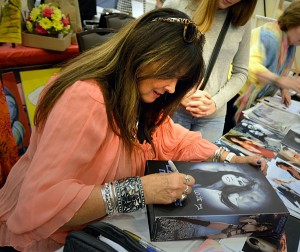 "I do several of these shows every year, particularly with my darling friend Caroline Munro," said Beswick. "We kind of have a band-signing family, and we love traveling together and having fun. It's been wonderful to meet so many fans. After this show I'm off to see family in Virgina, but we'll be together again later this fall to do an Audience With Bond cruise on the CMV Magellan."
Beswick also told the Baltimore Post-Examiner that she and Munro have just finished work on a radio-style dramatization of an original script by Baltimore's own Mark Redfield. The episode, called Sinbad and the Pirate Princess, is set to be released sometime later this year.
We turned from our interview with Beswick just in time to find a very excited Munro signing a pristine black box which contained a mint Caroline Munro action figure.
"I'm loving it!" exclaimed Munro. "It's my first time here. I'll tell you what, it's been a fantastic show. I didn't know what to expect, although everybody said it's just a charming gentle family show, which it is. It's also been very busy and buzzy and interesting. It's interesting to see how much here goes back a very long way to when these people were young.
"I've been lucky to have appeared in some lovely films. Very lucky; very blessed. I know I speak for Martine and myself when I say we've just had an amazing time. All of the people who have come to see us have been so wonderful. I'm so grateful for all of them, because without those people we wouldn't be here. That's for sure."
Be sure to check out our photo roundup of the convention by Cheryl Fair!

Anthony C. Hayes is an actor, author, raconteur, rapscallion and bon vivant. A one-time newsboy for the Evening Sun and professional presence at the Washington Herald, Tony's poetry, photography, humor, and prose have also been featured in Smile, Hon, You're in Baltimore!, Destination Maryland, Magic Octopus Magazine, Los Angeles Post-Examiner, Voice of Baltimore, SmartCEO, Alvarez Fiction, and Tales of Blood and Roses. If you notice that his work has been purloined, please let him know. As the Good Book says, "Thou shalt not steal."