Lombardo's After-Action Review confirms incompetence, negligence led to October 1 Las Vegas Massacre
LAS VEGAS — Hey Joe, I'm back again. Yes, it's me, Doug Poppa, your favorite investigative journalist from your favorite online news publication, the Baltimore Post-Examiner.
Hold on I forgot, you don't recognize the legitimacy of online news organizations because your Public Information Office (PIO) has told us so. Apparently, the First Amendment to the US Constitution hasn't made it to your office yet, but it may very well in the future.
But Joe, maybe it's just the Baltimore Post-Examiner that you don't recognize because you don't like what I write and maybe it's because you can't threaten us like I heard you did to a local reporter years ago because you didn't like what he wrote about you.
I hope that's not true Joe, but if it is, it would go in line to what Metro cops have told me about you. They said you are a vindictive, retaliatory SOB. A retired high-ranking member of the LVMPD from what I have been told, made a comment once, "they're so dirty I could write a book."
As I previously reported Joe, your PIO has commented to the Nevada Current about the unsolved 2016 Land/Kauffman murders, which by the way is also an online news publication, but the PIO has failed to comment on any of my media requests on the same topic and others.
Joe, guess what I found out the other day. You're a financial supporter of another Las Vegas online news publication, The Nevada Independent. Yes, Joe, you are. They said you gave them a $1,000.00 donation.
Maybe that's why John L. Smith applauded your After-Action Review.
I read Smith's July 14th opinion piece in the Independent giving you and your team of "professional's" credit for lessons learned from the Las Vegas Massacre.
Joe, I totally disagree with Smith. You don't deserve credit for crap, you failed miserably. Because of your incompetence and negligence, it took the death of 58 people and the wounding of almost 500 others for you and your team of professionals to finally agree that what you should have had in place prior to the October 1 Massacre, was not in place. Great lesson learned Joe. I am sure the families of the dead and the survivors will take great comfort in that.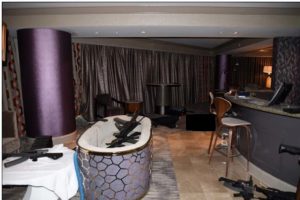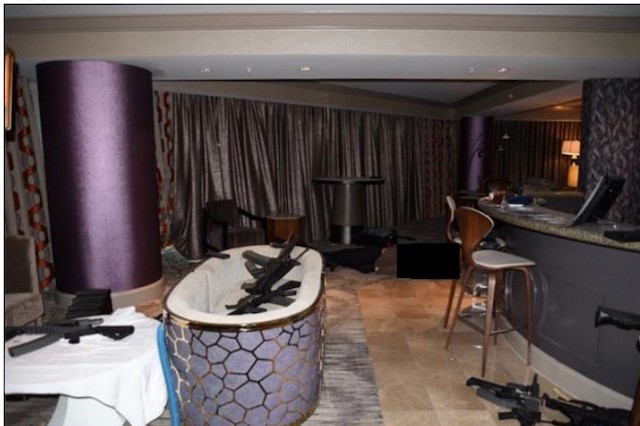 By the way Mr. Smith, you said in your article that Paddock fired for 13 minutes. That is not correct. Paddock opened fire at 10:05 p.m. and stopped firing just shy of 10:16 p.m. Do a little research next time. That is just under 11 minutes. Also, his name was Stephen, not Steven as you wrote, however, I will give you a pass on that because he was nothing but a piece of human garbage anyway.
Joe is the reason the Nevada Independent gives you great reviews because you and MGM Resorts International (MGMRI) give them money. I guess they can't criticize those who support them. Nothing like controlling the media.

I read the Independent's October 22, 2017 public relations article Joe where they said that two of your predecessors, former Sheriffs Bill Young and Doug Gillespie said you are a "tactical mastermind." That's really funny Joe. Were they sober when they made that remark? Your lack of leadership skills and your failure to protect the public on October 1 equates you to being a tactical imbecile, not a mastermind. At the end of that 2017 article Joe, the Independent said you gave them $500.00 and MGMRI gave them $350,000.00.
If you want to support the Baltimore Post-Examiner, you can Joe. We are reader-supported, but if you do, just remember we don't prescribe to payola.

Joe, you have bamboozled the public once again.
Regardless of what your after-action review says, the Massacre was foreseeable, predictable and entirely preventable. Both on your part and that of MGMRI. You are diverting attention away from your piss poor leadership and your failure to keep the public safe on October 1.
Joe, why do I keep saying this? Well, notwithstanding the attacks of 9/11, Mumbai, Boston, and all the other terrorist attacks and active shooter incidents that have occurred in this country prior to October 1, 2017, the following two little items of noteworthiness in my humble opinion lead me to the conclusion that October 1 was entirely foreseeable and predictable.
And in the words of Las Vegas Metro Police Captain Larry Burns (Ret.), who passed away last week, "if it's predictable, it's preventable."
As previously reported by the Baltimore Post-Examiner:
A former ranking member of the Las Vegas Metropolitan Police Department told the Baltimore Post-Examiner that MGM Resorts International (MGMRI) Executive Director of Corporate Security and Surveillance, Tom Lozich, knew prior to the October 1, 2017 massacre that a sniper attack from an elevated position in a hotel high-rise posed a threat.
Lozich is a retired deputy chief with the LVMPD. In 2008 he was hired by MGM Mirage Corporation, now known as MGMRI.  According to the police source Lozich, while employed at MGM was present during a training exercise when an FBI sniper shot a mannequin placed inside a window simulating a sniper at a hotel high-rise.
The Baltimore Post-Examiner first reported in our May 4, 2018 article, FBI's elite hostage rescue team and the Las Vegas Police trained for similar mass-shooting scenario years before, that a training exercise conducted by the FBI's elite Hostage Rescue Team (HRT) and attended by members of the LVMPD was eerily similar to the sniper attack from an elevated position that occurred on October 1, 2017.
As stated in that article, sometime after the Sahara Hotel in Las Vegas closed in May 2011 and prior to renovations to transform the property into the SLS Resort, the property was used for a training exercise conducted by the FBI and LVMPD personnel.
Since that story was published the Baltimore Post-Examiner was told by several other sources that in addition to LVMPD and FBI personnel, there were also some security professionals from the Las Vegas hotel industry also in attendance.
During the training exercise, a mannequin was placed inside one of the high-rise tower rooms near a window, to simulate an attacker.  The FBI sniper who was inside an FBI helicopter hovering over the Las Vegas Strip successfully made the shot and hit the mannequin.
This raises some serious questions as to why there weren't LVMPD snipers deployed during the Route 91 Music Festival.
Not only were the LVMPD and the FBI aware that a threat existed from an elevated sniper attack in a hotel high-rise, hence the training exercise, but there was also an MGM Resorts International security executive present.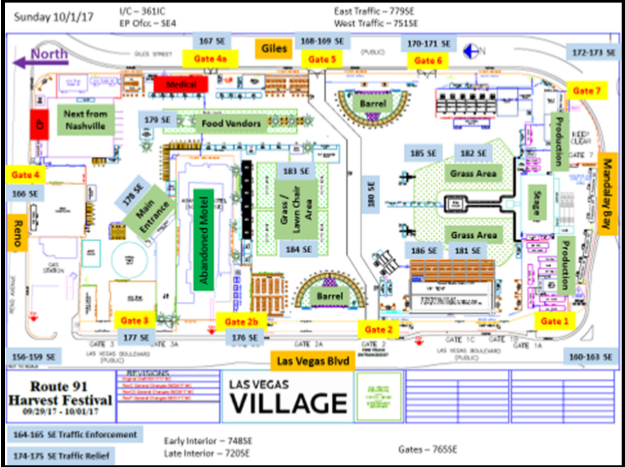 Why wasn't this threat a concern not only for the LVMPD but was this raised by Lozich during the planning stages of the inaugural Route 91 Music Festival in October of 2014.  The concert venue property is owned by MGMRI and the venue is surrounded by hotel high-rise towers.
One month after the first Route 91 Music Festival this incident occurred:
On November 29, 2014, a housekeeping attendant entered a room in one of the high-rise towers at the Mandalay Bay Hotel, an MGMRI owned property, and according to court documents noticed a rifle with a scope lying on the floor pointing towards the Las Vegas Strip.  Security was contacted and the LVMPD responded.  A convicted felon, Kye Aaron Dunbar, and his wife were occupying the room.  The police confiscated a homemade suppressor (commonly referred to as a silencer), three handguns, two .223 caliber semi-automatic rifles, and a 7.62 NATO caliber bolt-action rifle.
No doubt MGM Resorts International corporate security knew about this incident as well as the LVMPD and the FBI.
Less than three years later, Stephen Paddock brought twenty-three firearms and thousands of rounds of ammunition into his Mandalay Bay Hotel suite and initiated a sniper attack from his elevated position in one of the high-rise towers and fired down into the concert venue, resulting in the worst mass shooting in modern American history.
Joe, you were the sheriff on the night of October 1, 2017, and prior to being elected in 2014, you held the titles of the assistant sheriff and deputy chief. You had 15 years to prepare for October 1 and you failed miserably and as a result, people died.
Joe, it was bad enough that the LVMPD didn't deploy snipers at the inaugural Route 91 festival in October 2014 after attending that FBI sniper scenario training, but then right after that Joe, you had the incident in the Mandalay Bay Hotel with the felon's small arsenal in one of the high-rise tower rooms and even that didn't smack some sense into you because snipers were never deployed at the 2015, 2016 and 2017 Route 91 Harvest Music Festivals.
Do you know what that tells me, Joe? Neither you nor your team of professionals didn't think outside the box. Nobody planned for the what-if's and that led to the Las Vegas Massacre. Yes, Joe, I'm an ex-cop and a keyboard bandit as you say, telling you that.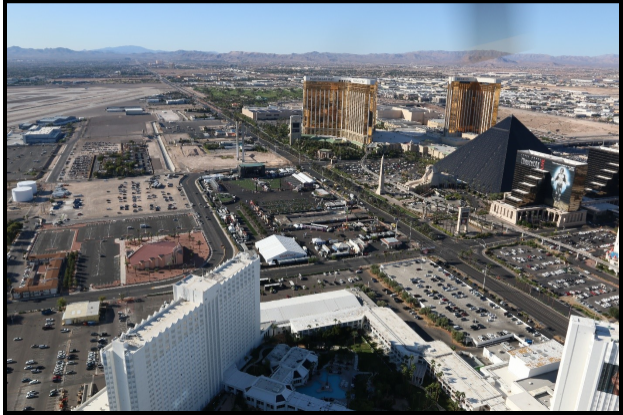 It is extremely sad that nobody at the Las Vegas Metropolitan Police Department and MGM Resorts International that was involved with the planning of any of the Route 91 Harvest Music Festivals thought outside the box, that just maybe the open-air concert venue could be vulnerable from a sniper attack from an elevated position.
I find it rather interesting Joe that none of that is mentioned in your after-action review. I wonder why that is. I know, forget about it, cover it up be non-transparent and move on. I know 58 people who never had a chance to move on with their life.
In a June 6, 2011, Security magazine article, Tom Lozich was quoted as saying, "My days are now spent thinking about prevention because just one event along the Strip could have catastrophic effects for the entire economic vitality of this state."
The Route 91 Harvest Music Festival had a catastrophic effect on human lives and that is something you cannot put a price on.
This is what former US Navy Seal Matt Bracken told the Baltimore Post-Examiner in May of 2018: "This was an entirely foreseeable and preventable massacre," Bracken said.  "The prior FBI/HRT exercise proves this scenario had been considered.  A police helicopter with a SWAT sniper should have been ready to go.  The airborne sniper could have stopped Paddock after the first couple minutes, saving dozens of lives and preventing the panic stampede.  For that matter, counter-snipers on the ground could have fired into the broken-out windows to force Paddock back into the room and stopped him from firing down on the concert."
Bracken was correct in his thinking because according to the after-action review, "A SWAT sniper team was deployed in an LVMPD helicopter, hoping to confront the shooter. It was difficult for the helicopter to get close enough to the Mandalay Bay window to observe the shooter." The only problem was that they did not deploy until after Paddock stopped firing. Had they been in place as Bracken suggested they should have been, the loss of life would have been greatly diminished.
The review also states, "SWAT officers who responded carried sniper rifles and protective equipment and were thus more protected and prepared than officers who were working the festival." Yes, they would have been prepared to take out Paddock had they been deployed.
Joe, on October 5, 2017, your friends over at KLAS-TV 8NewsNow said that almost six years prior, Metro quietly instituted the so-called MACTAC approach to active shooter scenarios. In dramatic training exercises, every officer on the force became part of the plan to aggressively identify and neutralize a wide variety of threats, from a lone wolf shooter in a shopping mall, or a sniper on the Stratosphere to a coordinated attack by a terrorist militia.
Plans were developed according to 8NewsNow, for how to deal with multiple threat scenarios at every hotel on the Las Vegas Strip and every other potential target in the valley. The plan was kicked into high gear, 8NewsNow reported, in part by the deadly assault in Mumbai, India but the department continued to adapt its plan.
Joe, we want to see all those plans, because you failed miserably on the night of October 1, 2017, and your after-action review confirms that, so what's going on here.
So, Joe, plans were developed for how to deal with multiple threat scenarios at every hotel on the Las Vegas Strip?
Joe, you don't have to show me all the plans, just show me the one for the Mandalay Bay Hotel, because I am perplexed why the full SWAT Team never made entry into Paddock's suite and why no police officers entered his room until one hour and five minutes after Paddock fired his last shots.
You told George Knapp from 8NewsNow in November 2017 that the police had to make entry because they didn't want Paddock reloading or opening fire again, yet nobody entered the room until 11:20 p.m. You lied to the public again Joe.
Considering the magnitude of what occurred that night, the officers who arrived on the 32nd floor whether they believed Paddock was barricaded or not, should have made entry into his room.   Just as you said Joe, you didn't want Paddock reloading or opening fire again.
Lombardo's After-Action Review confirms his incompetence and negligence
Excerpts from the report:
"Mass-Casualty Incident Plan: At the time of this incident, policy was not in place specifically for a mass-casualty incident response."
Analysis: That is so freaking unbelievable to me that it doesn't even justify, out of respect for those killed and injured on October 1, further comment. Joe that alone should be enough to throw you the hell out of office.
"It was clear from interviews not all levels of leadership knew what was expected of them."
Analysis: Joe you can spin that any way you want in your report, that is another disgrace because you only found that out after the worst mass shooting in American history. Too bad people had to die for you to figure out that your supervisors did not know what was expected of them during a mass casualty incident. Very sad indeed.
"As with many agencies, LVMPD studied the events in Mumbai, Boston and at Columbine High School, as well as the attacks of 9/11 on the World Trade Center and the Pentagon. Despite those reviews and lessons, policies were not sufficiently robust to handle the magnitude of what happened on 1 October."
Analysis: One active shooter firing from an elevated position in a hotel high-rise for over ten minutes and the policies were not sufficiently robust to handle the magnitude of what was happening. Great job Joe! Good thing it wasn't a Mumbai type terrorist attack with multiple assailants that night because obviously you wouldn't have been prepared for that also. Joe, didn't Mumbai happen in 2008, nine years prior to October 1. Shame on you for not being prepared.
By the way, Joe, a reader commenting on my July 11 Baltimore Post-Examiner article, 'Sheriff Joe Lombardo, head of the Las Vegas Metro Police should be impeached' wrote, "Doug, nice piece of writing. You put it all out for public view and awareness. But it was not politically correct poking fun at a mentally challenged moron."
"At LVMPD, we pride ourselves on being a learning organization."
Analysis: You didn't learn a damn thing from anything that happened prior to October 1, 2017, only after the carnage did you learn that you failed.  Why your incompetent butt is still sitting in the Office of Clark County Sheriff is beyond imagination! Another thing Joe, you covered up for Hendrex for months and then defended him after the court-ordered records and body-cam videos were released to the public and we found out the truth. Another reason to boot you right out of headquarters and onto Martin Luther King Boulevard.
Telling the public what you learned after the October 1 attack is a cop-out, no pun intended. It's a cover-your-ass reaction to a tragedy. Joe, your incompetence, negligence, lack of leadership and as you like to say, "malpractice", led to the Massacre. You have nothing to be proud of.
"LVMPD is a unique police agency in that its leader, the sheriff, is an elected official whose authorization emanates from the electorate."
Analysis: Elected public officers in the State of Nevada are subject to recall from office by the registered voters of the state, county, district or municipality from which he/she was elected. If anyone wants further on that, here is a link:   https://www.nvsos.gov/sos/home/showdocument?id=5412
"With law enforcement closing in, the shooter took his own life."
Analysis: Joe, only one person stopped Paddock and that was Paddock himself.
Officers closing in, really Joe. What about Hendrex who was already closed in, along with his force multiplier as you like to say, of three Mandalay Bay Hotel armed assistant security managers and they all retreated, did nothing. Directly above them, on the 32nd   floor, were three more armed Mandalay Bay Hotel armed security personnel who also did nothing as Paddock continued his firing unimpeded. Joe, how many more people were being killed and wounded as this armed force multiplier contingent failed to act to save lives.
"As the final country music act took the stage, ending the three-day festival, Stephen C. Paddock fired rounds into the crowd in excess of 22,000 attendees. The gunfire began at approximately 10:05 p.m. and continued for over 10 minutes, with an excess of 1,000 rounds fired from various rifles from the 32nd floor of the Mandalay Bay Resort and Casino." 
Analysis: Thanks Joe for that revelation, however, I think we are all quite aware of what happened that night because of your incompetence and negligence and that of your friend MGMRI CEO Jim Murren, who allowed Paddock to bring his arsenal of death into the Mandalay Bay. What we do know is that during those excesses of 1,000 rounds being fired Joe, because of your lack of leadership, there were no police officers prepared to counter Paddock's gunfire.
Murren, your Director of Corporate Security was at that FBI sniper scenario, and he later made the remark to a now-retired high-ranking member of the LVMPD that he would never train for an incident like that and would absorb the liability if something like that happened.
Guess what Murren, something like that did happen and that is why your corporation will without a shadow of a doubt will absorb the liability because of you also, just like the LVMPD, had foreseeability.
"The incident tested the capabilities of LVMPD in new and different ways. The unfolding events were unpredictable and unprecedented. While adequately planning and preparing for an event of such magnitude and scope may seem impractical, the Agency had been working toward preparedness, training, and planning for many years."
Analysis: Joe, a mass-casualty event that you were not prepared for. Prior incidents/training alone dictate it was not unpredictable and unprecedented as you say Joe, and that in itself negates everything you say in your report.
"The site of 1 October was similar to many open-air events held across the country."
Analysis: Yes Joe, it may have been similar, however, some agencies would have handled it much differently than you did. Joe, do you remember this from my July 8 story, 'Las Vegas Metro SWAT officer inside Mandalay Bay night of massacre: 'Hey, is Route 91 a club here?:
According to a law enforcement source who spoke to the Baltimore Post-Examiner, after the Las Vegas Massacre, a Dallas Texas SWAT sniper told the LVMPD during a training exercise that based on Dallas SWAT team criteria that if the Route 91 Harvest Music Festival had occurred in Dallas, that their SWAT team would have been deployed during the event. Joe, how come that's not mentioned in your review?
As I have repeatedly said in numerous articles Joe, you should have had SWAT snipers on stand-by in the area of Route 91. They would have saved lives that night. All the tax-payer money for training and equipment for your SWAT Team over the years and the one night that they were truly needed by Las Vegas citizens and tourists, they were not there. Why? Because you failed to deploy them in the area. Joe, the snipers would have had their crosshairs on Paddock, they would have been on that piece of human garbage so fast, just like a fly on feces.
"As the number of active shooter incidents grows annually around the world, the more we share within the field, the better positioned we all are to respond effectively to the scene and to victims, their families, and the community at large."
Analysis: Joe, so it takes more active shooter incidents for you to learn what you should have learned many years ago.
"In our chosen profession of policing, we often cannot control what takes place on the ground that we have been commissioned to protect and serve."
Analysis: Joe, you could have controlled what was taking place on the ground had you deployed snipers, they would have taken control of the situation. Within a minute of Paddock opening fire, officers on the ground said the shots were coming from the Mandalay Bay halfway up. And don't forget Joe about my October 15, 2018 article, 'One minute into Vegas Massacre police detective observed Paddock with a rifle firing from window.'
"In 1987, several security directors of downtown properties formed the Las Vegas Security Chiefs Association (LVSCA). Its mission was to promote security professionalism and enhance communications between one another and with law enforcement agencies in the community."
"It became difficult to hear and transmit over the radio due to inadequate radio coverage inside some hotel properties."
Analysis: Glad you also brought that up Joe. Did anybody in security management at the Mandalay Bay Hotel ever communicate to the LVMPD that radio reception was a problem inside their hotel? Joe, how many Metro officers have been responding to calls for service inside the Mandalay Bay Hotel since it was opened. I find it hard to believe that the radio communications problems started on October 1 with the Mandalay Bay and the other hotels as you stated.
It appears to be a lack of communication, no pun intended, or nobody gave a crap until people were killed and wounded. Joe, you may find my July 8, 2018 story very interesting, 'Compromised evidence raises questions about Mandalay Bay security training, policies, and procedures.'
"In the spring of 2017, MGM resorts developed an Emergency Response Team (ERT) program. This program provides specialized armed Emergency Response Team Officers (ERTOs) who complement existing security programs. An Emergency Response Team responds immediately before law enforcement arrives."
Analysis: Thanks for bringing this up to Joe. An executive of MGMRI told a security consultant after the Massacre that the Mandalay Bay Hotel had an ERT in place prior to October 1, 2017. Problem is though, the Mandalay Bay Hotel Emergency Response Team was nowhere to be found on the night of October 1 as Paddock was firing for over ten minutes from inside his 32nd floor suite as we reported in our July 7, 2018, Baltimore Post-Examiner story, 'Where was Mandalay Bay's elite emergency response team when Paddock started killing people.'
"In the aftermath of October 1, LVMPD leadership and the private-sector hotel industry held conversations about the tourist corridor of the Las Vegas Strip. The discussions centered on the responsibility of private-sector partners to maintain and train hotel and casino security personnel to safely address violent threats on their properties. As of the completion of this report, numerous Las Vegas Strip properties, including several MGM resorts, have implemented this program and trained employees in active-shooter response for their respective hotels and casinos."
Stop covering for the casino industry, Joe. Prior to the Las Vegas Massacre, after attacks of September 11, 2001, numerous training seminars were available free of charge to the industry from the US Department of Homeland Security and other agencies. I attended many of those training seminars along with my supervisors and in attendance were many security professionals from MGMRI. The industry was told for years to implement security measures to deter an incident just like what occurred on October 1, 2017. They failed and people died.
"The role of Clark County sheriff is all the more challenging with the addition of political responsibilities, such as being concerned with the economic stability of the region."
That is a very interesting comment, Joe. How far does your political responsibilities and concern for big money go? Far enough to cover for MGMRI? Joe, I'm not blowing smoke up your ass with that question, but there are some things that bother me.
When your detective was interviewing Mandalay Bay Security Officer Jesus Campos after the Massacre, I could never understand why when Campos told him that after he saw the bracket drilled into the 32nd-floor fire stairwell door, heard drilling noises coming from inside Paddock's suite and then just walked away without investigating or calling it in. The detective never asked Campos why he just walked away and ignored it. That's called security negligence Joe. Campos should have been grilled on that. Was the reason because further questioning would have been civilly damaging to MGMRI?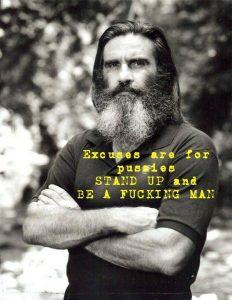 Joe remember when ABC News' Nightline ran their whitewash of a story on October 1. What I found really troubling Joe was that they also interviewed Campos and guess what, they missed the mark on that too. Could it be a coincidence?
Was it also a coincidence that Nightline did not report on Hendrex Joe? One of your deputy chief's was interviewed, but no mention of Hendrex and security failing to act to save lives on Nightline. I even wrote a story about it.
In the words of Dick Marcinko, the founder of Seal Team Six, "there is no such thing as a coincidence."
Crime Scene Photographs: "LVMPD and the FBI collected thousands of photographs to aid in the criminal investigation. The FBI stored these photographs. Based on interviews conducted with the FBI, it was estimated that over 20,000 hours of video and over 250,000 images were collected and taken from numerous locations, and 40 terabytes of digital evidence was recovered from one location alone."
Glad you brought this one up, Joe. I wonder if we will ever see these thousands of photographs and all the video that the FBI has in their possession as you stated.
Joe, I noticed in your report that you failed to mention anything about the police personnel who leaked the Paddock crime scene photographs to the press after the Massacre, thus compromising the investigation. Must have been an oversight on your part, I'm sure you're not intentionally being non-transparent and covering things up as you have a history of doing. Joe, we are wondering how much money they got for those photographs.
"Because of prior working relationships, the response from numerous law enforcement agencies and officers working together to terminate the threat proved extraordinary."
Analysis: Really Joe, extraordinary. The threat was self-terminated by Paddock. Two of your officers and six-armed Mandalay Bay security personnel were within several feet of his room and did nothing while Paddock was firing.
Patience, skill, and coordination with partners led to the eventual location and identification of the shooter."
Analysis: Mandalay Bay Security knew the exact location of the shooter almost immediately after he opened fire. Don't forget your detective who saw Paddock firing out the window and, "179SE, it's coming from upstairs in the Mandalay Bay Resort and Casino halfway up. I see the shots coming from halfway up." And of course Hendrex, Varsin and their force multiplier contingent of armed security personnel on the 31st and 32nd floor. And what good did all that do? Not a damn thing because Paddock continued to kill and wound.
"The officer from Events Planning who coordinated the event had assigned eight rifle-certified officers to the perimeter of the venue with staggering start times."
Joe, I do believe you are misinforming the public with that. What good are rifle-certified officers if they weren't carrying their rifles and had to run over one block to their vehicles to get the rifles which were locked in the trunk of their police vehicles when the firing started. Please explain that? Could it be as I was told by officers that you cannot fathom the idea of Metro officers carrying the rifles in public because it's not politically correct?
Joe, check out our November 25, 2018 story about this: Twenty rifle-certified Las Vegas Police officers were required to be at the Route 91 Harvest music festival; but were they carrying rifles?
Preliminary and final criminal investigative reports
"On January 19, 2018, Sheriff Lombardo released a preliminary investigative report with the facts known to investigators at the time. On August 3, 2018, the Criminal Investigative Report was released to the public. For the purpose of this AAR, the Criminal Investigative Report was used to establish a sequence of events and confirm facts pertaining to the criminal investigation."
Joe, you are aware, as I have pointed out in several articles, that both of those reports had false, misleading and contradictory information in them. Apparently, nobody vetted them for accuracy. For instance, Paddock being in the casino playing slots at the same time somebody was accessing his room. Or the bellman who brought his luggage up to Paddock's room after the report said he brought the luggage up by himself. But don't worry about it Joe, they weren't that important, they just happened to be the criminal investigative reports on the worst mass shooting in modern American history and the largest homicide investigation in the history of the LVMPD.
"Training is a critical component for LVMPD as it is for any law enforcement agency."
Analysis: I agree that training is critical, however, that trained personnel were not deployed prior to the Massacre, where they could have saved lives. And from what we read in officer's reports those who were rifle-certified didn't have the weapons with them.
"LVMPD trained and conducted joint exercises with CCFD, the CCOCME, Clark County Emergency Management, local jurisdictions, and the FBI."
Joe, produce all those training records including those training records pertaining to the FBI. Do those records confirm that FBI training scenario to take out a sniper from an elevated position in a hotel high-rise?   I just thought I would ask.
"LVMPD's Events Planning Section strategizes and coordinates the staffing of special events, unplanned events, protests, and dignitary visits throughout Las Vegas and Clark County, Nevada… LVMPD's Events Planning Section is unique among law enforcement agencies… In preparation for this event, the Events Planning Section held three planning meetings and conducted a tabletop exercise, involving over 30 hours of planning. During the tabletop exercise on September 8, 2017, the Events Planning Section discussed ingress/egress to the north of the venue, evacuations, and wind concerns.
Analysis: The Las Vegas Metro SWAT Team has been deployed for dignitary protection and they have been deployed on New Year's Eve celebrations on the Las Vegas Strip for years, however even though the police knew that a threat existed from a sniper attack from an elevated position, SWAT was never deployed at any of the Route 91 music festivals in 2014, 2015, 2016 and 2017. Apparently, the LVMPD never conducted a threat assessment to the open-air venue or if they did they ignored the possibility of a sniper attack from an elevated position.
Joe, we would like for you to release the LVMPD's Incident Action Plan that was prepared by the Events Planning Section for the 2017 Route 91 Harvest Music Festival.
****************
Closing thoughts
Once again, as has been the case numerous times in this country, those in government whose job it is to protect the public safety and who we put our trust in to do just that, resort to cover-your-ass mode and excuses when they fail.
Such is the case with the October 1, 2017, Las Vegas Massacre that left 58 people dead and almost 500 wounded by the actions of a single active shooter who was allowed to fire for well over ten minutes, without one police officer countering his gunfire.
The tragedy that occurred that horrible night was the result of complacency, incompetence, and negligence and falls on the shoulders of Clark County Sheriff Joe Lombardo, the head of the Las Vegas Metropolitan Police Department.
Lombardo failed to protect the public and we saw the aftermath.
Jim Murren, CEO of MGM Resorts International, the owners of the Mandalay Bay Hotel and the Las Village grounds, the site of the Route 91 Harvest Music Festival, is no less responsible.
MGMRI allowed Paddock to bring his arsenal of weapons and ammunition into the Mandalay Bay Hotel unimpeded along with his vehicle that contained explosive materials.
As a result, MGMRI in all probability is going to pay an unprecedented amount of money to the survivors and the families of those murdered on October 1.
No amount of money though can ever pay for the pain and suffering MGMRI has caused to countless families. MGMRI was negligent and they will pay, either through mediation or if that fails as a result of a civil jury's decision, that you can etch in stone.
The American public is sick and tired in the wake of tragedies to hear the same thing over and over again by lying, corrupt politicians, that they are going to make changes to assure that such a tragedy doesn't happen again and that they are now better prepared if such another incident occurs in the future.
It's nothing but an excuse to cover up for their incompetence and lack of leadership skills and the result, in this case, was the death and wounding of innocent concert-goers.
Both the LVMPD and MGMRI had 15 years to prepare after the attacks of September 11, 2001. They failed miserably to say the least.
After the Massacre Lombardo thought that catchy phrases like "1 October" and "Vegas Strong" would somehow lessen the pain of it all. It did not. It ended up being a new marketing ploy. "Vegas Strong" was the result of a terrible tragedy. No business entity should be profiting from that slogan.
After the Massacre, politicians used the airtime to get their faces on camera standing behind Lombardo, like anything they had to say meant anything.
And of course, hours after the Massacre, Aaron Rouse, the Special-Agent-in-Charge of the FBI Las Vegas Division, assured us all that terrorism was not involved.
That is still a remarkable statement to me.
No way the FBI could have known that — that soon.
There are still way too many unanswered questions surrounding the Las Vegas Massacre.
Stay tuned, we have more to come. Give me a call sometime, Joe. Let's hang out.
Oh, and one more thing – enjoy your weekend, Joe.
Listen to Doug Poppa on the Wayne Allyn Root Show 

Doug authored over 135 articles on the October 1, 2017 Las Vegas Massacre, more than any other single journalist in the country. He investigates stories on corruption, law enforcement and crime. Doug is a US Army Military Police Veteran, former police officer, deputy sheriff and criminal investigator. Doug spent 20 years in the hotel/casino industry as an investigator and then as Director of Security and Surveillance. He also spent a short time with the US Dept. of Homeland Security, Transportation Security Administration. In 1986 Doug was awarded Criminal Investigator of the Year by the Loudoun County Sheriff's Office in Virginia for his undercover work in narcotics enforcement. In 1992 and 1993 Doug testified in court that a sheriff's office official and the county prosecutor withheld exculpatory evidence during the 1988 trial of a man accused of the attempted murder of his wife. Doug's testimony led to a judge's decision to order the release of the man from prison in 1992 and awarded him a new trial, in which he was later acquitted. As a result of Doug breaking the police "blue wall of silence," he was fired by the county sheriff. His story was featured on Inside Edition, Current Affair and CBS News' "Street Stories with Ed Bradley". In 1992 after losing his job, at the request of the Federal Bureau of Investigation, Doug infiltrated a group of men who were plotting the kidnapping of a Dupont fortune heir and his wife. Doug has been a guest on national television and radio programs speaking on the stories he now writes as an investigative journalist.