Twenty rifle-certified Las Vegas Police officers were required to be at the Route 91 Harvest music festival; but were they carrying rifles?
LAS VEGAS  — Why was it that Stephen Paddock fired unhindered for well over ten minutes from an elevated position without the Las Vegas Metropolitan Police Department countering his fire during that time?
What was the LVMPD policy in place at the time of the October 1, 2017 Las Vegas Massacre for police officers assigned to a special event where large crowds would be in attendance?
What was mandated per that special events policy in reference to how many officers had to be rifle certified (AR-15 platform type rifles) for the event to even take place?
And last, were those rifle certified police officers required to have the rifles in their possession during the event in case an active shooter/sniper incident occurred or were they told to keep the rifles secured in their vehicle, where they were useless.
LVMPD officers who spoke to the Baltimore Post-Examiner stated that Sheriff Joe Lombardo who runs the LVMPD, is more concerned with the public's perception of the police more than anything else.
From the LVMPD radio traffic the night of the massacre:
"179 Sam Easy it's coming from upstairs in the Mandalay Bay, upstairs Mandalay Bay halfway up, I see the shots coming from Mandalay Bay, halfway up."
179 Sam Easy was a two-man unit comprised of LVMPD Officers P. Zaragoza and B. Rich. The SE designation denotes that they were working overtime at the special event.
According to Zaragoza's officer's report he was the one who made that transmission.
After his transmission, other officers transmitted the following:
"Control, that is correct, shots fired from Mandalay Bay, there's many people down stage left, just be advised."
"We're hearing it from Mandalay Bay,"
"It's coming from the 50th or 60th floor, north of the Mandalay Bay, it's coming out a window."
Remember that during this time police officers inside the concert venue also believed there were active shooters inside the venue:
"We have an active shooter! We have an active shooter inside the fairgrounds!"
"Control be advised shots are coming from Gate 7, Gate 7."
Officer Zaragoza wrote in his officer's report, "I needed to run outside of the concert venue, across the street to a parking lot, to reach my rifle/rifle plates and MACTAC gear.
"I knew I was pinned down in the medical tent and could not safely run outside the venue to get to my rifle and gear with the continuous, automatic gunfire."
"I heard someone say shooter at the Mandalay Bay, but not a specific location. I stepped to the door of the tent and saw muzzle flashes on the upper floors of the Mandalay Bay. I gave traffic to alert other officers of the shooter's location, but I think I messed that up."
"I recognized a long pause in the gunfire, told the medic to make more tourniquets out of a sheet that was on the gurney because I had to go. I left the medical tent, told my OT partner (Officer B. Rich) that I needed to run to my car to get my rifle. I ran out to the church parking lot to the east of my location, to my vehicle. Unloaded my gear, in multiple steps, thinking that the gunfire would start up again, as my rear tailgate was faced Mandalay Bay. I geared up on the driver side of my car, taking cover."
"We need to be concerned more about our patrol officer's operational readiness than officers looking too aggressive in appearance," Zaragoza wrote.
"Officers should be allowed to have rifle plates and rifles pre-deployed, especially where posted and exposed to attacks from high ground or out in the open. We shouldn't have to run way out to our vehicles to gear up and get to our rifles. When officers need their patrol rifle, we need them now," he wrote.
The following audio excerpt is from police body worn camera footage, batch 26, #490. There is no time/date stamp on the video. The officers are unidentified. It starts at about the 11:40-minute mark into the video.
Officer #1: Him and I ran to my car to get to my rifle.
Officer #2: …my entire squad, we don't have rifles.
Officer #1: Well this event, there's like 20, you know part of the event you had to be rifle certified, 20 officers had to be rifle certified.
In our Baltimore Post-Examiner October 15 article, 'One minute into Vegas massacre police detective observed Paddock with rifle firing from window,' I stated that LVMPD Detective Stephen Balonek wrote in his report, "I ran back to my vehicle and retrieved my binoculars and began scanning the hotel for the shooter. Approximately one minute into the shooting I observed a figure in a hotel room on the north side standing in a shooting platform and appeared to be 4-6 feet from the window. The figure was firing the rifle out of his hotel room."
Det. Balonek was not equipped to take action against the shooter, but he did notify the Communications Center of what he saw.
Sgt. J. Riddle who was working overtime at the concert venue wrote in his report that after the second volley of gunfire started, "I went back to my patrol car and began getting my rifle and magazine pouch. At that time, another overtime officer came up to me and had his rifle and was ready to go."
The LVMPD's final criminal investigative report does not mention anything about a requirement that twenty rifle certified officers needed to be at the event. All they say is that the LVMPD had 51 personnel assigned working overtime at the concert venue.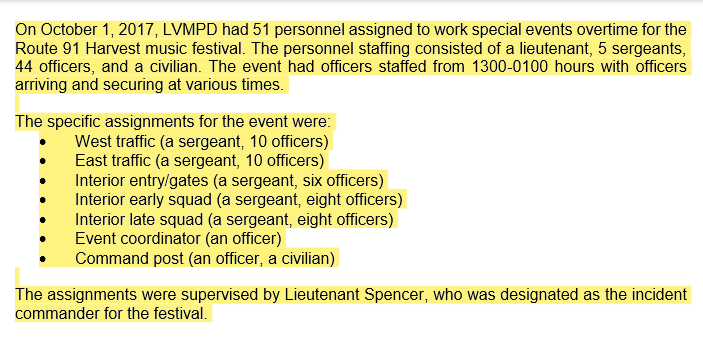 What we don't have is a roster of what 20 officers that were rifle certified were working the event and how many, if any, were in physical possession of their rifles during the concert prior to Paddock opening fire.
Also, if indeed that was a requirement and those officers did not have their weapons with them, then the big question is, why not.
What good is a policy requiring a certain number of police officers working an event to be rifle certified if they were told to leave their rifles locked in their vehicle if indeed they were told to do that?
The purpose of such a requirement would be to counter an active shooter and or sniper with something more than a handgun.
How are you going to do that if your rifle is locked away in your vehicle some distance away?
Was the reason that Paddock was allowed to fire for over ten minutes unimpeded because there were no police officers equipped at the concert venue with the proper equipment to counter his fire?
According to law enforcement sources who spoke to the Baltimore Post-Examiner, rifle certified LVMPD officers prior to the October 1 massacre used .223 caliber, 55 grain jacketed hollow point ammunition.
The effective range of that ammo is approximately 400 yards with a rifle equipped with a 16-inch barrel and 600 yards with an 18-inch barrel.
The LVMPD has since changed to an upgraded .223 cartridge round, the Baltimore Post-Examiner was told.
One LVMPD officer told the Baltimore Post-Examiner that had he been deployed at the concert venue with his rifle and identified the window where Paddock was firing from, "If I'm watching people dying, I would have taken the shot."
What we do know is that Paddock killed 58 people that night and wounded over four-hundred.
Why were no SWAT snipers deployed either?
Why didn't anyone in the command structure of the LVMPD who was involved with the planning for the Route 91 Harvest music festival consider the possibility that a sniper attack from an elevated position could endanger the crowd at the Route 91 Harvest music festival?
The LVMPD command routinely deployed SWAT snipers on New Year's Eve for years during the closure of the Las Vegas Strip, when thousands of people are crammed in along the boulevard, but none were deployed during the largest outdoor concert venue held on the Strip where twenty thousand people were confined to a small area surrounded by high rise hotel towers.
The LVMPD could have had counter-snipers near the concert arena, on the ready, just in case they were needed to suppress a sniper attack from any number of hotel high-rise towers that surrounded the open-air Route 91 music festival.
Competent planning and thinking outside the box as to a sniper attack from an elevated position to the outdoor concert venue below just might have prevented major loss of life and minimized the casualties.
Both the LVMPD and MGM Resorts International, the owners of the Mandalay Bay Hotel and the concert venue, knew that a sniper attack from an elevated position posed a threat as reported in several Baltimore Post-Examiner stories, including our September 29 article, 'MGM Resorts International executive knew that a sniper attack from a hotel high-rise posed a threat prior to October 1 massacre.'
As usually happens in this country, it takes a major tragedy for change to occur.
Since the October 1, 2017 massacre the LVMPD has deployed SWAT snipers at special events.
Patrol officer rifle deployment teams are now also used as overwatch also at various events.

Doug authored over 135 articles on the October 1, 2017 Las Vegas Massacre, more than any other single journalist in the country. He investigates stories on corruption, law enforcement and crime. Doug is a US Army Military Police Veteran, former police officer, deputy sheriff and criminal investigator. Doug spent 20 years in the hotel/casino industry as an investigator and then as Director of Security and Surveillance. He also spent a short time with the US Dept. of Homeland Security, Transportation Security Administration. In 1986 Doug was awarded Criminal Investigator of the Year by the Loudoun County Sheriff's Office in Virginia for his undercover work in narcotics enforcement. In 1992 and 1993 Doug testified in court that a sheriff's office official and the county prosecutor withheld exculpatory evidence during the 1988 trial of a man accused of the attempted murder of his wife. Doug's testimony led to a judge's decision to order the release of the man from prison in 1992 and awarded him a new trial, in which he was later acquitted. As a result of Doug breaking the police "blue wall of silence," he was fired by the county sheriff. His story was featured on Inside Edition, Current Affair and CBS News' "Street Stories with Ed Bradley". In 1992 after losing his job, at the request of the Federal Bureau of Investigation, Doug infiltrated a group of men who were plotting the kidnapping of a Dupont fortune heir and his wife. Doug has been a guest on national television and radio programs speaking on the stories he now writes as an investigative journalist.