Las Vegas Metro SWAT officer inside Mandalay Bay night of massacre: 'Hey, is Route 91 a club here?'
LAS VEGAS — The October 1, 2017 Las Vegas Massacre was the worst mass shooting in modern American history and the largest mass-casualty shooting incident in the history of the Las Vegas Metropolitan Police Department (LVMPD) and still the department's investigation has left more questions than answers.
As I was reviewing LVMPD body camera video footage for a follow-up to our March 21 story, "Las Vegas Metro Police SWAT Officer Levi Hancock describes breaching Paddock's hotel suite," I came across a statement that was made by LVMPD SWAT Officer Brett Brosnahan after Paddock's suite was breached and the team was leaving the 32ndfloor.
The time is about 11:45 p.m. on October 1, 2017.  At the 3:24 minute mark into the body-worn camera video:
Brosnahan: Hey, is Route 91 a club here?
Unknown: No, it's across the street, it's that festival, that big open area right across the street.
Brosnahan: Because he was firing at that?
Unknown: Yeah.
The LVMPD Public Information Office does not respond to our media requests for comment, so I will address this directly to Sheriff Joe Lombardo who runs the LVMPD.
How is it that a member of the SWAT team did not know what the Route 91 was, that he believed based on his question, that it was a nightclub inside the Mandalay Bay?
Why is it that some police officers who spoke to the Baltimore Post-Examiner who had responded to the Route 91 music festival from outside the Convention Center Area Command stated that they weren't sure what Route 91 was, some thought it was a street route that they were unfamiliar with?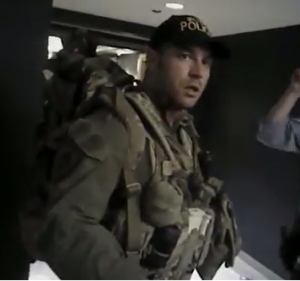 One police officer stated he never saw any department memo at any roll-call briefing indicating that the three-day event was even taking place.
Totally unacceptable and beyond imagination, if true.
Lombardo, tell us this is not so, that patrol officers city-wide were not informed of the three-day event.
Please provide the Baltimore Post-Examiner with documentation to clarify what we were told, one way or another and we will update our story.
Were all SWAT team members notified prior to the event that a three-day music festival with 20,000 attendees would be taking place on Friday, Saturday and Sunday, just in case they had to respond for an incident?
Did any member of the SWAT team conduct a recon of the festival grounds during the planning stages for the festival?
If not, then why and if so let's see the plans.
Both the LVMPD and MGM Resorts International, the owners of the Las Vegas Village grounds, the site of the Route 91 Music Festival, had foreseeability that a sniper attack from an elevated position posed a threat.
Both the LVMPD and MGMRI were also aware of an incident in 2014 when a convicted felon had brought a small arsenal into one of the high-rise towers of the Mandalay Bay and had one of his high-powered rifles pointed toward the Las Vegas Strip.
For further on all that read our September 29, 2018 story, 'EXCLUSIVE: MGM Resorts International executive knew that a sniper attack from a hotel high rise posed a threat prior to October 1 massacre.'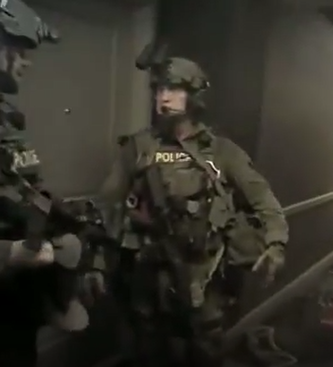 Texas SWAT officer told LVMPD that Dallas would have had snipers deployed
In more than 135 stories that I have authored for the Baltimore Post-Examiner about the Massacre and the subsequent criminal investigation, I have questioned in numerous articles why SWAT snipers were not deployed in the area of the Route 91 Harvest Music Festival.
According to a law enforcement source who spoke to the Baltimore Post-Examiner,  after the Las Vegas Massacre, a Dallas Texas SWAT sniper told the LVMPD during a training exercise that based on Dallas SWAT team criteria that if the Route 91 Harvest Music Festival had occurred in Dallas, that their SWAT team would have been deployed during the event.
LVMPD SWAT Officers Levi Hancock and Sean O'Donnell talk about accidental discharge
As I stated earlier, the reason I was reviewing the previously described police body-worn camera video, was to follow-up on our March 21 story and to provide further insight into why SWAT Officer Sean O'Donnell fired his weapon in Paddock's suite.
The following is a conversation between Levi Hancock and O'Donnell after they had cleared Paddock' suite.  The conversation occurs at the 2: 38-minute mark into the video and this is the best I can make of the audio:
Hancock: You good?
O'Donnell: Yep.
Hancock: You just AD? [accidental discharge].
O'Donnell: Kind of got bumped, I don't know what happened.  Basically, it was an AD.  I saw that gun on the bed but I really wasn't trying to shoot at it.
Hancock: Yeah.
Later in that same video while other officers were clearing the hotel rooms at the 20: 38-minute mark:
Officer: Hey, you know what's really bad….
Officer: Were you up here when….
Officer: You remember the three-round burst….
Officer: You know, you hear what I'm saying.
There are still those out there that contend the police shot Paddock. That did not happen, so knock off that nonsense and let's move on.  There is so much of what we still don't know about the October 1, 2017 Las Vegas Massacre but that is not it.
Whether O'Donnell had an accidental discharge when he got bumped or intentionally shot when he saw the gun on the bed, who cares.
Paddock was already dead.  It was a high-intensity situation and things like that happen.  It's not even on my radar anymore.
Personally, I wish they had blasted Paddock straight to hell.
Had that happened don't you think that Lombardo would have had the shooter all over the media for months?
And right now he would be retired, sipping margaritas on the beach thinking about the millions that he made on book and movie deals as the SWAT officer who killed the worst mass shooter in American history.
One more thing before I close.
Field Training Officer Cordell Hendrex was a coward, no matter what LVMPD Police Protective Association President Steve Grammas said to the media last week.
My question to Grammas is this; How many people were being killed and wounded at the festival while Hendrex and his armed contingent stood by for several minutes in safety one floor below and did absolutely nothing?
Explain that Grammas to the families of the deceased and the survivors who were shot and your own officers who were wounded and pinned down by Paddock's gunfire as Hendrex retreated.
As I stated in prior stories, SWAT snipers should have been deployed in the area of the music festival, that would have saved lives on October 1.
Editor's Note: Listen to Doug Poppa on the Pat Campbell show.

Doug authored over 135 articles on the October 1, 2017 Las Vegas Massacre, more than any other single journalist in the country. He investigates stories on corruption, law enforcement and crime. Doug is a US Army Military Police Veteran, former police officer, deputy sheriff and criminal investigator. Doug spent 20 years in the hotel/casino industry as an investigator and then as Director of Security and Surveillance. He also spent a short time with the US Dept. of Homeland Security, Transportation Security Administration. In 1986 Doug was awarded Criminal Investigator of the Year by the Loudoun County Sheriff's Office in Virginia for his undercover work in narcotics enforcement. In 1992 and 1993 Doug testified in court that a sheriff's office official and the county prosecutor withheld exculpatory evidence during the 1988 trial of a man accused of the attempted murder of his wife. Doug's testimony led to a judge's decision to order the release of the man from prison in 1992 and awarded him a new trial, in which he was later acquitted. As a result of Doug breaking the police "blue wall of silence," he was fired by the county sheriff. His story was featured on Inside Edition, Current Affair and CBS News' "Street Stories with Ed Bradley". In 1992 after losing his job, at the request of the Federal Bureau of Investigation, Doug infiltrated a group of men who were plotting the kidnapping of a Dupont fortune heir and his wife. Doug has been a guest on national television and radio programs speaking on the stories he now writes as an investigative journalist.