Where was Mandalay Bay's elite emergency response team when Paddock started killing people?
LAS VEGAS — A MGM Resorts International director said two days after the October 1 Las Vegas massacre that the Mandalay Bay Hotel had an elite emergency response team for active shooters in place prior to the mass shooting.
The Baltimore Post-Examiner first reported in our April 24 story, 'MGM Resorts International hires retired Las Vegas SWAT officers,'  that between December 2017 and January 2018 MGMRI hired five retired Las Vegas Metropolitan Police Department SWAT officers for positions as emergency response team supervisors and trainers.
After the Baltimore Post-Examiner broke that story other media outlets picked up on the story, which prompted MGM Resorts International, the owners of the Mandalay Bay Hotel to release the following statement:
"MGM developed an Emergency Response Team (ERT) Program as part of our commitment to continuous improvement of daily operations and to assess and address security risks. Emergency response team officers are responsible for providing both highly visible and covert professional armed security to the property to complement existing security programs. Our specialized ERT Program is designed to provide highly skilled and focused support to our talented property security teams.  The ERT Program is an ongoing effort that is being implemented at our properties."
James Cameron, the founder, and owner of the Nevada-based company, Security Concepts Group LLC, told the Baltimore Post-Examiner on Friday that several months before Stephen Paddock's mass shooting, he had sent messages to MGMRI executives informing them of his company's active shooter training.
Cameron said that on March 15, 2017, he sent the following message to  Director of Safety, Security Training and Firearms for Mandalay Bay Resorts Casino Wendy Price:
"I wanted to reach out to you and let you know that I have been working with a lot of Security Directors and Human Resources professionals in Las Vegas regarding Active Shooter training.  It is a subject many don't like to discuss, however, given the current times, it would be neglect not to.  I have a unique approach to this subject and would be very interested in meeting with you to discuss how I can help with your organization's needs."
Cameron said he did not receive a reply.  On June 5, 2017, he sent another message to Price and also to the Vice President of Security for the MGM Grand Hotel Tim Jeffrey about his company's active shooter training.  Cameron said he did not receive a reply from Price or Jeffrey.
After the mass shooting Cameron sent another message to Price on October 2, 2017 and Price responded: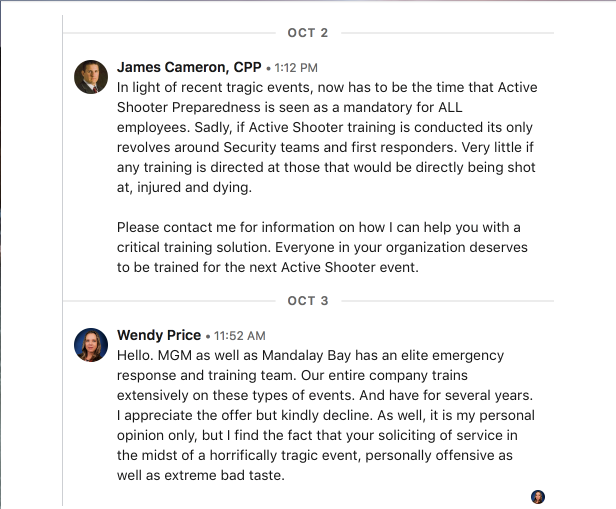 So, where was this Mandalay Bay elite security emergency response team on the night of the mass shooting while Stephen Paddock was firing from his 32nd-floor suite into the Route 91 Music Festival and why didn't we see this "elite" security team in action.
What we did see on police body-worn camera footage, was three armed Mandalay Bay security management personnel retreating on the 31stfloor along with LVMPD Officers Cordell Hendrex and Elif Varsin as they listened to Paddock's gunfire from the 32ndfloor for several minutes.  None of them took any action to try to get to the active shooter.
Price also told James Cameron that the Mandalay Bay trains extensively on active shooter incidents and have done so for several years.
Being the Mandalay Bay had this elite emergency response team in place prior to the massacre, the standard operating procedures, lesson plans, training documents, etc. that were in place prior to October 1 should all be subpoenaed by the attorney's representing the victims of the mass shooting.
Active shooter seminars were also available free of charge for years to the hotel security industry by the U.S. Department of Homeland Security.
Those training seminars specified that armed security personnel responds to an active shooter threat to neutralize the shooter and or attempt to suppress the shooter's gunfire to minimize the casualties until the arrival of law enforcement.

Doug authored over 135 articles on the October 1, 2017 Las Vegas Massacre, more than any other single journalist in the country. He investigates stories on corruption, law enforcement and crime. Doug is a US Army Military Police Veteran, former police officer, deputy sheriff and criminal investigator. Doug spent 20 years in the hotel/casino industry as an investigator and then as Director of Security and Surveillance. He also spent a short time with the US Dept. of Homeland Security, Transportation Security Administration. In 1986 Doug was awarded Criminal Investigator of the Year by the Loudoun County Sheriff's Office in Virginia for his undercover work in narcotics enforcement. In 1992 and 1993 Doug testified in court that a sheriff's office official and the county prosecutor withheld exculpatory evidence during the 1988 trial of a man accused of the attempted murder of his wife. Doug's testimony led to a judge's decision to order the release of the man from prison in 1992 and awarded him a new trial, in which he was later acquitted. As a result of Doug breaking the police "blue wall of silence," he was fired by the county sheriff. His story was featured on Inside Edition, Current Affair and CBS News' "Street Stories with Ed Bradley". In 1992 after losing his job, at the request of the Federal Bureau of Investigation, Doug infiltrated a group of men who were plotting the kidnapping of a Dupont fortune heir and his wife. Doug has been a guest on national television and radio programs speaking on the stories he now writes as an investigative journalist.