Why is the Las Vegas media silent on Judge Melanie Andress-Tobiasson?
LAS VEGAS — Las Vegas Township Judge Melanie Andress-Tobiasson's future rests with the Nevada Commission on Judicial Discipline.
The court has scheduled oral arguments on April 2, 2019 at 10 a.m. to determine if the judge should answer questions before a formal statement of charges is issued, which could be used to discipline or remove her from the bench.
But if you are watching or reading the local press, you probably wouldn't even know why she is in trouble.
To catch up you might want to read the March story, "Las Vegas judge's statement to judicial investigator about KLAS-TV interview conflicts with statement made to the Baltimore Post-Examiner" or this February story Las Vegas Judge Melanie Andress Tobiasson says she threatened suspect in unsolved murders then kicked in his door.
And there are plenty of more stories regarding the troubled judge that we published. It's a funny thing – the local press is not interested in these stories but apparently, the commission is very interested. The commission has requested all the stories as well as audio recordings that we published.
But strangely the local press is not interested in the trials and tribulations of the embattled judge. The press briefly flirted with the idea of doing real journalism last April when KLAS-TV's I-Team led by George Knapp aired portions of an interview with Tobiasson.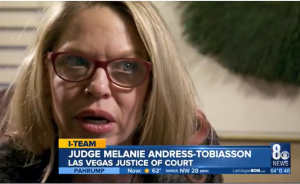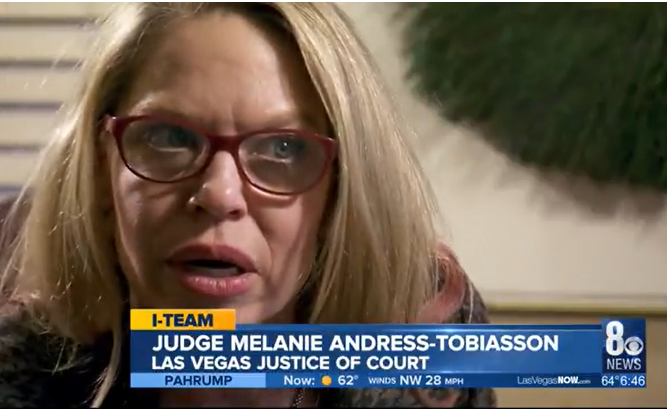 Then Tobiasson complained about KLAS and the coverage stopped. Dead silence.
And it's radio silence in the local newspapers as well. How embarrassing will it be when this story breaks on national television some day. When that happens someone should lose their job.
Whether or not you believe anything Tobiasson has said, it is still newsworthy, and it is the responsibility of any news organization to report the news to the community it serves instead of being a public relations machine for tourism.
Since that interview aired locally in Las Vegas last April, the Baltimore Post-Examiner has published several stories concerning Tobiasson that are most definitely worthy of local reporting – that the rest of the media has ignored.
Here's a sampling of real news reported by the Baltimore Post-Examiner and the follow-up coverage by the local press:
A witness claimed Tobiasson offered her a bribe to implicate Shane Valentine in the unsolved 2016 murders of Sydney Land and Nehemiah Kauffman.
The Las Vegas media has no interest.
Tobiasson told the Baltimore Post-Examiner during our recorded interview with her in May of 2018 that she threatened Shane Valentine through his attorney and then kicked in the door to his residence.
The Las Vegas media has no interest.
Tobiasson admitted multiple times to the Baltimore Post-Examiner that she was receiving confidential information about the Land/Kauffman murders from the original homicide detective in the case, LVMPD Detective Jarrod Grimmett. That homicide detective is still on the force after leaking information about the case. What other cases does he leak information about?
The Las Vegas media has no interest.
The Baltimore Post-Examiner reported in several stories and published text messages that confirmed Tobiasson had told Connie Land, the mother of Sydney Land, to turn over all text messages between LVMPD Homicide Detective Mitchell Dosch, the lead detective in her daughter's case, to her under the false pretense that the FBI was investigating the death of her daughter.
The Las Vegas media has no interest.
Readers of those stories, many who are Las Vegas residents have consistently asked why it is that they have to rely on an online newspaper that originates from Baltimore, Maryland to find anything on the 2017 Las Vegas Massacre, Las Vegas police corruption, and more recent stories on the plight of Tobiasson.
That question I can't answer. Those questions should be directed to the Las Vegas media outlets.
Tobiasson has accused Las Vegas Metropolitan Police Department vice detectives of failing to investigate her claims of after-hours unlicensed clubs that were being run by local pimps. She said that the information she was providing to the police was never followed-up on. Those clubs she alleged, were promoting prostitution and targeting underage girls, with the clubs frequented by off-duty LVMPD officers.
What was even more shocking was Tobiasson's admission that she allowed her underage daughter, Sarah, to not only hang-out at those clubs but later gave her daughter permission to go work in one. Totally irresponsible behavior by any parent, let alone a mother who is a sitting judge. By doing so she placed her daughter's safety in jeopardy notwithstanding the fact that she was contributing to the delinquency of a minor, by allowing her daughter to associate with known criminals.
Tobiasson claimed she was fearful for her and her daughter's safety, not from the pimps, but from the vice detectives.
If Tobiasson was trying to protect her daughter from being recruited in sex-trafficking by pimps, and she was worried about her daughter's safety, then why did she allow her underage daughter to associate with those same criminals?
It makes no sense.
And why didn't those vice detectives that Tobiasson was providing information to, shut down those unlicensed clubs?
The only answer to that question is one-word— corruption.
Allegations of some of the LVMPD's vice detectives being corrupt, on the payroll of a local prostitution kingpin, and targeting rival pimps for their "new boss" surfaced when reports of a now five-year-old FBI federal corruption probe of the LVMPD was made public by Clark County Sheriff Joe Lombardo more than two years ago.
What is going on with that probe?
To this date, no member of the LVMPD has been charged, even though affidavits from several people allege there were payoffs to former and current members of the LVMPD.
Because of those allegations and other claims that a Clark County assistant district attorney coerced witnesses in the rival pimps cases, are leading to some very bad sex-traffickers being released from prison in the near future.
Clark County District Attorney Steve Wolfson and  Lombardo also took measures to ensure that further corruption would not be divulged in court testimony. They did it by cutting early release plea deals to convicted sex-traffickers who may have talked if they took the stand.
This all happened under the blind and shameful Las Vegas media.
As one Las Vegas media person told me just a few weeks ago they "will not promote stories that bring disrepute to the city."
That says a lot.
And, of course, this was evident in the Las Vegas Massacre investigation when the Baltimore Post-Examiner was the only media outlet challenging Lombardo's lies.
The Las Vegas media dropped the ball time and again, maybe in the interest of tourism and failed consistently by having their own "reporters" challenge the sheriff's lies and inconsistencies, which was discerning to many Baltimore Post-Examiner readers.
The underage daughters of cops, judges and even an FBI agent's daughter being recruited by local pimps, also appears to be no longer worthy of scrutiny by the Las Vegas media.
And where does the U.S. Attorney for the District of Nevada and the FBI Las Vegas Division stand in all of this corruption?
They stand behind "no comment."
Maybe there is no longer a federal case, or it could be that it's one hell of a major RICO/Organized Crime investigation for going on this long. Who knows at this point?
The sad part of all of this is the cops who should be under investigation are no longer employed, and some are retired, but some are still wearing a badge and working the streets of Clark County.   So their crimes go unpunished and citizens of Clark County pay their salary and or retirement benefits.
That just does not sit right with a lot of people including current and former members of the LVMPD who have spoken to the Baltimore Post-Examiner.
When a cop disgraces the badge and turns to the other side, they are no longer cops, but criminals carrying a badge, or simply put, scumbags, just like the criminals they protect.
Police corruption exists because other cops, regardless of rank, allow it to spread like cancer because they remain silent.
Administrators cover up corruption and misconduct to protect the image of their departments and in doing so, condone the behavior, disgrace the badge, and destroy their own integrity and honor, if they ever had it at all.
And yes, that goes for the certain officers and those in leadership at the Las Vegas Metropolitan Police Department as well.
Tobiasson claimed that she was providing information to FBI Special Agent Kevin White about police corruption. I cannot corroborate that, but what I can say is that the Baltimore Post-Examiner knows for a fact that several other individuals, civilians, and police officers, also spoke to  White and he was interested in police corruption.
One retired LVMPD officer said White asked him if he knew about the casino industry facilitating sex-trafficking.
Are they really going to open up that can of worms?
With all the corruption and misconduct that has been going on for decades in Las Vegas, I would really be impressed if such an investigation would ever take place.
Tobiasson said that White told her that he could not trust the agents at the FBI Las Vegas Division. She also said she learned that LVMPD Assistant Sheriff Todd Fasulo in 2017 told White's boss, then Assistant Special Agent-in-Charge, Patrick Brodsky, to have him stop talking to Tobiasson.
Tobiasson said White claimed that Brodsky told him to stop talking to her.
That statement alone should have been plastered throughout the Vegas media, but once again — dead silence.
Fasulo, when contacted by the Baltimore Post-Examiner stated that we were "going down the rabbit hole" and had no further comment. Brodsky did not return our calls.
Not to make anything out of this, but Fasulo retired in 2017 and went to work for Wynn Resorts in Las Vegas. Brodsky retired in 2018 and take a guess where he went to work? You guessed it, Wynn Resorts.
If true, then the integrity of the FBI Las Vegas Division was compromised by the LVMPD and that is more than troubling.
An FBI agent can't trust his own people, worse than troubling, it's dangerous.
Does the LVMPD have something on the FBI that the third highest police official can simply make a request to the second in command of the local FBI office and have an agent stopped from talking to a judge about corruption?
Did Brodsky's boss, Special Agent-in-Charge Aaron Rouse, know about what White claimed to Tobiasson about Fasulo and Brodsky?
Because of secrecy and "no comment" policies we may never know the truth.
Tobiasson did some things right in exposing what she believed to be police corruption.
But Tobiasson did many more things wrong.
Tobiasson is a sitting judge who took an oath to uphold the law.
By her own admission, she told the Baltimore Post-Examiner that she threatened a suspect in a double homicide and kicked in the door to his residence.
Tobiasson used her position as a judge to influence Connie Land, the grieving mother whose daughter was murdered. She used her position as a judge to obtain information from a detective involved in the murder investigation, that never would have been disseminated to a private citizen.
She poisoned Land's mind by accusing the lead detective investigating her daughter's murder of being corrupt when there was no basis in fact for that assertion.
Tobiasson's motive for inserting herself into a double homicide investigation that she had no business in meddling into remains unclear.
At the very least, it most likely has to do with her own daughter's involvement with certain persons that may have been involved in the murders in one aspect or another.
Remember, Tobiasson was on the record with the Baltimore Post-Examiner when she accused three people of executing Sydney Land and Nehemiah Kauffman.
As far as Tobiasson telling Land that the FBI was investigating the murders.
The Baltimore Post-Examiner has obtained a text message that was sent to Land on January 16, 2019 from Richard C. A. Smith, Special Agent – FBI Las Vegas. You be the judge if Tobiasson told Land the truth.
While the local media will likely continue to ignore Tobiasson, the Baltimore Post-Examiner will be publishing more explosive stories on the judge. But we don't plan to stop there. Stay tuned for the motives behind the unsolved 2016 Land/Kaufman murders, more police corruption, and updates on the mediation process in the civil cases against MGM Resorts International relating to the October 1, 2017 Las Vegas Massacre.
All this news is worth reporting. As one Las Vegas reader put it, if you want to know what's going on in Vegas, you have to go to Baltimore.
Oh, by the way here's the new slogan for the Las Vegas media to promote since they are party to it; What goes on in Vegas, gets covered-up in Vegas. That's kind of catchy. What do you think George Knapp? Do you like it?

Doug authored over 135 articles on the October 1, 2017 Las Vegas Massacre, more than any other single journalist in the country. He investigates stories on corruption, law enforcement and crime. Doug is a US Army Military Police Veteran, former police officer, deputy sheriff and criminal investigator. Doug spent 20 years in the hotel/casino industry as an investigator and then as Director of Security and Surveillance. He also spent a short time with the US Dept. of Homeland Security, Transportation Security Administration. In 1986 Doug was awarded Criminal Investigator of the Year by the Loudoun County Sheriff's Office in Virginia for his undercover work in narcotics enforcement. In 1992 and 1993 Doug testified in court that a sheriff's office official and the county prosecutor withheld exculpatory evidence during the 1988 trial of a man accused of the attempted murder of his wife. Doug's testimony led to a judge's decision to order the release of the man from prison in 1992 and awarded him a new trial, in which he was later acquitted. As a result of Doug breaking the police "blue wall of silence," he was fired by the county sheriff. His story was featured on Inside Edition, Current Affair and CBS News' "Street Stories with Ed Bradley". In 1992 after losing his job, at the request of the Federal Bureau of Investigation, Doug infiltrated a group of men who were plotting the kidnapping of a Dupont fortune heir and his wife. Doug has been a guest on national television and radio programs speaking on the stories he now writes as an investigative journalist.