Van Hollen calls on National Park Service to repair BW Parkway dangerous road
It doesn't help matters when trucks (which are banned from the road) are driving down the BW Parkway as drivers attempt to maneuver around potholes and uneven pavements. BPE photo.
WASHINGTON –  U.S. Senator Chris Van Hollen (D-Md.) has called upon the National Park Service Acting Director Dan Smith to take immediate action to remedy the poor driving conditions on the Baltimore-Washington Parkway.
The road is littered with potholes for at least a three-mile section from Route 32 to Powder Mill Road. Several cars have blown out tires and a series of accidents have happened on the dangerous section. The National Park Service recently lowered the speed limit on the BW Parkway between  Routes 197 and 32 to 40 miles per hour in order for drivers to be able to react to the poor road conditions.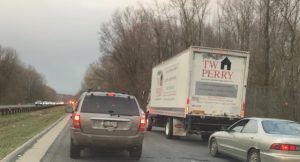 "I am writing on behalf of my constituents regarding the unacceptable driving conditions on parts of the Baltimore-Washington Parkway. It is an unsafe situation that needs to be remedied immediately through expedited action by the National Park Service and its federal partners," Van Hollen wrote to the National Park Service on Friday.
My constituents have reported that the current road conditions have caused unnecessary congestion, crashes, and debris. NPS Superintendent Matthew Carroll informed my staff that full reconstruction of this portion of the Parkway, including extensive mill and overlay, will begin in late summer 2019. This timeline is unacceptable. Lowering the speed limit is not an adequate substitute for repair, and it will not ensure the safety of Maryland commuters and other vehicles on this heavily traveled highway.
In order to protect the public safety it is essential that you work with the Federal Highway Administration to accelerate this schedule. I look forward to your response. If there are any reasons why you cannot start these repairs immediately, please let me know what they are so that we can work together to address them."
The National Park Service has not responded.

Baltimore Post-Examiner is run by a creative cadre of dedicated journalists – some who worked at the Washington Post, Baltimore Examiner and other regional and national publications. It's the Post-Examiner because we love the play on the word "Post" but we are also hoping to answer that question: What's next after newspapers? We see a lot of websites come and go – and many simply are not making it for various reasons. We have been a model of success since we launched in 2012 with "a little bit of everything" and we aim to continue to break that cycle of websites coming and going.