Las Vegas judge's statement to judicial investigator about KLAS-TV interview conflicts with statement made to the Baltimore Post-Examiner
LAS VEGAS — A statement made by Las Vegas Township Judge Melanie Andress-Tobiasson during a September 2018 interview with an investigator for the Nevada Commission on Judicial Discipline conflicts with what she told the Baltimore Post-Examiner last May.
According to documents obtained by the Baltimore Post-Examiner on June 19, 2018, at the request of Paul C. Deyhle, General Counsel and Executive Director for the Nevada Commission on Judicial Discipline (NCJD), an investigation was conducted into allegations of misconduct by Las Vegas Justice of the Peace Melanie Andress-Tobiasson.
Spencer Investigations LLC, a Reno, Nevada based investigative agency was contracted by the NCJD to conduct the investigation.
The investigation stemmed from a KLAS-TV News 8 I-Team interview with Tobiasson that aired on April 12, 2018.
The focus of the investigation was to ascertain if Tobiasson used her position on the bench to solicit the assistance of the Las Vegas Metropolitan Police Department to intervene in a possible prostitution ring that she feared her teenage daughter had possibly become involved in. In addition, Tobiasson presided in a domestic violence case involving one of the alleged principles in the prostitution ring, that according to Tobiasson was attempting to recruit her daughter into prostitution.
The NCJD investigation was limited to only the previously described activities.
In a September 10, 2018 transcript of a recorded telephone interview obtained by the Baltimore Post-Examiner between Judge Tobiasson and Investigator Bob Schmidt of Spencer Investigations, the subject of the News 8 I-Team interview was addressed.
Excerpts from that interview are as follows:
Tobiasson: The only other thing with regard to that interview, I was seeking the advice of an attorney.  I was with my attorney.  It was at my attorney's advice and guidance that I recorded the story.  The intention was that the story was not to be aired.  That video was never intended for public consumption.  It was an opportunity where I sat in my attorney's office and told the story from beginning to end on tape so that it would be memorialized in the event I wasn't able to tell it at some point.  And that was with my attorney present and with my attorney's guidance.
Schmidt: OK.  So if that was the case, if it was never to be aired unless something happened, did you have prior knowledge before it was actually aired on –
Tobiasson: I had prior knowledge that they were going to do a story based on another case that had been negotiated that involved a girl who was also somewhat involved in the double homicide. [The unsolved October 2016 double homicide of Sydney Land and Nehemiah Kauffman].  So, yes, I was aware that they were going to do a story because that particular case was directly linked to the double homicide and all the people involved in that double homicide.
Schmidt: OK.
Tobiasson: The – the case that was involved that caused them to ultimately do the story and use clips from that tape was oh, sorry.  His name's Frost, but it's – no, it's – hold on.  I'll get you the name.  Give me just a minute.  Anthony Galasi, G-a- l-a-s-i.  The victim in Anthony Galasi's case is the sister of one of the suspects in the double homicide.
Schmidt: OK.
Tobiasson: And when they contacted me to tell me they were going to do the story, I had said to them this wasn't recorded in order to use it.  And I was not – I wasn't real happy about it.
Schmidt: How much notice did they give you before the thing was actually on the news?
Tobiasson: About a day.  And I did not have a chance to preview it or anything else.
Schmidt: So you got to watch it when everybody else did?
Tobiasson: Yep.
Spencer Investigations interview with Tobiasson occurred on September 10, 2018.
On May 7, 2018, less than one month after the KLAS-TV 8 News Now I-Team interview aired, the Baltimore Post-Examiner conducted a recorded interview with Tobiasson, which was the basis for the January 21, 2019 story, "Judge claims FBI refused information on police corruption probe after pressure from LVMPD."
Excerpts from that story concerning the I-Team interview:
BPE: I saw the interview that you did with Channel 8 I-Team. Is everything that's on that interview is what you told them or was that an edited version of your interview?
Tobiasson: Oh, no, that interview, that tape was never intended to go public. I made that tape to, in the event that I was dead and couldn't tell my story. My attorney wanted me to videotape my story, it's about four hours, maybe five, in the event that someday I needed it for my protection or in the event that I wasn't around to tell the story. That's how concerned they are for me. Then what happens after the, so Lombardo, and I didn't find out about it until after the story aired, talking to my attorney suggesting that I'm involved in criminal activity and suggesting that they're going to file charges against me, and my attorney tells me that I think we need to do this story. He doesn't tell me why, he says I think we need to air the story.  I said, I agree. I said I don't know what we're waiting for, let's do it, I wanted to do it six months ago. So, they aired the story.
(The Baltimore Post-Examiner was told by a source that Tobiasson filed formal statements accusing KLAS-TV of misleading her because she supposedly never intended to appear on camera or on the air. )
After the Baltimore Post-Examiner published our January 21 story on Tobiasson's interview, Tobiasson sent the following emails to me:
Tobiasson: There are certain parts of this that are going to ruin me.  I never anticipated you would just put the entire conversation in the article.  I'm mortified.  I already have a discipline complaint.  Can you delete the parts about me contacting his attorney please?
BPE: I told you I was transcribing the interview.  What part are you talking about with the attorney?  I don't understand.  What did you think this was going to be?  I told you I was doing the story.  You said you wanted to get this out.
Tobiasson: Contacting Shane's attorney.
Tobiasson: You told me you were transcribing it.  Not that you were just going to print the entire thing.  I'm toast.  I gave you information that was never meant to be made public. I'm ruined.  And nothing will ever happen to these people. Judicial discipline will use this to remove me from the bench and if my daughter sees this she will certainly never speak to me again.
In April of 2018 Tobiasson sent the following text message to a retired Las Vegas Metropolitan Police Department detective that was obtained by the Baltimore Post-Examiner: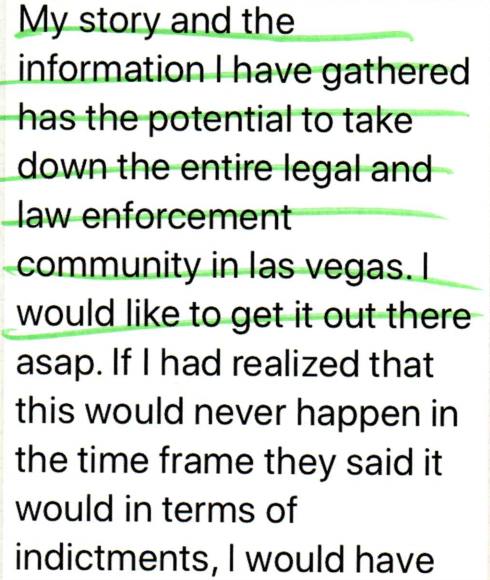 My story and the information I have gathered has the potential to take down the entire legal and law enforcement community in Las Vegas.  I would like to get it out there ASAP.  If I had realized that this would never happen in the time frame they said it would in terms of indictments, I would have done this immediately after I was outed to Metro about my contact with the FBI.  As a courtesy to their investigation, I did not go with my original plan which was to write it all out and send it to every news agency in the country.  I believe that I need to make an official report ASAP.  Should have already done it.  Don't have the first clue as to how.
The Baltimore Post-Examiner got her story out on January 21, 2019.
The Nevada Commission on Judicial Discipline's investigation into misconduct allegations against Judge Tobiasson that was described in this article is currently on hold.  Tobiasson's attorney filed a stay, which was granted by the Nevada Supreme Court and the NCJD cannot proceed until the Court rules on that.
Connie Land, the mother of Sydney Land, one of the victims in the 2016 unsolved double homicide, filed a complaint against Judge Tobiasson with the NCJD in December of 2018, in a separate matter.

Doug authored over 135 articles on the October 1, 2017 Las Vegas Massacre, more than any other single journalist in the country. He investigates stories on corruption, law enforcement and crime. Doug is a US Army Military Police Veteran, former police officer, deputy sheriff and criminal investigator. Doug spent 20 years in the hotel/casino industry as an investigator and then as Director of Security and Surveillance. He also spent a short time with the US Dept. of Homeland Security, Transportation Security Administration. In 1986 Doug was awarded Criminal Investigator of the Year by the Loudoun County Sheriff's Office in Virginia for his undercover work in narcotics enforcement. In 1992 and 1993 Doug testified in court that a sheriff's office official and the county prosecutor withheld exculpatory evidence during the 1988 trial of a man accused of the attempted murder of his wife. Doug's testimony led to a judge's decision to order the release of the man from prison in 1992 and awarded him a new trial, in which he was later acquitted. As a result of Doug breaking the police "blue wall of silence," he was fired by the county sheriff. His story was featured on Inside Edition, Current Affair and CBS News' "Street Stories with Ed Bradley". In 1992 after losing his job, at the request of the Federal Bureau of Investigation, Doug infiltrated a group of men who were plotting the kidnapping of a Dupont fortune heir and his wife. Doug has been a guest on national television and radio programs speaking on the stories he now writes as an investigative journalist.