Ocean City: Phillips Seafood House is alive and well
In Baltimore certain words will probably trigger a definite response, at least I think they would.  For example, if I said Little Italy you might respond Italian.
If I said flag chances are you'd say Fort McHenry and if I said crab cakes you could very well say Phillips Seafood House.  When Phillips opened in Harborplace it was a big deal.  I'm betting when visitors came to town and asked for a crab cake place you'd send them there.  And maybe you're still doing that even though they moved east along the harbor.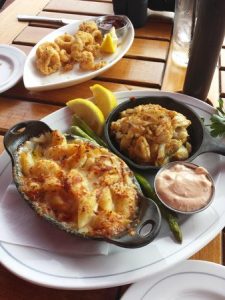 The Phillips' tradition is also alive and well in Ocean City at multiple locations.  I recently enjoyed dinner at their location in northern Ocean City, 14101 Coastal highway.  From the outside it doesn't appear to be nearly as big as when you enter.  I'm told seating for about 500.  The big draw is the nightly Buffet (open for dinner only, 4 p.m.)) for $37.99 all you can eat.  Early birds (first hour) can get it for $33.99. And believe me there is plenty of food even for the biggest eaters.  By the way, children 9 to 12 are $16.99, 5 to 8 $8.99 and under 4 free with paying adult.
Open seven days with daily specials, the night I was there it was Atlantic salmon. Phillips Ocean City, including their other location on 21st Street, is maintaining the reputation they established in Baltimore from the first day.  The chef, Tim, has been with Phillips for almost 20 years.  I had a chance to meet him, he turned down my cooking tips, but I can tell you this is one dedicated guy.  I was truly amazed how he keeps tabs on all the items available on the buffet.  Incidentally, don't try to put food in your pockets.  I tried, it doesn't work.
The restaurant was remodeled in 2016 but of course dining here is still very casual. You don't have to order from the buffet, there is a menu, but I suggest if you're going there for the buffet make a reservation.  Which, now that I think about, isn't a bad idea no matter what you order.  This time of year with hungry mouths to feed, families love this place.  So that you get  a visual picture, the buffet is in the back, the main dining area in the front and off to the side as you enter there's the retail part.  Carry out is available.
The chef did tell me they smoke their own brisket, ham, pork and turkey.  And I'm thinking there's lots of it to smoke.  Some diners live for the nightly buffet.  Yes indeed some folks can pack it away.  Running out of any item just can't happen.  This is where a good staff is crucial.  Not to worry here, the buffet will be well stocked every night.
Most nights you'll be greeted at the door by Jim.  He is well known in OC for being a radio personality for many years.  So I enjoyed talking with him since I am in the radio business in Baltimore for about 40 years.  Not to brag, but while in Phillips I signed 30 autographs, of course I took 29 back with me.
In short, if you're from this area you know the Phillips name.  So it makes sense to go someplace you feel you know.  You wont be disappointed by the food or the service.  You can reach them at 410-250-1200 or go to phillipsseafood.com. (watch the double s's)

Eddie Applefeld is a Baltimore native and a graduate of Towson University. He has been in the broadcasting profession for over 30 years. Currently he is the Promotions Director of WCBM radio. Before that, he was part of the Rouse & Company show on WQSR, host of a cable TV show called Dining Out and adjunct instructor at Towson.
His past accomplishments include being named a finalist in Baltimore Tourism's Employee of the Year Program and winner of Toastmaster's Speaker of the Year contest. He was also twice a heartthrob for the American Heart Association's gala fund raiser.