Eat healthy with Country Archer's Frontier bars and assorted jerky
Forget about those hormone-packed jerky snacks.
Country Archer Jerky Co. provides a much better choice. Since 1977 it has been producing healthy snacks for healthy people — and the best part of the jerky — it tastes great and is made in America.
And the company started out in an unusual manner. Eugene and Susan Kang stumbled on to it during a road trip to the Grand Canyon. They fell in love with the product and decided they needed to find the original owner – Celestino Mirarchi, who made jerky all the time, but didn't have much time to market it nationwide. The Kangs formed a business partnership with him and took the product nationwide.
The San Bernardino smokehouse company has certainly carved out its niche in a highly competitive market. We found that its Frontier Bar — boasting 20 grams of protein, 1-3 grams of sugar and only 110-140 calories per bar — could be easily marketed as a "runner's training bar" because it gives you that extra boast needed to catch that second wind. The sodium is a bit high (350-390 mg.) but if you are on a run, it's better than eating potato chips during a marathon.
The Frontier bar comes in assorted flavors — Cayenne, Sweet BBQ, and Herb Citrus (our favorite). Pick one; you won't be disappointed. The company also produces flavored pork and beef sticks (11 grams of protein).
The jerky offering is among the best we have ever tried – and we have sampled nearly every brand out there. But what impressed us the most about Country Archer is the common denominator in its line of products. Most jerky contains all the bad things that you really shouldn't be eating – lots of fat and lots of calories.
But Country Archer does not follow the crowd; they are leading it by producing a product with no MSG, no hormones, no nitrites or nitrates, no preservatives and 100 percent grass fed beef. And it's gluten-free. They are true to their marketing slogan — "More Meat. Less Bull. No Junk."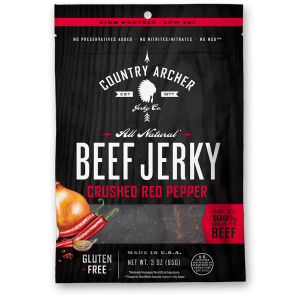 The jerky comes in a variety of flavors — Original Beef, Sweet Jalapeño Beef, Sriracha Beef, Mango Habanero Beef, Crushed Red Pepper Beef, Hickory Smoke Turkey and Honey Dijon Turkey and Beef Teriyaki.
If you are thinking that some of these products are going to be way too hot to digest, you will be mistaken. It has just a hint of the spice that you won't feel the need to drink a gallon of water to put out the fire. That said, we still are in love with the Hickory Smoke Turkey although the Mango is a close second. Then again, we could be persuaded that Crushed Red Pepper might rank up there as well. It's really hard to pick out a favorite.
The truth is we tried several samples of the product and we have come to one conclusion, we have to run out to the store to get more. We are hooked.
Country Archer products can be found nationwide at Kroger, Albertsons, Starbucks, Costco, Sprouts, The Fresh Market, Gelson's, New Seasons, Meijer, Fairway and more. For more information, visit www.countryarcher.com.

Baltimore Post-Examiner is run by a creative cadre of dedicated journalists – some who worked at the Washington Post, Baltimore Examiner and other regional and national publications. It's the Post-Examiner because we love the play on the word "Post" but we are also hoping to answer that question: What's next after newspapers? We see a lot of websites come and go – and many simply are not making it for various reasons. We have been a model of success since we launched in 2012 with "a little bit of everything" and we aim to continue to break that cycle of websites coming and going.