Have you ever been faced with what whiskey, bourbon, rum, tequila to try? Sure, you have! Beyond straight up and on the rocks, are you curious as to how would they taste in a cocktail, what would mix well with them? If I have described you, then the series of Private Select dinners David's Restaurant in Live! Casino & Hotel just might be the night out you are looking for? Every third Thursday of the month, an ardent spirit is featured and paired with a chef-crafted 4-course dinner.
Having attended June's Private Select Dinner at Davids at Live! Casino and Hotel I indulged as their mixologist created the Maryland Mule Cocktail – Sagamore Spirit Rye Whiskey, Ginger Beer & Fresh Lime paired with a whiskey-cured salmon with Boursin cheese mousse, braised apples, pickled leeks, and red onion. The second course of the four courses highlighted the Black-Eye Rye Cocktail – Sagamore Double Oaked Whiskey, Ginger Beer, Fresh Lime, Blackberry Simple Syrup, Fresh Mint and that was paired with duck confit, potatoes pave, baby carrots with a whiskey glaze. A representative from Sagamore was informative and available for any inquiries. Two other cocktails with Sagamore Spirits were created to highlight the chef's spirited comestibles and round out the four-course dinner.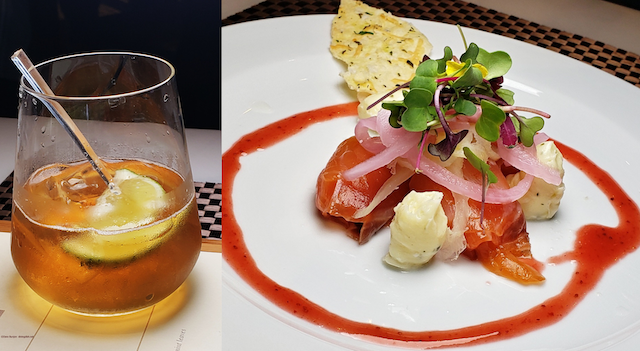 With the third Thursday – July 18th around the corner, David's Private Select Dinners has tickets that are now available to attend their Pilar rums event: 4 courses /4 cocktails $65 (includes dinner and drinks). The event starts at 7 pm.
First Course
Papa Tiki Crush
Papa's Pilar Blonde Rum, Guava Juice, Lime Juice, Grapefruit, Black Pepper Syrup,
Garnished with Orchid Lime Wheel, Fresh Cracked Black Pepper
Rum Cajun BBQ Prawns
with Boursin Grits, Cajun BBQ Sauce
Second Course
Papa's Pilar Bourbon Barrel Spiced Daiquiri
Papa's Pilar Bourbon Cask, Lime Juice, Spiced Pineapple Syrup
Garnished with Pineapple Segment, Charred Cinnamon
Aged Rum Cajun Porchetta
with Boiled Fingerling Potatoes, Corn Maque Choux
Third Course
Papa's Old Cuban
Papa's Pilar Sherry Cask, Lime Juice, Mint Cane Syrup, Angostura Bitters, Brut Sparkling Wine
Garnished with Mint Sprig, Lime Rose
Blackened Lamb Chops, Rum Cane Syrup Glaze
with Parsnip & Celery Root Purée, Red Pepper Coulis, Rum Lamb Mint Demi
Fourth Course
Papa's Pilar Platinum Coffee Old Fashion
Coffee Infused Platinum Blonde, Strawberry Syrup, Chocolate Bitters
Southern Biscuit & Berries
with Rum-Soaked Berries
Can't make July's Select Dinner – August will feature Deep Eddy vodkas
Davids
Live! Casino & Hotel
7002 Arundel Mills Cir #7777, Hanover, MD 21076
Social Media: @livecasinohotel
https://www.livecasinohotel.com/locations/lobby-bar-davids