Columbia's Mall open-air lifestyle center, streetscape plaza re-energizes downtown
Howard County Council Member Mary Kay Sigaty celebrates the completion of the mall.
I have grown very fond of the The Mall in Columbia. At first I didn't really 'get' it. Malls in the UK are places that take away trade from towns and villages, but here in Columbia this is the town centre, and it's been a delight to see it grow and regenerate into something that is an attribute to the 'downtown' feel.
This week the was the official grand opening event to commemorate the completion of the 70,000-square-foot 'open-air lifestyle center and streetscape plaza'. Since breaking ground in January 2013, the project, which was the first to break ground as part of Howard County Council's Downtown Columbia 30-year Master Plan, has redeveloped more than 30,000-square-feet and has added an additional 40,000-square-feet to the center's existing 1.6 million-square-foot footprint.
On October 16, representatives from The Mall in Columbia and officials from General Growth Properties, owner of the Mall in Columbia, were joined by Howard County Council Member Mary Kay Sigaty, and members of the Community Foundation of Howard County, Downtown Columbia Partnership, and Howard County Chamber to take part in a celebratory event to commemorate the completion of the lifestyle center.
The Mall in Columbia announced the donation of 10 percent of sales (up to $5,000) made mall wide from October 16-18 to The Community Foundation of Howard County. The Foundation's mission is touching and transforming lives of Howard County residents by connecting people, places and organizations to worthy causes across the area.
The plaza opening marks a significant milestone for The Mall in Columbia and highlights the evolution of the center to include an inviting, dynamic main street space with first-to-market merchants and restaurants. The expansion is uniquely positioned to meet the needs of the changing demographics of the area by combining shopping, dining and entertainment in a walkable, open-air environment designed to excite and connect the Howard County community.
The pace of leasing has been tremendous, with the addition of eight retailers; Anthropologie, Arhaus, AT&T, Athleta, lululemon athletica, Secolari, Soma Intimates, True Religion, lou lou, and four major restaurants; Maggiano's Little Italy, Seasons 52, Zoe's Kitchen, and ShopHouse, signed and opened since the groundbreaking in 2013. Leasing is complete for the plaza with no additional space available. lou lou boutique will open October 31 as the final retailer in the outdoor Plaza.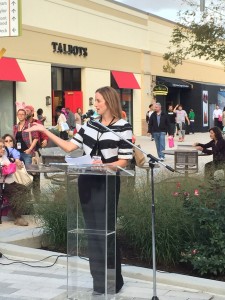 "In conjunction with our development team, local elected officials, and community groups, we worked hard to ensure that this streetscape project would function as a vibrant social hub of Columbia," said Ashley Venable, senior general manager, The Mall in Columbia. "It is our hope that this redeveloped area will become a "new downtown," and with the pedestrian friendly main street setting, public spaces with local artwork, abundant landscaping and amenities, and top-notch shopping, dining and entertainment options, we have no doubt that our shoppers and community members will find reasons to return again and again."
"I am so excited about the new features, stores and restaurants at The Mall in Columbia. I applaud General Growth Properties and everyone involved in this project for embracing the vision of connecting the mall to a newly vibrant downtown, and of creating spaces where the community will gather. The mall is growing and evolving, just as Columbia is, and is poised for future success," said Howard County Executive Ken Ulman.
The overall plan for Downtown Columbia will include 13 million-square-feet of retail, commercial, residential, hotel and cultural development. Accomplished in three phases, the plan calls for up to 5,500 new residential units, 4.3 million-square-feet commercial office space, 1.25 million-square-feet of retail space, 640 hotel rooms, Merriweather Post Pavilion redevelopment, and a multi-modal transportation system.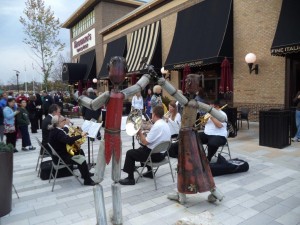 The master plan will also contain sustainability features, including measurable goals for saving energy and water, improving public transportation, ecology and livability. It will be walkable, feature extensive bike trails and have improved watersheds and storm water management systems. Green technologies and building standards will be utilized.
One addition I would like to see is a bookshop and stationery supply store that has an educative slant. Perhaps that will happen; I sure hope so.
The Mall in Columbia is owned and managed by General Growth Properties, Inc., an S&P 500 company focused exclusively on owning, managing, leasing, and developing high-quality retail properties throughout the United States. GGP is headquartered in Chicago, Illinois, and publicly traded on the NYSE under the symbol GGP.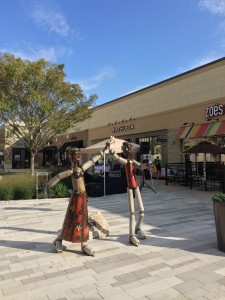 Claire Bolden McGill is a British expat who lived in Maryland for three years and moved back to the UK in August 2015. Claire wrote about her life as a British expat on the East Coast and now works in travel and hospitality PR in the UK. She still finds time to blog about her repatriation and the reverse culture shock that ensued – and she still hasn't finished that novel, but she's working on it. You can contact Claire via twitter on @clairebmcgill or via her blog From America to England.