Next to Normal: Less than lyrical rock musical meanders aimlessly at Centerstage
Michael Winther, Ariela Morgenstern and Kally Duling in Next to Normal at Centerstage. (Richard Anderson)

Musical theatre lovers have a chance this weekend to see two very different shows which are running concurrently at Centerstage. One – The Magic Flute – Impempe Yomlingo as presented by South Africa's Isango Ensemble – is a lively take of Mozart's mythical masterpiece. The other show – Next to Normal – a rock musical about the maddening effects of mental illness, seems to be based primarily on a warning label from a bottle of Xanax.
Directed by David Schweizer, Next to Normal premiered on Broadway in 2009 after years of politically correct re-writes morphed a short parody piece into a pseudo-serious musical-drama. The end result garnered collaborators Tom Kitt and Brian Yorkey a Pulitzer Prize for Drama and the Tony Award for Best Original Score Written for Theatre and Best Orchestrations. Impressive, perhaps, though in this critic's eye, this says more about the current state of musical theatre than it does about the merits of this particular show.
The concept behind Next to Normal is intriguing enough.
A wife and a mother (Diana), who has spent years battling mental illness, seems to be slipping once more into her own fantasy land. Diana's condition is a source of concern to her husband (Dan) and an embarrassment to her teenaged daughter (Natalie) who is in the midst of her first romance with a boy from school named Henry. Diana's first doctor (Dr. Fine) was endlessly adjusting her medications. A new psychiatrist (Dr. Madden) at last advises a more radical approach. Only her son (Gabe) seems to understand Diana's troubled psyche – a tragic irony which is revealed after dinner on his eighteenth birthday.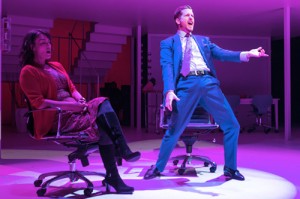 Turning this family's rocky existence into a rock musical is not without its dangers, as the laugh-lines (both nervous and real) are the strongest part of the show. But even the laughs cannot make up for the forgettable music or the unbalanced performances in the Centerstage production.
With a mind-numbing 36 musical numbers, one would think there would be at least one memorable song. Unfortunately, each riff (and requisite reprise) is as banal as the one before it, dampening whatever drama the cast may conjure up. The only piece which really delivered was I Dreamed a Dance, which thankfully departed (albeit briefly) from the shallow sameness of the rest of the score.
But even here, no one left the theatre humming a few bars of I Dreamed a Dance.
Musicals of this nature are of course in vogue and have been for some time. But that shouldn't excuse their mediocrity. There was an understandable dust-up a few years back, when it was suggested Broadway could do without live orchestras; but in the producers' defense, why pay skilled musicians to play songs the average high school band could easily put across?
Adding to the inherent problems with this production are a cast which never does seem to be quite in sync.
Matt Lutz is refreshingly laughable as the pill-pushing Dr. Fine, while decidedly more rigid when he later appears as Dr. Madden. To his credit, Lutz's transformation is pretty amazing, though in the end both characters are something of a cliche.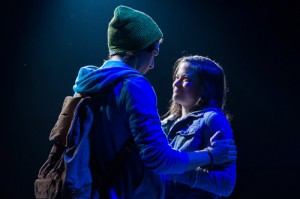 Kally Duling as Natalie screams far too many lines – both musically and with her body language. Her over-the-top manner is juxtaposed at its worst against Michael Winther, as Dan who from the opening sequences comes across as being too laid back.
Perhaps the most egregious performance of the night was turned in by Ariela Morgenstern as Diana. Vocally, Morgenstern just doesn't have the range for the part of Diana, as her high notes were one shrill sound after another. Her acting (a mix of strident and static) was also at odds with the other members of the cast. The most painful moment may be the scene where Diana stoops to make sandwiches on the floor. One could almost see Morgenstern thinking, "This is what I'm supposed to do next."
Only Justin Scott Brown as the ephemeral son Gabe and Matthew Rodin as the boyfriend Henry appear to get what the story is really about. Both are good, but their presence is not enough to make up for the shortcomings of the music and lyrics, or the fitful performances of their fellow players.
A special nod to Musical Director Darren Cohen and his four piece combo. The musicians are on stage throughout the entire show and have the thankless task of accompanying several marginal voices with a less than melodic score. These are four very good musicians who deserve a whole lot better.
On the technical side, set designer Caleb Wertenbaker gives the cast a fairly straightforward, workable space. Aaron Black's lighting is somewhat harsh – perhaps in keeping with the stark reality of Diana's dilemma. Ryan Rumery's sound design doesn't quite deliver, though some of the problem with overmiking the actors may be a result of the cast's lack of musicality. Dan Knechtges' choreography should appeal mostly to the pop music video crowd.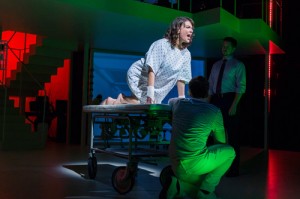 Maybe the most telling fault was in a literal slip by Costume Designer David Burdick.
Late in the first act, the lights rise to show a drugged and distraught Diana on an emergency room gurney. She is dressed only in the familiar hospital gown. As the scene unfolds, the gurney is spun around to reveal the actress wearing a slip beneath her usually mortifying garment. In the one moment when this production should have really let it all go, they opted to button Diana up; revealing a reticence by both actress and director to embrace the true tragedy of bi-polar disorder. In the end, Next to Normal comes across as somewhat contrived and is at least two steps away from manic depression.
Fans of shows such as Rent will probably enjoy the noisy nonsense of Next to Normal. Those looking for something more entreating will want to opt for Isango Ensemble's The Magic Flute.
* * * * *
The Centerstage production of Next to Normal runs now – November 16. Approximate running time for this production is 2 hours and 10 minutes with one intermission. The concurrent production of Isango Ensemble's The Magic Flute – Impempe Yomlingo plays for a limited engagement October 17-19. Centerstage is located at 700 North Calvert St in Baltimore, Maryland. Tickets and other information may be found by visiting Centerstage.

Anthony C. Hayes is an actor, author, raconteur, rapscallion and bon vivant. A one-time newsboy for the Evening Sun and professional presence at the Washington Herald, Tony's poetry, photography, humor, and prose have also been featured in Smile, Hon, You're in Baltimore!, Destination Maryland, Magic Octopus Magazine, Los Angeles Post-Examiner, Voice of Baltimore, SmartCEO, Alvarez Fiction, and Tales of Blood and Roses. If you notice that his work has been purloined, please let him know. As the Good Book says, "Thou shalt not steal."