Baltimore beauties bare all for chance to compete in New York Burlesque Festival
(Feature photo: Model is Obskyura. Photo was shot at Pink Panther Studios by Toni Wallachy, Orangeroads Photography.)
Burlesque is back in Baltimore and it's bigger than ever.
The town which embraced Blaze Starr and laughed at the baggy-pants antics of Abbot and Costello and Milton Berle has become a hotbed of neo-burlesque.  Those who doubt the degree of this ribald resurgence need only look at the Live section of The Sun or the events pages of the City Paper to see there's always something spicy going on.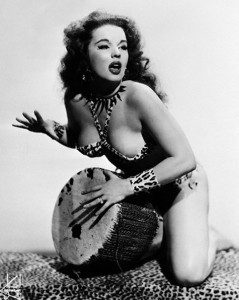 Clubs like Fantasies, Scores and the Millstream Inn are still drawing the pole dancing crowd, but venues such as The Wind-Up Space and The Creative Alliance are attracting a mix of young singles and enthusiastic couples who enjoy the retro romance of their grandparents' after-dark adult fare.
Local troupes Tilted Torch, Sticky Buns and Gilded Lily Burlesque compete and compliment each other – often sharing space and "guest star" status at each other's events.  Baltimore favorites Trixie Little and The Evil Hate Monkey have swung to new heights as features in the New York burlesque scene while consummate showman Bosley hosts a bevy of scantily clad cuties at the Strand Theater.
For fans of this revival, or for those who have never been to a burlesque show, this Thursday night the Ottobar offers a special treat.  Starting at 8 p.m., local performers will be competing for a chance to take a bite of the Big Apple at the 2012 New York Burlesque Festival.  The New York Burlesque Festival is the nation's largest burlesque showcase.
The event features more than 150 performers from around the world; an impressive number given that more than 300 hopefuls apply every year. The event is co-produced by Angie Pontani and Jen "Thirsty Girl" Gapay, two of the most energetic and innovative talents on the theater scene today.
At the Ottobar event, burlesque and variety performers will compete live in front of a panel of judges and audience members for a chance to be in this year's New York Burlesque Festival.  Winners will be invited to New York for the Sept. 27-30 festival and may come away from the Ottobar with $400 in cash and prizes.
One of those competing on Thursday night is Pittsburgh native Marla Meringue.
Meringue, who came to Baltimore in 2006 to attend the Maryland Institute College of Art, is widely regarded for her creativity and captivating presence on the stage.  Her Medusa act (set to the music of Nancy Sinatra's Friday's Child) is almost heartbreaking in its severe sensuality, while her shark bit is reminiscent of a Saturday Night Live routine.
Meringue, who never danced before she came to Baltimore, says she hopes to win the competition because, "New York is the premier showcase for (theater) talent in the world."
Along with Meringue, local stars who will show their wares on Thursday night include Baltimoreans Maria Bella and Petra Precocious , sultry Kay Sera from Columbia, Cherokee Rose from Washington, D.C., and Crystal Swarovski from northern Virginia.  Other contestants are coming from as far away as Brooklyn, Chicago and New Orleans.
The Ottobar show, which will be hosted by The World Famous Bob, will also include appearances by international sensations Angie and Helen Pontani.  Helen, known as the Tapping Tornado, is a delightful throwback to the days when Ginger Rogers and Ann Miller lit up the stage and the screen.  Angie, who incorporates the fluid movements of ballet with the classic bumps of a bawdy backroom teaser, is a past (2008) winner of Miss Exotic World and the reigning Miss Cyclone of Coney Island.
Seeing the Pontani Sisters alone is worth the price of admission.
Interestingly, some of the area's best known performers will not be competing.
Paco Fish, a multi-talented artist and one of the scene's most sparkling faces, will be at the Ottobar show in a strictly supporting roll.  The "boylesque" star, who auditioned last spring for America's Got Talent, has been accepted to appear at the New York festival.  It is his hope that he'll be joined on the stage in Manhattan by his partner, Marla Meringue.
D.C. native GiGi Holliday, who is known by the tag, "The chocolate that melts your heart" is taking a pass on this year's event.
"I am not competing on Thursday. At this time, I'm not sure I am ready to compete.  Michael Jackson felt that he was 'just OK.'  That's how I feel; that I am just OK.  I feel self-conscious and I am a huge self-doubter.  Don't get me wrong.  I don't consider myself to be like Michael Jackson.  It was just one of those things (that) made me feel human and even more humbled," Holliday said.
As for next year, Holliday assures her fans, "I will be ready."
Another local favorite who won't be competing is Roma Mafia.
"Personally, I'm not a fan of competitive burlesque, but I'll be there to stage manage the show and support my friends in the community," Mafia said.
Star Search Baltimore will happen at 8 p.m. Thursday, Aug. 2, at the Ottobar, 2549 N. Howard St., Baltimore.  For details and tickets, visit the Ottobar site.

Anthony C. Hayes is an actor, author, raconteur, rapscallion and bon vivant. A one-time newsboy for the Evening Sun and professional presence at the Washington Herald, Tony's poetry, photography, humor, and prose have also been featured in Smile, Hon, You're in Baltimore!, Destination Maryland, Magic Octopus Magazine, Los Angeles Post-Examiner, Voice of Baltimore, SmartCEO, Alvarez Fiction, and Tales of Blood and Roses. If you notice that his work has been purloined, please let him know. As the Good Book says, "Thou shalt not steal."