Back to the Michael Olesker list. We delayed the No. 6 Baltimorean installment long enough. No response from Olesker as of yet, even with our tempting candy bowl of coins, dog-bitten baseball card, Baltimore Claws' ticket and partially chewed gum that has still has two hours of good chew left. (It might be one hour because Danny our Chocolate Lab mascot got some action in with the gum. Sorry about that.)
In case you missed it, we've been trying to get a reaction from the famed Baltimore columnist Michael Olesker on how we are doing with his list since our website launched April 6.
For those of you who have missed this entire series because  it doesn't have to do with how UFOs put flouride in the water to kill JFK,  let us give you a quick run down.
Olesker, formerly a beloved columnist at the Baltimore Sun,  and later the Baltimore Examiner gave us a list of his top 20 Baltimoreans whom you couldn't tell the story of Baltimore without. He gave us the list. We write, debate, argue, and eventually make Olesker think we lost the argument and we move on.
Of course, we decided just to make our jobs easier and cut the list down to  Olesker's dozen. A little rewind time: The dozen is Olesker's order of historical importance. Not ours. Hate mail goes to him. Not us. So those eight who didn't make the Olesker dozen but squeezed by in the top 20 include: Kweisi Mfume, Joe Gans, Jerry Leiber, Lillie Carroll Jackson, Cab Calloway,  Reuben Kramer, John Waters and Leon Uris.
And so here we are. No word from Olesker. We know he doesn't read the Baltimore Sun anymore and Baltimore Examiner exists in a sign only on Pratt Street. So we know he has to be reading us. What else is there?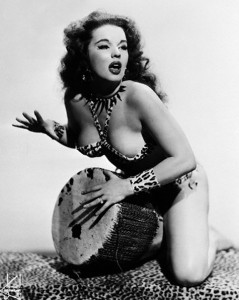 So let's make the offer a little more interesting.  Digging around the candy bowl, we found one more gem –  a classic photo of Blaze Starr – the famous burlesque dancer who played a jungle drum set and did her exotic thing at the  2 O'Clock Club in Baltimore in the 1950s and eventually bought the place. Born in 1932, Starr ran away from her West Virginia home at age 15 and rose to national fame. Her fame grew after she was profiled in a February 1954 Esquire magazine article, "B-Belles of Burlesque: You Get Strip Tease With Your Beer in Baltimore."
"The Two O'Clock Club remained her home base, but she began to travel and perform in clubs throughout the nation. She also had an affair with Louisiana Gov. Earl Long in 1959 and she told People in 1989 that she had a quickie with JFK in a closet long before Kennedy became president. Her wardrobe – what little of it – and other props are on display at the Museum of Sex in New York City and the Burlesque Hall of Fame.  She left the business in 1975 and became a full-time gemologist, where she can be found selling hand-crafted jewelry in Eldersburg.
In fact,  if we get someone legitimately speaking for you Olesker, we may give them a cut of the bowl as well. We will need some evidence that they indeed are speaking for you. Starr is tempting, we know you are thinking about that one. So it's all yours – just drop us a line.
Now back to the matter at hand.
Let's recap:
So that leaves us with No. 6:   Democrat William Donald Schaefer.
Let's just say this ever since Schaefer left Baltimore and this earth, we see more potholes in the city than ever before. He wouldn't like that.
We don't disagree that he should be on the list, but at No. 6? We would put him up much higher than that. And what point of the conversation does his name come up when talking about Baltimore. We venture to guess within 30 seconds.
This is our guy. The guy who wanted to annex Washington, D.C., into Maryland. The guy that didn't sit behind a desk but was actually out working to make the city a better place. Yeah, a little strange at times,  and not PC enough for some with degrading comments about women, Hispanics and calling people with AIDs a danger. But everyone has warts. You just have to look at the bigger picture.
But our problem is putting him at at No. 6?  Maybe we'd put in Starr at No. 6. and move Schaefer up a few notches. OK, we know, we can't because she is from West Virginia, but don't we really claim her as a Baltimorean? She was discovered here as a hat-check girl and then made it to the big time. They even made a movie about her with Paul Newman. If we were on a street corner in the city talking to a tourist about Baltimoreans, her name would come up in about 60 seconds. Don't you think?
We don't see any movies about Schaefer and we don't think she voted for the top CIA man in 1992 to be president as did Schaefer did when he endorsed George H.W. Bush over Bill Clinton because he went to Camp David with Bush.
And we can't blame losing the Colts on Starr. That happened on Schaefer's watch even though Colts owner Robert Irsay said he planned on calling his "old friend" if they did  move. It didn't help that the Maryland State Legislature passed legislation giving the city of Baltimore the right to seize ownership of the team by eminent domain, which infuriated Irsay. The legislation was written by one of Schaefer's aides.
OK, so the Colt thing bugs us a little bit and let's not forget about the Baltimore Bullets who left for Washington. Maybe Schaefer should have sent Starr to negotiate a deal with Irsay and the Bullets. Why wasn't she on his staff? But he did lay the foundation to get Art Modell, owner of the Cleveland Browns to move his team here, which we now know as the Ravens. But something still stinks about having a Johnny Unitas statue in front of the Raven Stadium when it should be in front of a Colts stadium.
But's it hard to to overlook how Schaefer more than anyone transformed the city. After all he's got a lot of things named after him.  Granted Starr is the Boulesque Hall of Fame, and Schaefer is not, but buildings count for something.
Let's check Schaefer's 50 years of public service .
Schaefer (1921-2011) graduated from Baltimore City College in 1939. He received a LL.B degree from University of Baltimore School of Law in 1942 and a later a master's in law. He served as an United States Army colonel in WWII before becoming the 44th Mayor of Baltimore where he served from 1971-1987. Prior to that sat on the council from 1955-1971, where he also was president of the council. Elected governor in 1987, he served until 1995. He became the state comptroller in 1999 and served until 2007.
As mayor, he served four terms.  He took care of the city like it was his house.  He paid attention to detail, of garbage, potholes and other violations as he drove around – and he ordered them to be fixed immediately.  He was controversial not only in what he said but often in what he did. For example he named Bishop L. Robinson as the first African-American Police Commissioner in 1984,  a position reserved usually for Irish Americans and Italian cops.
Schaefer took note of closings of major manufacturing plants such as Bethlehem Steel and General Motors and looked to boosting tourism to turn the city around. He helped get the new convention center in downtown as well as opening the Harborplace – now a landmark for the city that features hotels, the National Aquarium where millions of tourists visit. Esquire Magazine  named him "the best mayor in America" in 1984.
He also is responsible for building  Oriole Park at Camden Yards, and pushing for the light rail line of electric trains that travel 30 miles from Hunt Valley to past Oriole Park to near BWI Airport. He also imposed stricter environmental standards to protect the Chesapeake Bay and raised the standards for education.
In 2008, he added his leftover campaign funds and proceeds from the sale of his house to the Civic Fund, which continues to provide small grants for neighborhood projects.
He died of  complications due to pneumonia April 18, 2011. He was 89.
OK. Olesker there you have it. And don't say we denigrated Schaefer by dumping him with Starr in this Baltimorean countdown. Our guess is our mayor would have gotten a kick out of that and probably would have said something not PC that Starr would have laughed at. She  probably then would have scolded him, which we venture to say, he would have enjoyed – just as you might enjoy this rare photo of Starr we discovered sitting on the bottom of the candy bowl.
Care to comment about that Olesker? Fire away. The bowl awaits you.

Timothy W. Maier is the founder of Baltimore Post-Examiner LLC, which runs the Baltimore and Los Angeles Post-Examiner websites. He started out writing music, fiction and poetry and then turned to news writing, where he spent the past three decades at news organizations in Wisconsin, Maryland and Washington, D.C. He was the managing editor at the Baltimore Examiner newspaper. He now spends time with his family, dog, guitar and riding his motorcycle across the country.