What entry was logged at 9:59 p.m. by Mandalay Bay security night of Las Vegas massacre?
The Las Vegas Metropolitan Police Department's final criminal investigative report on the Las Vegas Massacre does not indicate in their timeline that any event specifically occurred at 9:59 p.m. relating to Mandalay Bay Security Officer Jesus Campos' movements on the night of October 1, 2017.
In addition, the police report does not mention that any entry was logged into the Mandalay Bay Security dispatch log at 9:59 p.m. on the night of the Massacre.
That seems odd when juxtaposed with the fact that Mandalay Bay Security Officer, Lilliana Rodriquez, specifically told an LVMPD officer who was inside the Mandalay Bay surveillance/dispatch room the night of the Massacre that, "the call is marked at 9:59," when they were speaking about the time Security Officer Campos was shot.
In the LVMPD's final police report several events are listed in their timeline however nothing specifically is noted for the time of 9:59 p.m.
I have stated in several articles that I have authored for the Baltimore Post-Examiner, that based on my previous experience in hotel security management, that I believe Campos was negligent in his duty that night on several points.
In our Baltimore Post-Examiner October 6 article, "Las Vegas Police body-worn camera footage shows Mandalay Bay security surveillance room night of massacre" and our November 20 article, "New police video of Mandalay Bay surveillance room ends mystery of females registered to Paddock's suite," we included LVMPD officer body-worn camera footage from videos #351 and #690, respectively.
Since those stories were published, I have been recovering and transcribing additional audio from both of those videos.
Excerpts from transcribed audio from LVMPD officer body-worn camera video #351:
At 10:32 p.m. on October 1, 2017, about 17 minutes after the last shots were fired, two male security officers are talking to the female security officer standing in front of them at the surveillance video monitoring console.
That female officer's name is unknown, however, the second female officer who is to the rear of the main console and is heard talking on the phone throughout the video identifying herself as "Lilly," is Mandalay Bay Security Officer, Lilliana Rodriquez.
10:32:27 p.m. Female S/O asks the officer at the console, "It started at the Luxor?," "Where did it start at?"
10:32:54 p.m. Male S/O at console says, "So anyway, I guess we had a problem at the Luxor, they had an active shooter…at around the same time, we had a guy up in the tower that got hit in the leg…with a pellet gun…on the phone…I don't know…Campos is fine…pellet gun…oh yeah, Campos is fine…, he's walking around."
Female S/O: "He got shot with a pellet gun?"
Male S/O: "…he said pellet gun…Campos is fine he's walking around…and then hung up the phone."
10:55:24 p.m. A police officer asks, "So what it was like a pellet thing, a pellet, an officer got hit with a pellet round."
11:47:54 p.m. Female S/O is heard in the background saying, "so we heard was pellet gun…big deal."
11:50:09 p.m. S/O Rodriquez on the phone, "Security Lilly… Campos. Campos got a pellet to the leg, but he's fine now, OK. Inside of an hour…" Then hangs up the phone.
11:50:28 p.m. Police officer says, "You said one of your security guards got shot?"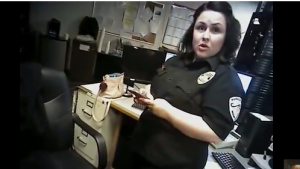 S/O Rodriguez responds, "Yeah, the initial call was uh, one of the first calls was uh, [unintelligible] got shot and he was bleeding and that's when [unintelligible] and it was just a pellet and he was fine."
The police officer asks, "And that was at 9:30?"
11:50:55 p.m. S/O Rodriquez responds, "That was at like at 9…, the call is marked at 9:59, so… 10:10, 20."
The police officer says to his partner, "So it first came out that security got hit…"
11:51:22 p.m. S/O Rodriguez asks, "Captain, do you have an update on Campos like what happened exactly?"
"He's fine, he got hit in the leg with a pellet," somebody responds.
Female S/O: "By them?"
Male S/O: "And he said he's OK."
Female S/O: "Does he have a description?"
11:51:35 p.m. Police officer talking to his partner: "Security got hit too."
The police officer responds, "It was about 9:30…"
11:52:51 p.m. S/O tells Lilly she has a phone call. She picks up the phone. She is on the phone with S/O Jesus Campos.
S/O Rodriguez: "Campos, you got hit right; was this related to what's going on? OK did you get a description… and you got hit… and you didn't see anybody?" She hangs up the phone.
I have to interject here because something doesn't make any sense. It's almost two hours after the gunfire first started, and she is asking Campos if it was related to what's going on.
I have a more important question. Just what was going on that night in the Mandalay Bay security dispatch room?
11:53:29 p.m. S/O Rodriquez then announces to everyone in the security room, "Campos got hit on the leg, Campos, got hit on the leg, from the room where the peephole, so he has no description."
11:53:30 p.m. S/O at console says, "Lilly, did you hear that… you hear, the one guy in the room, they made entry, one guy they took down…"
Supervisor asks him, "so what is it?"
S/O responds, "they entered the room, they took one guy down, they sealed the room off as a crime scene and they're clearing the rest of the hall."
Supervisor responds, "numbers 32-13, 32-135, right."
11:55:06 p.m. S/O Rodriquez: "He's fine, yeah, said he got hit through the peephole."
11:56:04 p.m. Supervisor tells officers at the console, "make sure that we keep times and who we talk to, make sure we keep all of that, write it down, please." [It's almost midnight, now he points that out.]
October 2, 2017. 12:22:42 a.m. A security officer on the radio is heard saying, "per Metro we're going to transport Campos."
Excerpt from transcribed audio from LVMPD officer body-worn camera video #690
There is no timestamp on this video. At the 18-second mark female S/O says: "The Crystal Room was cleared at 10:20, so between 9:59 and 10:20 that's when the… the pellet…"
The following is what the LVMPD police report states as having occurred on October 1, 2017
9:46 p.m. Campos entered the service elevator and got off on the 30th floor at 9:47 p.m.
Campos walked to the stairwell in the 100 Wing of the 30th floor and walked up to the 32nd [No time listed].
Campos could not gain entry to the 32nd floor due to the door being barricaded. [No time listed].
Campus walked up the stairs to the 33rd floor and walked down the 100 Wing of the 33rd floor to Center Core. He took a guest elevator to the 32nd [No time listed].
Campos was negligent here. Campos should have called in immediately as soon as he found the fire exit stairwell door couldn't be opened. That is a major safety violation in the hotel industry and should have resulted in an immediate response by security and maintenance personnel to the 32nd floor, possibly before Paddock opening fire at 10:05 p.m.
We know this had to have occurred between 9:47 p.m. and prior to 10:00 p.m. if we are to believe the police timeline.
The police report goes on to say:
At 10:00 p.m. Campos exited the guest elevator and walked up the 100 Wing toward Room 32-129. Campos checked Room 32-129 and found it secured. [Why no rush getting to the locked door. He stopped to check this room first.]
Campos walked into the foyer leading to the stairwell and observed the "L" bracket screwed into the door and frame.
At 10:04 p.m. Campos picked up a house phone located inside the small foyer leading to the stairs and called security dispatch to report the "L" bracket on the door to the stairs. Security dispatch transferred the call to maintenance dispatch. The maintenance dispatcher then transferred Campos to the maintenance supervisor's [Shannon Alsbury] cell phone.
The police report contradicts itself on this point.
The police state on Page 49 of their report, "He [Campos] contacted his security dispatch, inquired about it and was told to contact maintenance."
So which is account is true? Security transferred Campos or was he told to contact maintenance himself?
I'm addressing that issue because I find it troubling to say the least. A fire stairwell door that is bracketed shut and cannot be opened is not only a major safety violation in the hotel industry, but in this age of terrorism, it was a suspicious event, big time.
I cannot understand why security dispatch told Campos to hang up and call maintenance himself.
Was this even entered into the security dispatch log?
The police final report states that Paddock was shooting from 10:05 p.m. to 10:16 p.m. That's eleven minutes of firing according to the police report. The police originally said that the firing stopped at 10:15 p.m.
10:05 p.m. Paddock fired two single gunshots into the Las Vegas Village area. Paddock fired an undetermined amount of gunshots into the Las Vegas Village area.
10:06 p.m. Campos ended the phone call and hung up the house phone. After hanging up the phone, Campos heard what he described as rapid drilling noises. Campos began walking down the 100 Wing toward the Center Core. Paddock fired rounds down the hallway at Campos. Campos is struck I the left calf with a bullet fragment. He takes cover in a room alcove. Campos told his dispatcher via his radio, "Hey, there's shots fired in, uh, 32-135."
The police state, "Campos ended the phone call and hung up the house phone. After hanging up the phone, Campos heard what he described as rapid drilling noises."
That statement is in contradiction with what Maintenance Supervisor, Shannon Alsbury told the police during his recorded interview. Alsbury told the police that Campos told him he heard drilling noises while he was on the phone with him.
Again, which account is correct?
The police report states that Paddock opened fire at 10:05 p.m. and that Campos hung up the telephone that he was using in the foyer directly adjacent to Room 32-135 at 10:06 p.m.
If Paddock opened fire at 10:05 p.m. and Campos hung up the phone at 10:06 p.m., Campos should have heard the gunfire.
Was it gunfire that Campos was hearing and not drilling noises?
Whatever he heard, he didn't investigate it or call it in, he just walked away from 32-135 and proceeded down the hall.
Was Security Officer Jesus Campos interviewed a second time?
During Jesus Campos' brief recorded interview with the police, Campos never mentioned seeing Engineer Steven Schuck on the 32nd floor.
Campos said he didn't see the room service cart in front of Room 32-134.
Campos never mentioned anything about a female coming out of her room as he said on the Ellen DeGeneres show.
Was Campos re-interviewed by the police about those discrepancies and if he was then why was that follow-up interview not included and/or mentioned in the LVMPD's final police report on the Massacre.
If Campos wasn't re-interviewed by the police, then why not. This was the biggest criminal investigation in the history of the LVMPD, let alone the worst mass shooting in American history. There should have been nothing left undone.
As a former criminal investigator, I was extremely baffled when I read the transcript of Campos' recorded interview with the police.
The interviewing detective should have pursued Campos' statement that he heard what he thought were suspicious drilling noises emanating from Paddock's suite, then just walks away without investigating the sounds.
I would never have let that go unchallenged had I been the investigator interviewing Campos. Something is just not right about that.
From a hotel security standpoint, Campos' failure to investigate those suspicious noises was extremely negligent. Any competent security officer would have addressed it, and Campos failed to do that.
Clark County Sheriff Joe Lombardo's ever-changing timeline
Initially, we were told that Campos was shot as a result of approaching Paddock's suite as he was firing into the Route 91 Harvest music festival and that diverted Paddock's attention. Paddock then shot Campos through the door and quit firing into the crowd. Campos was called a hero.
Then Lombardo said that Campos was shot at 9:59 p.m. and the shooting on the crowd started six minutes later at 10:05 p.m.
Once again that changed and Campos was shot at about the same time that Paddock opened fire onto the concert venue, which fit with the statement that MGMRI put out.
On October 20, 2017, Lombardo said that Campos arrived near Paddock's suite at 9:59 p.m. but that he was not shot then.
Lombardo explained that the 9:59 p.m. time came from "human entry" in a security log.
"I still stand by the time of 9:59 p.m. It wasn't inaccurate when I provided it to you. The circumstances associated with it are inaccurate," Lombardo said.
MGMRI said that the time "was derived from a Mandalay Bay report manually created after the fact without the benefit of information we now have. We are now confident that the time stated in this report is not accurate."
MGMRI nor the LVMPD have ever released any documentation corroborating just what the hell they were talking about.
When the LVMPD released its final criminal investigative report in August, that too was devoid of any corroborating evidence, i.e. cellphone records, Mandalay Bay Hotel video of Campos in the elevator, etc., anything that was used for their timeline of events relating to Campos.
Is it just me or does anyone else find it just a little bizarre that after hearing gunfire and being hit in the leg, Campos said he thought that he was hit with a pellet?
Why was Campos so calm on the audio recording that was released by MGMRI last year when we heard Campos say, hey there's gunfire coming from 32-135.
Remember, Campos never said that he was shot when he called that in over the radio. The LVMPD said in their report that he called in from his cell phone after using his radio, which makes no sense to me.
That audio clip had no time/date stamp by the way. Most likely because as I have reported in another story that Mandalay Bay security had compromised the integrity of the security dispatch audio recording system because the time was off by at least 30 to 40 minutes and the security officer didn't note the time it was off when he tried to reset the recorder.
If I heard gunfire and then got hit, I'm going to be yelling over my radio that I was hit by gunfire and I need back-up, especially if I was an unarmed sitting duck pinned down in a hallway. Campos did neither.
So what was logged in at 9:59 p.m. on the night of October 1, 2017?
Something obviously was and my suspicious by nature mind makes me think it's something that MGMRI doesn't want to make public, most likely because of the pending civil litigation.
If 9:59 p.m. was the time Campos was in the 32nd-floor stairwell and couldn't get into the hall because the door was bracketed shut, that would be a critical point in the timeline.
Like I said earlier, had Campos while he was inside the stairwell, called that in, that should have resulted in an immediate response by security and/or engineering personnel.
It's very possible that may have had an impact on Paddock's actions that night, who knows.
What was the active shooter call at the Luxor that was occurring at the same time Campos was shot that the security officer referred to?
It's possible that could have been Luxor guests hearing Paddock's gunfire from the 32nd floor of the Mandalay Bay as he was firing out the broken windows.
If that was the case, how could both Campos' radio call and a call from somebody at the Luxor using a telephone be coming in at the same time Campos was calling in over the radio if that's indeed what happened? Something just doesn't fit here.
If Campos called in that shots were coming from Room 32-135 at the same time Paddock opened fire at 10:05 p.m., then why was there so much confusion that night about where the gunfire was originating from?
Why does the LVMPD Communications Event Log indicate that Mandalay Bay Security contacted them about the active shooter in 32-135 at 10:16 p.m.?
From watching the videos, there appears to be uncertainty with the security officers inside the surveillance room about what not only happened with Campos but with other events that were also occurring that night.
The conversations that were derived from the audio of the LVMPD officers body-worn cameras are more important from an investigatory aspect than the recorded interviews with Mandalay Bay personnel that took place with the police and FBI days or weeks later.
Those conversations that we hear on the videos were happening in real time.
Unless MGMRI drastically changed their investigative techniques, there is no doubt that all Mandalay Bay Hotel security personnel that were involved with the events of October 1, at a minimum, completed company voluntary statements, prior to the police interviewing them, and were more than likely interviewed by MGMRI corporate investigators.
MGMRI conducts their own internal investigations, separate and apart from law enforcement.
A forensic audio specialist should be able to recover much more of the conversations than I could from those videos.

Doug authored over 135 articles on the October 1, 2017 Las Vegas Massacre, more than any other single journalist in the country. He investigates stories on corruption, law enforcement and crime. Doug is a US Army Military Police Veteran, former police officer, deputy sheriff and criminal investigator. Doug spent 20 years in the hotel/casino industry as an investigator and then as Director of Security and Surveillance. He also spent a short time with the US Dept. of Homeland Security, Transportation Security Administration. In 1986 Doug was awarded Criminal Investigator of the Year by the Loudoun County Sheriff's Office in Virginia for his undercover work in narcotics enforcement. In 1992 and 1993 Doug testified in court that a sheriff's office official and the county prosecutor withheld exculpatory evidence during the 1988 trial of a man accused of the attempted murder of his wife. Doug's testimony led to a judge's decision to order the release of the man from prison in 1992 and awarded him a new trial, in which he was later acquitted. As a result of Doug breaking the police "blue wall of silence," he was fired by the county sheriff. His story was featured on Inside Edition, Current Affair and CBS News' "Street Stories with Ed Bradley". In 1992 after losing his job, at the request of the Federal Bureau of Investigation, Doug infiltrated a group of men who were plotting the kidnapping of a Dupont fortune heir and his wife. Doug has been a guest on national television and radio programs speaking on the stories he now writes as an investigative journalist.