Wes Shank: Beloved 'Caretaker of The Blob' dies unexpectedly
Movie memorabilia collector Wes Shank with a miniature set from the film The Blob. (Anthony C. Hayes)
It is with great sadness that the staff of the Baltimore Post-Examiner learned yesterday of the sudden passing of a good friend – movie memorabilia collector Wes Shank. The amiable film enthusiast died at his Pennsylvania home last Friday night. Wes Shank was 72.
Wes – who was affectionately known to many as "The Caretaker of The Blob" – was featured in a Post-Examiner story last month, which recounted his dedication to the preservation of movie history. Wes was an occasional guest at the Mid-Atlantic Nostalgia Convention in Baltimore, where we met he and his wife Judi last fall.  Wes was also a regular at Blobfest in Phoenixville, PA., where he displayed artifacts he had obtained from the director of the 1958 sci-fi horror classic, The Blob.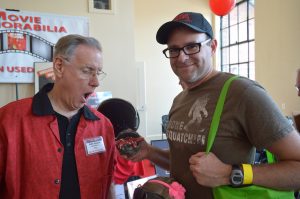 In our interview, Wes said The Blob – set and filmed around Phoenixville, Downington, and Chester Springs, PA. – was the film which really sent his creative collecting gears into action. "I knew if I didn't act, The Blob might get thrown out with the trash someday."
The Blob also afforded the first starring role for legendary actor Steve McQueen, who Wes smilingly recalled as playing, "The oldest teenager in movie history."
Wes was especially proud of the items he had collected from the career of silent film star Lon Chaney. Other notable artifacts in his extensive personal collection included an array of lobby posters from sci-fi movies, as well as items from the original Planet of the Apes and Forbidden Planet. But Wes' single-minded effort in securing the red silicone substance that was used to create The Blob is undoubtedly his most outstanding achievement as film historian. Thanks to Wes, future generations of film students and fans will have the opportunity to see and – if they so dare – touch one of the most disturbing "monsters" to ever grace the silver screen.
"It's amazing," Wes told us, "to bring The Blob to Blobfest, The Monster Bash or the Nostalgia Convention, and watch people take a wide path around the display. Some people even start to freak out – they are totally convinced that if they get too close, The Blob might actually consume them, too."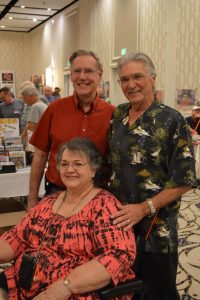 Wes Shank's enthusiasm for all things cinema was truly infectious. His laughter was robust, and, whenever asked, he had a fascinating story for every piece in his wide-ranging collection. But for all of the fussing Wes did over his artifacts, the movie collection played second-fiddle to his faith, and to his love for his wife Judi.
Visiting the Shanks last spring, I couldn't help but notice that, in a house chock full of memorabilia, a well-thumbed Bible sat at the ready on Wes' coffee table. One could tell by Wes' cheerful demeanor that that Bible was no mere prop in his life. Likewise, Wes paused several times while giving us the grand tour to check in on his wife. I witnessed that same kind of tender care a number of times at Blobfest. Clearly, Judi was the star in Wes' personal screenplay.
The following notice was provided by Wes' family.
Walter E. Shank, better known as "Wes Shank", formerly of Bryn Mawr, PA passed away unexpectedly on August 10, 2018, at the age of 72. An avid movie memorabilia collector and preservationist, Wes began his collection in 1960. He, and his wife Judi, were referred to as the "caretakers of the original blob silicone" and enjoyed traveling to present it, and other props, at various conventions. Wes spent 31 years working with various local television stations, and later had a film rejuvenation business. In 2009, Wes authored a book "From Silicone to the Silver Screen–Memoirs of THE BLOB (1958)" about the beloved cult classic movie. He ultimately retired in 2016 from retail sales. All who knew Wes recognized his "Peter Pan" personality, fun-loving and jovial. Wes was always willing to go out of his way to help others and served his lifelong church for decades. He was a loving husband to his wife, Judith "Judi" R. Shank; father to son David W. Shank (Michelle Farrell); and stepsons William Jentes Jr (Rebekah) and Kyle Jentes (Lynn). He is also survived by his sister, Margaret "Peggy" Shank Miller (Fred); two granddaughters, Remy and Rory Jentes; nieces Amanda Miller, and Laura Silverman; and nephew Andrew Silverman. He was preceded in death by his parents, the late Philip R. Shank and Margaret Scott Shank.
A memorial service will be held on Thursday August 16th. Visiting hours will begin at 10am; service to follow at 11am at Lower Merion Baptist Church, 911 New Gulph Rd, Bryn Mawr PA 19010. In lieu of flowers, donations can be made in Wes's memory to Historic Yellow Springs, PO Box 62, Chester Springs PA 19425 for future film preservation, or to Lower Merion Baptist Church.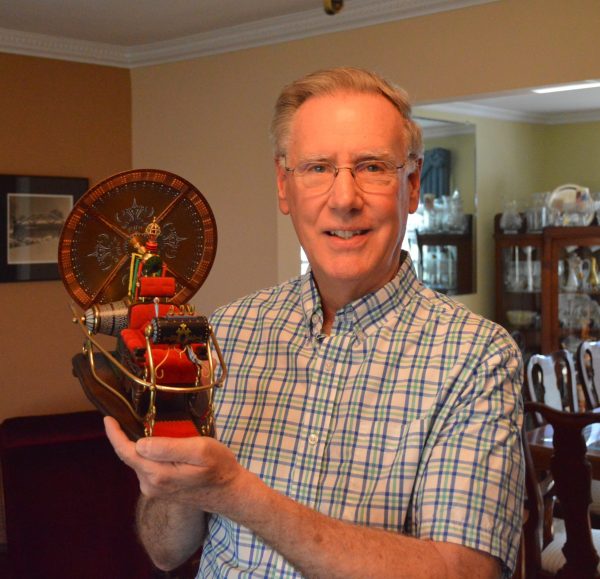 Anthony C. Hayes is an actor, author, raconteur, rapscallion and bon vivant. A one-time newsboy for the Evening Sun and professional presence at the Washington Herald, Tony's poetry, photography, humor, and prose have also been featured in Smile, Hon, You're in Baltimore!, Destination Maryland, Magic Octopus Magazine, Los Angeles Post-Examiner, Voice of Baltimore, SmartCEO, Alvarez Fiction, and Tales of Blood and Roses. If you notice that his work has been purloined, please let him know. As the Good Book says, "Thou shalt not steal."