Blobfest celebrates 60 years of oozing horror
A Lego recreation of the Colonial Theatre run-out scene from The Blob at the 2018 Blobfest in Phoenixville, PA. (Anthony C. Hayes)
Phoenixville, PA — Imagine sitting in a darkened movie theatre, watching a horror flick with your Friday night squeeze, and then suddenly realizing that certain death was oozing down the walls. What would you do? If you have any sense, you'd probably run like heck for the nearest door. Unless, of course, you had already become ensnared in the flesh-eating goo that is The Blob.
Sixty years ago, the Colonial Theatre in Phoenixville, Pennsylvania, served as the setting for one of the most frightening sequences in cinema history. The interior provided the perfect spot to scare riveted movie-goers, while the exterior supplied the backdrop, as scores of extras poured out the doors in a breakneck race to escape the terror within. Last Friday night, hundreds of movie fans returned to the stately theatre and reenacted the mad dash for safety into the streets of Pheonixville. Thousands more were in town on Saturday and Sunday to continue the celebration in an upbeat event simply called Blobfest.
Baltimorean Melissa LaMartina – AKA Aurora Gorealis – along with her husband Chris, set up shop amongst the vendors who lined bustling Bridge Street in front of the Colonial Theatre.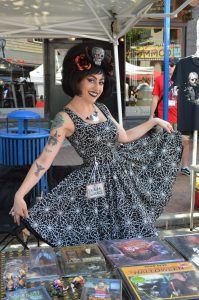 "Aurora" is best known around Charm City for hosting libation-heavy horror movie nights.
"At Golden West, the second Thursday of every month, I do a show called Shocktail Hour. We show a horror movie that we usually split into four parts, so that we can do games, give away prizes and draw tickets for a raffle. I got into this character four years ago, when I bought the wig on my honeymoon for Halloween. We went to New Orleans, and I didn't pack a costume.
"Sometime later, I was talking with my friend Sam, who owns Golden West. I told her that I always wanted to do horror hosting. So she said, 'Let's do it!" Here we are, a year later, and our crowds keep getting bigger. It's so much fun. I love creating experiences for people. My husband and I turned the shed at our house in Hamilton into a tiki bar. I love closing that door and creating that experience, so it's really the same for Shocktail Hour."
With a bar in her shed, what brings Aurora all the way from Baltimore to Pheonixville?
"A few years ago, my husband Chris did a short film for the Blobfest Shorty Awards. That sort of got us into the fold. He did a fake trailer for the scene where Steve McQueen passes by a movie poster for the "Vampire and the Robot" in The Blob. Chris and Lobo got talking about that last year, and Lobo asked him to make a trailer as if that movie really existed. Then they found out that I was horror hosting, and invited me to take part in the show last night. So here we are!"
Dancing to rock-a-billy tunes in the street was a blast for the hale and hearty, but the 90-degree heat sent us to the cooling shelter of the Colonial Theatre. This was a natural course of action as the theatre still posts its Eisenhower-era sign, "Healthfully Air Conditioned."
Inside, we spied a spry Ricou Browning – the underwater Gill Man from the horror classic Creature From the Black Lagoon. Ricou was awash with autograph seekers, so we did not have time for an interview. He did, however, come up for air just long enough to promise us a few minutes of his time this September, when he'll be in Baltimore for the Mid-Atlantic Nostalgia Convention.
Marshall Terrill – author and Steve McQueen historian – took a few minutes to talk with us about his work with Greg Laurie on the book, Steve McQueen: The Salvation of an American Icon. Marshall said he'd be happy to do an extended interview in a less cacophonous setting, but he did say the content of the book comes as a shock to those who remember the daredevil rebel.
"If you're over fifty, you grew up watching Steve McQueen. People younger than fifty really have no idea what an impact Steve had on American culture. But what happened to Steve at the end of his life is a more important story. That story of his salvation surprises a lot of people."
McQueen, of course, landed his first starring role playing a persistent teenager in The Blob.
Movie Sets in Miniature
In making The Blob, producers were tasked with creating a number of realistic looking scenes in miniature. They had to, as Blob caretaker Wes Shank – a memorabilia collector who owns both the original silicone used as The Blob and several of the miniature models – happily pointed out.
"They had to come up with a way to make a couple of gallons of silicone look like it had grown to this huge size. With the miniatures, it was easy to have the Blob on top of the diner, or squeezing under the meat-locker door."
Picking up on the miniature model is Reading, PA native Kelly Hoffman. Kelly's contribution to this year's Blobfest was the display of her Lego The Blob movie recreations. These include the old man who initially discovers the Blob in a field behind his house; firemen freezing the Blob with C-02 fire extinguishers; panicked patrons running in front of the Downingtown Diner; and a Colonial Theatre run-out tableau.
"My interest in The Blob has been forever. I grew up watching B-movie horror films on Saturday afternoons," said Kelly. "That interest never stopped.
"Two years ago, I started thinking, 'I'm gonna do the run-out scene in Lego.' I slowly gathered the parts, but once I had them, it took me about two months to do it. To be accurate, I used screen-captures from the movie. I also used an old postcard from the diner. I think the results are pretty good. I'm very happy they agreed to let me show it off here."
Back outside, we had a chance to hear a Q&A with writer Matt McGinnis. Matt was tapped a few years ago when series creator Joel Hodgson decided to do a reboot of Mystery Science Theatre 3000 for Netflix.
The most surprising revelation about the new show came in response to a minor criticism that there was too much talking going on in the early episode of the 2017 season.
"Yeah, we realized that," said Matt. "I think we wrote about 500 jokes for that first episode. But as the season wore on, we cut that number down – especially after watching Bigfoot loping around in Cry Wilderness a dozen times."
The Blobfest experience would not be complete without a showing of The Blob. For Saturday's 4 PM screening, The Blob was paired with a 3-D presentation of Creature From the Black Lagoon.
For those who have never seen a horror film in 3-D, the effect can be rather unnerving. We lost count of how many times we shifted in our seats as the creature's creepy webbed hand reached out to grasp us. The webbed hand was constantly reaching out to grab star Julie Adams too, who must have set some sort of record for bloodcurdling screams.
Rounding out the day, we spoke with busking poet Vincent Tavani. Vincent said he has plied his art from Newport and New York to Annapolis and Ellicott City. "Really, all up and down the East Coast," he said.
"Busking is my one-on-one interaction with people. I ask them what is important to them. Something they would like to express to themselves or to others. It's incredible how images come almost prophetically and help them grapple with something that's on their mind."
Vincent also has some tall ship experience, recently sailing from Philadelphia to Newport on the Oliver Hazard Perry.
"I helped rig her and design the kids' program for the trip to Nova Scotia. If you've been up in the rigging, you know there is nothing like sailing on a Tall Ship.
"I grew up in Phoenixville. I moved around a lot as a kid, but when I landed here, I did as much work as a boy can do to find out what it is about this place that makes it special – that makes me want to be from here. There was a mural up in town. Everything around it was hopeless, but the mural showed me what Phoenixville could be like. Since then, so many wonderful things have happened.
"There is growth at the old steel site which just seemed to happen while no one was looking. So as a poet, I'm trying to find words to explain the magic that has happened; to remind people of what gives this town spirit. I want to involve them in that creation, because it's not set – it's not solid.
"I think that's what makes this place special.
"It's always been immigrants, it's always been workers. It's been people who have taken care of each other. I think especially now, that's a really important legacy to continue. I'd like to see that subconscious message be articulated to all of the new people who are coming here. They are part of the life of this town. They need to be involved in the process.
"Traveling the world is exciting, but when it comes down to it, it's always about people finding a home. Phoenixville is the place I have chosen to call home."

Anthony C. Hayes is an actor, author, raconteur, rapscallion and bon vivant. A one-time newsboy for the Evening Sun and professional presence at the Washington Herald, Tony's poetry, photography, humor, and prose have also been featured in Smile, Hon, You're in Baltimore!, Destination Maryland, Magic Octopus Magazine, Los Angeles Post-Examiner, Voice of Baltimore, SmartCEO, Alvarez Fiction, and Tales of Blood and Roses. If you notice that his work has been purloined, please let him know. As the Good Book says, "Thou shalt not steal."