Stratford University – School of Culinary Arts and Hospitality has officially opened their own restaurant, Atelier de Culinaire, in Baltimore's Little Italy at 806 Stiles Street and is running a grand opening special for $25, plus tax & gratuity, for a three-course dinner including a non-alcoholic beverage.  All additional items are at listed menu prices.   The grand opening special will run through Friday, August 3 – be sure to mention the soft opening special when making your reservations and upon your arrival.   Atelier de Culinaire will serve the public Wednesdays through Saturdays from 6 p.m. to 10 p.m. They will be adding a Sunday Champagne Brunch as of August 12  from 11 a.m. to 4 p.m.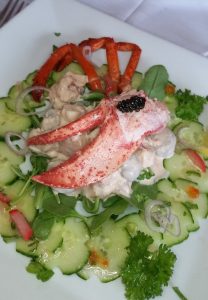 Menu items guests can look forward to enjoying is the chilled lobster salad, beef carpaccio, steamed mussels, spinach salad for your starter. Your main might be halibut, wasabi ginger-crusted salmon, rack of lamb, crab cakes, duck, pork chops and you may opt for the whole sizzling catfish.  Indulge with house-made dessert selections that will vary day-to-day as your third course.  Your meals are easily complimented with selections from their full bar, even a frothy cappuccino to finish your meal. Come back to white linen dining in a beautifully outfitted, two-story restaurant with an upper patio. Some might remember the space as Ozra, a Persian Restaurant.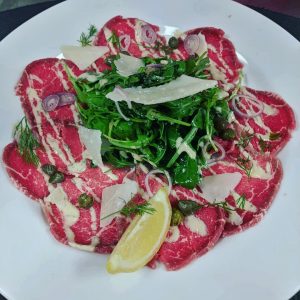 This new restaurant by Stratford University – School of Culinary Arts and Hospitality / Baltimore campus is separate from the school itself. It is a vehicle for their students to have hands-on, real-life restaurant working experience, the French call it stagiaire. The name itself, Atelier de Culinaire, translates to culinary workshop.
Not only do you have food and beverage choices there is a unique option on the menu as well, "Atelier de Culinaire is proud to showcase a staff of Stratford University students who are about to finish their internships and are seeking employment opportunities. If you are interested in speaking with any of our interns about future employment, please let us know."
Atelier de Culinaire
806 Stiles Street
Baltimore MD 21202
Reservations: 410-528-2710
Open Wednesday – Saturday (6 p.m. to 10 p.m.)
Twitter & Instagram:  @Atelier_806
Facebook: https://www.facebook.com/Atelier806/
Do you love to cook or bake? Be sure to ask them about extension courses at the Stratford campus.
ABOUT STRATFORD UNIVERSITY:  Changing lives…One Student at a Time. Stratford University is a private institution of higher learning.  The mission of Stratford University is to prepare students for rewarding careers through quality educational programs that meet the changing needs of employers and the community.  In order to meet this mission, the University offers a variety of certificate, diploma, and associate's, bachelor's, and graduate programs in emerging and high employment demand fields.  Stratford's Baltimore campus is one eight campus, including one in New Delhi, India, and their online programs.