I'm going to tell you as much about this town as I can, but will warn you, it isn't all there is. I will be back in the near future to tell you about the town itself. Now just a few things in the town I thought was of interest.  But to begin with, let's be sure you know the correct pronunciation, which
I bet you don't.  It is pronounced as if it was spelled, Stanton. OK, now we can proceed.
Let's begin with lodging and the Stonewall Jackson Hotel (24 S. Market). This is located downtown so is very convenient to many shops, museums, and restaurants. It was built in 1924, restored in 2005 ($21.1 Million) and restored again just this past winter. There are 124 rooms including four suites. At one time the lobby and ballroom served as the premier gathering place for society folks.
With the 2005 restoration, many original architectural features were brought back to life. As an example, the original marble staircase with iron rails to the mezzanine was carefully restored. One important piece of history is the 1924 Wurlitzer. This has been part of the hotel's history for about 75 years. The hotel is recognized by the National Trust's Historic Hotels of America.
Amenities include a pool, fitness center, function space, two restaurants, adjacent parking ($6.00/day), nice toiletries and of course a very friendly southern staff, as you would expect. There's a daily breakfast buffet in Magnolia South and dinner in Sorels. And as I mentioned a very handy location. Here's an example, it's next door to the American Shakespeare Center in the Blackfriars Playhouse.
Reach them at 540-880-4848 or stonewalljacksonhotel.com. By the way, if you don't who Stonewall Jackson was, look him up.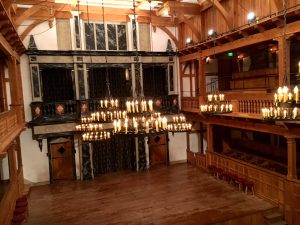 The American Shakespeare Center (10 S. Market) is open year-round and performs in a 350 seat theater. It is a re-creation of the Blackfriars Playhouse in London. There are two troupes and they alternate as many as four plays. Currently, the shows are Emma, Richard III, As You Like It and The Man of Mode, Or Sir Fopling Flutter. Not all shows are by Shakespeare. Tickets range from $20 to $60.
Reach them at 540-851-1733 or americanshakespearecenter.com. I can only say, To Be or Not To Be, that is the question.
At 18 N. Coulter Street, you'll find the Woodrow Wilson Presidential Library and Museum. You'll also see his birthplace. You can take a guided tour of his birthplace and learn about his life in Staunton. You can also take a self-guided tour of the museum and learn about his life when he left. He was quite the statesmen.
Besides being president, he was President of Princeton and Governor of New Jersey.
All buildings are open year round. Reach them at 540-885-0897 or woodrowwilson.org. If you don't know who he was, look him up too.