Valentine Burlesque shows offer lovers a special holiday treat
The amazing Angie Pontani headlines Burlesque-A-Pades Valentine's day show at Birchmere Muscic Hall. (Courtesy)
February is the month when lovers think of roses, touching cards and sweet delights.  But for aficionados of ribald amusement layered with a generous serving of tempting eye-candy, this February, the Baltimore and D.C. area is chock full of special treats.
Burlesque is back and it is bigger than ever.
Earlier this month, the Sticky Buns troop premiered a new production at The Windup Space.  The fun continued last week at Holy Frijoles when Maria Bella, Roma Mafia and Sophia Sunday appeared for a delicious turn at the Dirty/Love Erotic Art Show.
Now on the eve of Valentine's Day, The Baltimore Post-Examiner previews a plethora of enticing upcoming events:
On Thursday night, for the seventh year running, the amazing Angie Pontani – Miss Exotic World 2008 – brings some of New York's top burlesque stars to the Birchmere Music Hall in Alexandria, Virginia.  The show, Burlesque-a-Pades in Loveland, will feature an evening of live music paired with world class burlesque, comedy and magic.  Pontani will be joined on the stage by her beautiful and talented sisters, Helen Pontani and Tansy Tan Dora; the Maine Attraction; Coney Island illusionist Albert Cadabra; and stage kitten Dainty Dandridge.  Live music for the evening will be provided by The Brian Newman Quintet.
Pontani tells people she is always thrilled when her tour stops in D.C.  Judging by the sellout crowds, fans in and about Washington are also crazy about Pontani and Burlesque-A-Pades.
"I LOVE playing the D.C. area!" Pontani exclaimed. "It's actually one of my favorite markets.  The crowds are always so fabulous, happy and wonderful.  They are the perfect mix of a theater crowd meets a live music venue crowd – bawdy applause and cheers abounding!  It's truly one of our best markets and it has always been."
For those who have never ventured to the Birchmere for this show, it is a seated event with dinner and cocktail service.  Purchasing tickets in advance is strongly encouraged, as this event almost always sells out.
❃  ❃  ❃  ❃  ❃ ❃  ❃  ❃  ❃  ❃
Closer to home, D.C.'s Tilted Torch returns to Baltimore's Creative Alliance with three performances, Thursday the 14th at 8 p.m. and Friday the 15th at 8 pm & 10 pm.  The line up for this show – Tassels & Champagne – includes the fusion belly dance of Belladonna, Baltimore boylesque star (and Sticky Buns co-founder) Paco Fish, blazing poi spinning by Malibu, and burlesque and fire dance by Miss Joule.  Sticky Buns alumni Shortstaxx will command the microphone as the event's femme-cee with live music by the Christylez Bacon Ensemble.
❃  ❃  ❃  ❃  ❃ ❃  ❃  ❃  ❃  ❃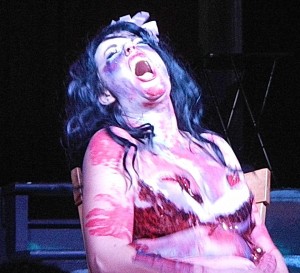 Those with a bizarre sense of humor who are tired of the Hallmark card mawkishness might enjoy My Bloody Valentine.  Billed as: "What do you do when the romance of Valentine's Day has faded and all that's left is just kinky, outrageous and strange," the show goes up Friday the 15th at  MOCA DC (1054 31st Street, NW).
Appearing that night on the MOCA stage (hopefully sans fresh wounds) will be Eak the Geek, New Orleans' Cherry Brown, Baltimore's "darling of the night" Cherie Nuit and Richmond's "dark and delightful whim" Lilly Von Grimm.  There may also be a surprise guest performer culled from Craigslist.  (This may explain the "Bloody" part of the show.)  Hot Todd Lincoln will MC the festivities and the stage tiger (no, they can't all be gorgeous girls) will be the strangely comical 'Stache the Butler.  Crystal Swarovski is this event's Producer and DJ.
Doors open at 8 p.m. but for those who arrive before the show (7 p.m. – 8 p.m.), Cherry Brown will conduct a class in New Orleans Burlesque Basics.  This class is open to all levels of performer and enthusiast.
Pre-show sales click here.
❃  ❃  ❃  ❃  ❃ ❃  ❃  ❃  ❃  ❃
Back in Baltimore, Charm City Movement will present A Valentine's Show on Saturday the 16th.  Hosted by Former Miss Gay Maryland, Sue Nami, the audience will be treated to an intimate evening of circus and burlesque performances.  Adult faculty and students will take to the floor as they showcase their circus skills and explore what it truly means to "Be Mine."
That same night, The Big Hunt in DC presents Staxx Burlesque Review – Speakeasy Saturdays.  Starring Paco Fish, Miss Joule, Gigi Holliday and Cherie Sweetbottom, this event will be Femme-ceed by the aforementioned Shortstaxx.
❃  ❃  ❃  ❃  ❃ ❃  ❃  ❃  ❃  ❃
The last weekend in February, D.C. and Northern Virginia burlesque fans will get a chance to see Baltimore's Twisted Knickers at The State Theater in Fairfax.  The date for Capsicum Cabaret is Friday the 22nd.  Doors open at 7 p.m. and show time is at 9 p.m.
The full line-up for this show was not available, but Knicker's feature performer and producer, Tapitha Kix, told us that the troop is excited about the addition of regular Bird Cage Burlesque guest-star Petra Precocious.  Kix is also excited about the Knicker's new contract with the Yellow Sign Theater.
"Our first show," Kix explained, "at the Yellow Sign was on Jan. 25th.  The Knickers will now be appearing there every other month.  Future shows will tie into the Yellow Sign's theatrical productions.  The theme for the March 23rd show is 'Sci-fi Double Feature.'"
❃  ❃  ❃  ❃  ❃ ❃  ❃  ❃  ❃  ❃
On Feburary 23rd, Gilded Lily returns to The Windup Space for Taran-Tease – A Burlesque Tribute to Quentin Tarantino!  Conceived in celebration of Tarantino's latest film, Django, Taran-Tease will feature Gilded Lily regulars Maria Bella, Sophia Sunday, Gigi Holiday and Roma Mafia, along with New York City's Creamy Stevens and the intoxicating Nona Narcisse from New Orleans. Swami Yomahmi is guest MC while Lauren Marleaux stage manages the blue bedlam.  It remains to be seen if a large, rubber snake will also be a part of this show.
Readers of this column may recall that Maria Bella and Nona Narcisse were the winners of last summer's New York Burlesque Festival Star Search competition, which was held here in Baltimore.  When we caught up with Bella at the Dirty/Love Erotic Art Show, Baltimore's Sicilian Princess shared a bit about her New York experience.
"It was wonderful," Bella said, "I was in New York with the best of the best.  The festival ran the gamut, from classic to neo-burlesque and everything in between.  I appeared that Friday night at a place called Brooklyn Bowl, which is a huge bowling alley which features live acts.  It was really fun.  I was there (in New York) from Thursday thru Sunday and just honored to be invited."
❃  ❃  ❃  ❃  ❃ ❃  ❃  ❃  ❃  ❃
Closing out the slightly extended month of love are two shows which go up the first weekend in March.  On March 2nd at the Ottobar,  Sticky Buns will premiere their 5th major production of theatrical burlesque.  Marla Meringue, Ruby Rockafella, Sunny Sighed and Bal'd Lightning, join "the honorable Judge" Paco Fish in a Bra and Garter burlesque take off of Law and Order.
❃  ❃  ❃  ❃  ❃ ❃  ❃  ❃  ❃  ❃
The final event in this confectioners round-up is an intriguing entry called Carnivalesque.  Opening in D.C. on the 1st, with stops in Baltimore at the The Creative Alliance on the 2nd, Roxy & Dukes in Dunellen, NJ on the 8th and The State Theater, Falls Church, VA on the 9th.  Co-produced by Baltimore's Gilded Lily Burlesque and Seattle's Carny Preacher Productions, Carnivalesque promises to take the audience, "back to a bygone era of dust bowl circuses & traveling sideshows."
Maria Bella of Gilded Lily told The Baltimore Post-Examiner that this show will be like no other she has ever produced.
"There will be a midway, with acrobats, barkers, wayward women, a freak show – just about everything you'd see at a Coney Island carnival.  There will be games, too.  Armitage Shanks, who did the Surrealesque show with us last summer will be there.  And we'll have sideshow art and other oddities from the collection of ("Shocked and Amazed" author) James Taylor!"
Featured performers joining Bella and Shanks for this beguiling spectacle include local talents Gigi Holliday, Kay Sera, Mourna Handful and Mab Just Mab.  Trapeze artist Patsi Cake and torch singer Sophia Sunday will also be on the bill, along with vaudeville contortionist, juggler & magician Jonathan Burns and Burlesque Hall of Fame's 2012 "King of Boylesque" Russell Bruner.
❃  ❃  ❃  ❃  ❃ ❃  ❃  ❃  ❃  ❃
Whether you're in the mood for a romantic dinner and a dazzling show with your Valentine or just a fun night out – either solo or with a few of your more adventuresome friends – this February, the glamourous stars of burlesque offer something unique and truly special.
As Armitage Shanks says, "Step Right Up! All who enter will be transformed!"

Anthony C. Hayes is an actor, author, raconteur, rapscallion and bon vivant. A one-time newsboy for the Evening Sun and professional presence at the Washington Herald, Tony's poetry, photography, humor, and prose have also been featured in Smile, Hon, You're in Baltimore!, Destination Maryland, Magic Octopus Magazine, Los Angeles Post-Examiner, Voice of Baltimore, SmartCEO, Alvarez Fiction, and Tales of Blood and Roses. If you notice that his work has been purloined, please let him know. As the Good Book says, "Thou shalt not steal."