The Lumineers on their new album and one constant—each other
In the past decade, Jermiah (Jer) Fraites' life has changed tremendously. As one of the original members of The Lumineers, he's had a massive hit with "Ho Hey," toured with both U2 and Tom Petty and the Heartbreakers, and married and become a father.
The one thing that hasn't changed is that he's still writing and playing music with Wesley Schultz, the other constant in The Lumineers. "We've had many band members change over the years," Fraites tells the Baltimore Post-Examiner. "We've probably gone through 10 people or so. It's always been Wes and me since the beginning. Life gets in the way of certain things. It's hard to keep a band together. The music is always easier than the relationships."
The Lumineers bring their latest incarnation to the Capital One Arena on Friday, February 28, as part of their tour for their latest album III.
Fraites says he only made it into the band initially because when Wes was forming it, he asked friend Justin Papp to join. "Justin said, 'Not without Jer.' And I didn't even know how to play piano when we started. I was really bad," Fraites recalls. "It's kind of crazy to see how far we've come on this album and the album before. We have two piano instrumentals: 'April' and 'Patience.'"
Papp has since moved on, as has cellist Neyla Pekarek, a band staple from 2010-2018. "She left because she was pursuing her solo career," explains Fraites. "At the end of the day, it seemed like that was more of her calling, doing that type of music that she's doing."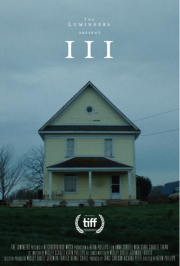 New Album
While it may seem like their album III was specifically written as a concept album, Fraites says that it wasn't. In fact, the first song put on the album, "Salt and the Sea," wasn't even originally written for it. Fraites and Schultz penned it for the M. Night Shyamalan movie Glass at the filmmaker's request. Although the song didn't end up in the movie, Fraites says because it was more dramatic and cinematic than their usual songs, it opened the door for them to craft songs such as "My Cell" and "Jimmy Sparks."
After "Salt and the Sea," Fraites notes that the second most important song on III is "Gloria." Based on a real person, the song addresses addiction through a fictional character named Gloria. "I think it was cathartic for [Wes] to write about that. Honestly, if 'Gloria' was a standalone song—and it had no other songs to support it with its subject matter—I think that idea [of addiction] may have been lost on people a little bit," he says.
As for their writing process, Schultz writes 99.9% of the lyrics, says Fraites, and they work together on the music. After seeing more of the songs Schultz was writing for III with the theme of addiction, Fraites asked him to go for a walk to talk about them. Having lost his brother, Josh, in 2001 to a heroin overdose, Fraites was getting triggered.
"I wasn't saying, 'Let's not do this.' I needed to bring up that this is really heavy for me. This is really intense. This is bringing up a lot of sh*t in my life right now, and it was for him too," Fraites says. "He was sort of like dredging the bottom of the lake, so to speak. It was therapeutic for him to get all this stuff out at the same time.
"A lot of people are going through addiction themselves or know people who are going through it, so I think Wes being as honest as possible [worked]. There's that old saying, 'The more personal, the more universal.' I think that holds really true on this album. If you stay generic, maybe some people will connect, but if you go really personally and raw, it's harder for people to poke holes in it. That's your story. That's what you feel about this or that. The album sort of took on that narrative. It never was intended to be this concept album. It all sort of happened after the fact."
After they sequenced the album, Schultz and Nick Bale, who does a lot of The Lumineers art and merchandise, realized that the songs actually formed chapters. (If you check them out on YouTube, you'll see the videos made that tell the songs' stories. As one entity, they've been submitted as a short film to film festivals.) "Even once they came up with that concept [the chapters], we didn't have to change the album sequence, which is incredible," Fraites says. "It just really came together. It's pretty cohesive, considering how it was written."
Big Time
Musicians used to say that they knew they had "made it" when they were parodied by Weird Al. For The Lumineers, it was having their song "Ho Hey" sung by "The Chickeneers," a band dressed like chickens comprised of Blake Shelton, Nick Offerman, Jimmy Fallon, and Chris Tartaro, then editor, on Late Night with Jimmy Fallon.
"If you're getting teased or made fun of, that means you've gotten to some point in your career where you've started to see success. That was like a moment where we thought we made it," Fraites says. Considering that they're headlining their own tour, well, that would show that they're pretty successful too.
Over his 15-year career, Fraites says that one of the most important things he has learned and would pass on to other musicians is not to worry about how a recording sounds. "Worry about how it feels," he says. "Worry about writing good songs because people will connect with that."
The Lumineers play at Capital One Arena on Friday, February 28. For more info, go to their website.

Michele "Wojo" Wojciechowski is a national award-winning writer and author of the humor book Next Time I Move, They'll Carry Me Out in a Box. Her work has appeared in publications such as Vanity Fair, Esquire, Parade, Discover, AARP, PBS' Next Avenue, Family Circle, Reader's Digest, and many more. Over the last few years, she's been learning to play the drums and dreams of playing one song with the Foo Fighters. Oh yeah, and she's got a Xena Warrior Princess costume hanging in her closet. Don't ask. Reach her at WojosWorld.com, Twitter @TheMicheleWojo, Facebook WojosWorldFanPage.com.