Thanksgiving side dishes – something different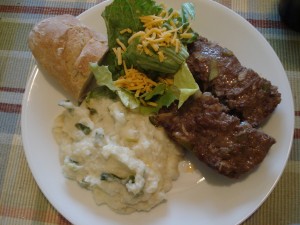 I love Thanksgiving.  A day of the year set aside to gather around the table with your favorite people to reflect on everything you love about your life – how wonderful!  However, that's not what most people think of first.  What springs to everyone's mind at the mention of Thanksgiving is, of course, the food – turkey, mashed potatoes and gravy, pie.  Admittedly, I do it, too.  Personally, there are few things I look forward to more about the month of November than my Dad's pumpkin pies, my Ma's cranberry sauce, and my Great-Grandma's dressing.  I look forward to those all year long – really and truly.
What I have this week area  few things most traditionalists wouldn't think to put in a Turkey Day spread.  Not necessarily unheard of dishes, but new twists on a few old classics.  Believe me, you can't just dump this stuff out of a box.
The first recipe I've got here is out of this month's Food Network Magazine.  I am a stuffing fanatic, so this recipe caught me attention.  As you may have noticed by now, some of our favorite flavors come from south of the border, so this shouldn't surprise you at all.  I found it interesting to find tortilla chips in a dressing, and even more so to find cheese in it as well.  I can easily see myself making this all year long; though I can't quite describe how it tastes.  It's hearty, smoky, warm, and comforting; I love it.
This recipe calls for bread cubes, but if you're using fresh bread, dry the cubes in a 300 degrees F oven for 15 to 20 minutes.
Tortilla Chip-Chorizo Stuffing
9 tablespoons unsalted butter, plus more for the baking dish
12 ounces dried chorizo, chopped
4 bunches scallions, chopped
4 4-ounce cans chopped green chiles, drained
2 teaspoons ground cumin
3 cups low-sodium turkey or chicken broth
2 large eggs
1/2 cup chopped fresh cilantro
1 13-ounce bag corn tortilla chips, coarsely crushed
8 cups stale white bread cubes
2 cups cubed queso fresco cheese
Kosher salt and freshly ground pepper
Preheat the oven to 375 degrees F. Butter a 3-quart baking dish. Melt 8 tablespoons butter in a large skillet over medium heat; add the chorizo, scallions, chiles and cumin and cook, stirring, until the chorizo is slightly browned, about 4 minutes. Add the broth and bring to a simmer.
Whisk the eggs and cilantro in a large bowl. Add the tortilla chips, bread and cheese and season with salt and pepper. Slowly pour in the chorizo-broth mixture and toss to combine.
Transfer the stuffing to the prepared baking dish; dot with the remaining 1 tablespoon butter. Cover with aluminum foil and bake 30 minutes, then uncover and bake until golden, about 30 more minutes.
This one also came out of this month's Food Network Magazine.  There's plenty of ideas in this edition, I encourage you to check it out.  This is not your standard sweet,tart, cranberry  relish.  THIS IS NOT FOR THE FAINT OF HEART.  It is very spicy, and probably shouldn't be eaten in large quantities at a time, because it will bite back.  It is sweet, it is tart, but it will also light you up if you're not ready for it.  My father would never allow this in his Thanksgiving kitchen, because Ma's, reigns supreme in our family.  It's delightful, don't get me wrong, and new isn't bad.
 Cranberry-Serrano Relish
1 red onion, diced
1 Tbsp. Canola oil
1 2-inch piece of ginger, peeled and grated
1 diced serrano chile
1 Cup water
1/2 Cup sugar
1 12-oz. Bag of cranberries
salt and pepper to taste
2 Tbsp. Honey
Zest of 1 lime
1/4 C Cilantro
Cook red onion in oil in a saucepan over high heat until soft.  Stir in ginger and serrano chile; cook 30 seconds.
Add water and sugar; cook until sugar dissolves.  Add half of the bag cranberries; cook until the berries pop and sauce thickens, about 10 minutes.  Add the rest of the cranberries; cook 1 minute.
Turn off the heat, stir in honey, lime zest, and salt and pepper.  Let cool slightly, then stir in cilantro.  Best served warm.
There isn't really anything new about these au gratin potatoes.  I've spent nearly all my life eating them out of a box, and growing to hate them.  Since my new culinary is to at least attempt everything from scratch at least once, I left it up to the interwebs to find me something plausible.  I was delighted by the outcome, and I want to share it with my awesome readers.  I must admit that this recipe takes a while to make, and sadly, there are no shortcuts.  This recipe would probably be better made for Sunday dinner than a weeknight; even if you prepped the night before, it still takes an hour and a half to bake.  Totally worth all the effort.
 Au Gratin Potatoes
3Tbsp. butter
2 Tbsp. flour
1 1/2 tsp. Salt
1/8 tsp. Pepper
3 C milk
6 medium potatoes, sliced thin
2 Tbsp chopped onion
2 C shredded sharp cheddar
Melt butter in milk in a saucepan over medium heat, whisk in flour, salt, and pepper; add cheddar when sauce thickens.
Place half the potatoes in a greased 9 x 13 baking dish, cover with half the onions, and half the sauce. Repeat layers.  Cover with foil and bake at 350 degrees for one hour, then uncover and bake for 30 minutes more.
Finally, I bring you something that would be entirely unheard of in the home in which I grew up.  I love hearty sides, most of them coming in the form of starches.  In the past few months I've noticed a trend of replacing potatoes with other vegetables, and I was skeptical of how well they'd pass off as a classic spud.  I can't see myself slicing up a zucchini and baking it like a big plate of nachos.  I'd know the difference, and I could see myself getting mad at someone who tells me it's the same.
This one caught my eye.  I found that you can mash cauliflower like you would taters.  You'd cook it the same way, the cauliflower wouldn't cook as long as a potato, but it's the same drill.  You don't have to add as much milk to it as you would the potatoes, else they'll come out runny.  I myself like to smash in a clove of garlic and maybe some scallions, but I'll leave that up to you.  I guess it's not really a recipe for you, but I have faith in my readers.  Clearly you're brilliant.
Tip of the week:  Take this whole week to think about the blessings in your life.  You'll probably find you're more blessed than at first glance.  Tell your family and friends you love them!

Sally is a wife and domestic diva in Maryland. She approaches life with gusto, humor, and a passion that is unmatched. She is a classic woman, with a modern twist and is the kind of woman who will throw back a beer and watch Star Trek with her husband, and entertain the church croquette group with homemade cheese cake. Sally offers something for everyone, and is always experimenting and cooking up a storm in her kitchen.