The Symposium: Sudden Satyrs dish love and libations at Terrault Contemporary
Centuries before Elizabeth Barrett Browning couched the question, "How do I love thee? Let me count the ways", the Greek philosopher Plato settled into his own divan to offer his take on the multifaceted nature of love. What emerged was a talkative treatise of mythical proportions – one begging to be dissected by the mighty hand of Zeus.
The Symposium – long used by philosophers and historians as a filter for understanding sexual mores during the golden age of Greece – is being brought to life this week with an immersive production at Terrault Contemporary. This isn't necessarily a bad thing, since the production has a lot to offer. Including food and wine. Just keep in mind we're talking Philosophy 101.
Adapted by Jeffrey L. Gangwisch, with additions by Stephanie Joyal, The Symposium presents Plato's ruminations through a series of soliloquies by seven party-goers at a celebration thrown by the tragic poet Agathon.
The seven speakers range from a comic playwright to a prominent Athenian orator and general. One-by-one each speaker makes a case for the superiority of his own perspective. Phaedrus (an aristocrat and acquaintance of the philosopher Socrates) argues that love, as exemplified by Achilles, leads to random acts of heroism and self-sacrifice. Pausanias (a lawyer) counters that there is a clear distinction between the nobler and baser expressions of love. And so it goes.
Three philosophers in, grab more goat cheese and enjoy another cup of wine.
It must be noted that the arguments heavily favor homosexuality, but for the audience this is pretty much a wash as the themes tend to acknowledge the common needs of the human condition. More problematic, the script relies on pages worth of philosophical declamations which are usually deadly when presented in a theatrical mode. Fortunately, director Gangswisch and his ensemble make the arcane as accessible as possible, while presenting Plato in a thoroughly relaxed setting.
The audience is seated amongst the players in cocktail party fashion. Drinks and light fare are continually served as the actors deliver the dialogue in a digestible manner. The end result is an evenly-paced, engaging evening of theatre.
Ishai Barnoy (Eryximachus) and Nicholas Parlato (Aristophanes) make able foils between the hesitation of the latter's hiccups. Both have an excellent command of the text and their characters play well together. Equally pleasing is Kat McKerrow as Agathon.
Jeff Tegeler (Pausanius) and Kitty Bermuda (Phaedrus) are strong in the two early monologues. The part of Diotima is carried convincingly by Ilona Wittenberg. Brian Naughton almost steals the show as the drunken Alcibiades.
As Socrates, Stephanie Joyal remains the one measured member of the party – at times acting the Devil's advocate while skillfully bringing the conversations to a full circle.
Abby Cocke, Ellen C Jenkins, Ann Tabor, Chris Kojzar and Jeffrey L. Springtree Gangwisch pop in and out as the ever attentive servants. All are also featured throughout in various tableau.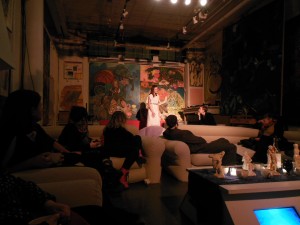 The snug set consists primarily of inflatable den furniture (who knew there was such a thing?) accented by a single coffee table. The lighting – which is a combination of studio spots and votive candles – helps to complete the cozy feel.
Costume designer Kat McKerrow mixes cotton togas with early 70's rayon dresses and three-piece suits adding to the timeless sense of the discussion at hand. Party music ranges from canned lounge selections to live Eastern European sounds with a play ending appearance by the Barrage Band Orchestra.
An additional note re: the wine. You have two choices. One is to imbibe leisurely so as not to spill a drop or miss anything that is being said by the armchair philosophers. It's easy to get lost in the argumentation if you let your mind wander for a moment.
The other is to party like it's 385B.C. Laugh a little. Chat a little. Roll your own dolmades. Have a good time – even if you find yourself shaking your head at those lecherous long-winded Athenians. And remember – "Evil is the vulgar lover who loves the body rather than the soul…"
You may not see a party like this again for another 2,500 years.
*   *   *   *   *
The Symposium runs for four performances February 7, 8, 13 & 14 at Terrault Contemporary, 1515 Guilford Ave, Baltimore, Maryland 21202. Shows start at 8pm with a running time of approximately seventy minutes with no intermission. An after-party follows each performance. $12 student/artist/industry $20 General, will increase $2 at door. Additional information may be found by visiting the Facebook event page.

Anthony C. Hayes is an actor, author, raconteur, rapscallion and bon vivant. A one-time newsboy for the Evening Sun and professional presence at the Washington Herald, Tony's poetry, photography, humor, and prose have also been featured in Smile, Hon, You're in Baltimore!, Destination Maryland, Magic Octopus Magazine, Los Angeles Post-Examiner, Voice of Baltimore, SmartCEO, Alvarez Fiction, and Tales of Blood and Roses. If you notice that his work has been purloined, please let him know. As the Good Book says, "Thou shalt not steal."