Sweet potato tacos from the Paladar Latin Kitchen & Rum Bar
I  am excited to share this recipe for sweet potato tacos with you today. First, let me tell you a  little bit about how I even came to realize that sweet potato makes a great filling for tacos.
In fall 2010, Paladar Latin Kitchen & Rum Bar opened its doors in Annapolis, Md. I was counting the days down before it opened. I checked the menu and got pumped up about items such as  tropical hearts of palm salad, crispy yucca fries, ceviche, guacamole, slow roasted chicken empanadas and many other fun Latin-inspired dishes and sides that are unique to other restaurants.
I went to the restaurant when it opened, and I continued to go back for more. The food and customer service is always spectacular. I also hear there are some amazing rum drinks on the menu.This past winter, I received information in the mail from Paladar about a photo contest .  The prize for the contest was a generous gift card to the restaurant. A couple of days before the entries were due, I asked my coworkers if they would be interested in entering the contest. I work in a middle school special education office with several other women, and many of us were stressed out at the time (and to top it off, no snow this year so no  extra days off), so I thought it would be fun to enter the contest with my team. We entered and with the help from our friends and some social media gurus, we won! It really lifted our spirits to win , and we all enjoyed our outing to Paladar together.
The last time I went to Paladar, my husband and I took out  our friend and Twitter personality, Kevin Eder, and his fun wife, Molly. That is when I saw the sweet potato tacos on the menu. I ordered them and I fell in love. When I got home, I searched for sweet potato taco recipes on the Internet, but nothing seemed to compare. I contacted Paladar to see if the chef would be willing to share the recipe with me. Annapolis executive chef Joe Tis was kind enough to send me a version of the recipe, and Paladar's team also allowed  me to share the recipe with you – how nice! Thank you, Scott, Joe and Paladar. You guys are great!
You will love the recipe. The tomatillo salsa is amazing. I served the tacos last weekend not once, not twice, but three times. I could eat them every night for dinner if I had to.
Well, let's get to the recipe already. Enjoy!
Sweet Potato Tacos Recipe

For the filling:
1 1/2 tbsp. of extra-virgin olive oil, divided
2 large sweet potatoes, peeled and then diced into quarter-inch cubes
4  
hearts of palm
 stalks from a can, cut lengthwise and sliced into desired size
1 can of pinto beans or great white northern beans, drained well
Salt and pepper
2 tsp. of cinnamon
For the tomatillo salsa:
1/4 of one bunch of fresh cilantro
1/2 red onion or 1 to 2 thin slices of a jalapeno pepper
1 lime, juiced
For the toppings:
Red cabbage
Chopped chives
8 to 10 soft taco tortillas
DIRECTIONS:
Make tomatillo salsa first. Place tomatillos, cilantro, and onion in the bowl of a food processor. Pulse until it is to salsa consistency. Pour in to a bowl, squeeze in the lime juice, cover and put in fridge for an hour.
In a bowl, mix together the sweet potatoes, hearts of palm, 2 1/2 tsp. olive oil, and salt and pepper. Place the potato mixture on a foil-lined baking sheet, and bake in the oven at 350 degrees for 25 to 30 minutes (until potatoes are done). Put the rest of the olive oil in to a large skillet. Heat oil, then add potato mixture and pinto beans to the skillet. Add in salt and pepper and the 2 tsp. of cinnamon.  Saute until the beans and potatoes are warmed through, then remove pan from heat.
Heat tortillas in a microwave for 20 – 25 seconds. Build your own tacos. Put sweet potato mixture down the middle of the tortilla, then top with cabbage, chives, and tomatillo salsa.
Serve with mango and avocado salad. Enjoy!
NOTE: Children seem to really love these tacos – it's the consistency of the sweet potato and the flavor of the cinnamon.
*Today will be my last posting on the Baltimore Post-Examiner. Thank you to everyone for their support and thank you to the Baltimore Post-Examiner for the great experience. I will continue to share recipes on a personal blog, so if you are interested you can visit it at http://www.bakeitmakeitwithbeth.com/
PALADAR LATIN KITCHEN & RUM BAR, ANNAPOLIS
Other locations: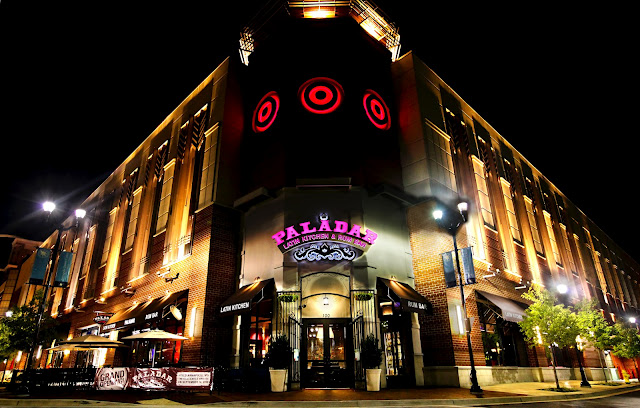 Looking for more recipes from Beth? Find recipes at bakeitmakeitwithbeth.com.
Beth loves to cook foods of all types and is not afraid to try new things in the kitchen. She has learned a lot through cooking blogs and is happy to share what she has learned in the past few years with you.