Suspect in Fox 45 Baltimore bomb threat shot by police
Police tape blocks 41st Street and Hooper Avenue south of Fox 45 in Baltimore. The station was the scene of a bomb scare and subsequent police shooting earlier today. (Anthony C. Hayes)
UPDATE: Police have identified the bomb threat suspect who burst into WBFF – Fox 45 on Thursday as Alex Brizzi, 25, of Elkridge, Maryland. Baltimore City Police Commissioner Kevin Davis said Brizzi, who is still recovering from wounds at a local hospital, will be charged with multiple felonies and misdemeanors once he is released. Brizzi has no prior criminal history.
While it is still unclear why he chose Fox 45, Brizzi wanted the station to air "end of the world" video rants he had recorded and saved on a flash drive. Brizzi was wearing what some have described as a Sonic the Hedgehog onesie over top of a life preserver rigged with a fake bomb. The "bomb" was comprised of candy bars, tin foil, a motherboard and electrical wire.
UPDATE: Baltimore City Police spokesman T.J. Smith said the suspect in Thursday's bomb threat at Fox-45 is a 25-year-old white male from Howard County. The suspect's name was not released.
The suspect, who was shot by police, is in serious but stable condition, officials said. Smith said three officers fired on the suspect, and he was hit at least three times, but he did not say exactly how many times the individual was struck. Smith said the suspect remained noncompliant, even after being shot.
Smith said the "bomb" consisted of chocolate bars wrapped in tin foil with wires connecting them and some sort of motherboard, possibly from a fire extinguisher; and some sort of hand-held detonating control device. Police had a robot remove the device because the suspect would not show his hands.  Police also determined that the suspect was linked to the car which was set afire.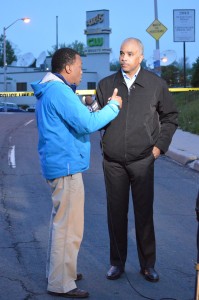 Smith did not say what was on flash drive but said the man wanted FOX 45 to air the contents of the drive. Police have not yet secured the building. They do not yet know how far the suspect got into the premises and want to be sure no other devices are present before clearing staff to return.
Smith said the department would not be holding another press conference, but would rather provide updates via Twitter and Facebook.
*   *   *   *   *
An unidentified man who entered the lobby of WBFF-FOX 45 shortly after noon today, wearing a grey animal onesie and carrying what he claimed to be a bomb, has been shot after leaving the building. Witnesses said police opened fire because the suspect disregarded police instructions. Video of the scene taken from the broadcast tower on Television Hill appears to show the suspect bleeding from the shoulder area.
In the final altercation, which happened at about 3 p.m. and was livestreamed on Periscope by FOX 45 employee Casey Clark Jr., police can be heard repeatedly ordering the man, "Get on the ground!" One officer is heard shouting, "Watch your crossfire," just before the shooting begins.
A security guard for the station, identified as Jourel Apostolidies, first encountered the suspect sometime around 1 p.m.. Apostolidies said the man was wearing a one-piece hedgehog or panda suit, dark glasses and a surgical mask. Apostolidies said the suspect handed him a flash drive and brandished what appeared to him to be a "fake" bomb. However, the station was evacuated and police and fire units were called to deal with the alleged bomb threat. Fire units were also called to handle a car on the station's lot that was apparently purposely set on fire.
FOX 45 is located at 2000 West 41st Street in Baltimore.

Baltimore Post-Examiner is run by a creative cadre of dedicated journalists – some who worked at the Washington Post, Baltimore Examiner and other regional and national publications. It's the Post-Examiner because we love the play on the word "Post" but we are also hoping to answer that question: What's next after newspapers? We see a lot of websites come and go – and many simply are not making it for various reasons. We have been a model of success since we launched in 2012 with "a little bit of everything" and we aim to continue to break that cycle of websites coming and going.