The other weekend I celebrated Cinco de Mayo by inviting my parents down to the house for dinner. As most everyone knows, Cinco de Mayo means "The Fifth of May"  (although my dad told us over dinner that one of his golfing buddies asked him if he knew what the translation was for Cinco de Mayo, no joke)! For those of you who do not know much else about this holiday, you can find more information here.
Since Greg and I are trying to limit our meat meals to about once or twice a week, I chose not to make the tried and true creamy chicken taquitos for our Mexican dinner.  I decided upon making creamy and spicy vegetable taquitos and that recipe will be posted soon. The filling consisted of mushrooms, a little bit of kale, yellow squash, zucchini squash, cheeses, spices, and homemade salsa. Below is the recipe for the salsa that was used in the filling. It was also served on the side for dipping the taquitos and tortilla chips. The salsa is really tasty and flavorful, and it has a nice kick to it. I love it!
Salsa Recipe
INGREDIENTS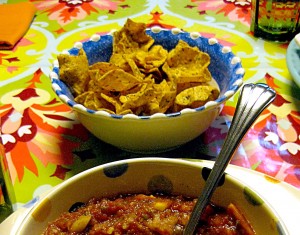 2 jalapenos, roughly chopped, deveined and seeded (I usually do not take all the seeds out, because I love heat. This is based upon your own heat threshold liking).
3 cloves of garlic, cut in half
1 14-oz can of diced tomatoes, drained
½ of a small yellow onion
2  TBSP of red wine vinegar
3 large vine- ripened tomatoes
1 TBSP cumin
¼ tsp of cayenne pepper
¼ tsp of kosher salt
1 TBSP of cilantro leaves
Juice of 1 lime
Ingredients Pricing – $
DIRECTIONS
Add the jalapeno and garlic to a food processor. Pulse until finely chopped, then scrape down the sides of the food processor bowl. Add all of the other ingredients to the food processor. Pulse in short pulses until the salsa is at your desired chunkiness. Put in a bowl, cover with a lid, and put in the refrigerator for a few hours before using (to allow the flavors to meld together).  Enjoy with your favorite tortilla chips.
COOKING TIP OF THE WEEK
I am so excited because over the weekend Greg and I went over to Homestead Gardens to buy our plants for the vegetable garden. We brought home a cucumber plant, basil plant, and several varieties of tomato plants. For those of you who don't know your tomatoes too well, here is a brief overview of a few of the varieties out there:
Cherry Tomatoes – small, rounded in size, sweet flavor, great for snacking

Grape Tomatoes – small in size, oblong in shape, great for salads
Beefsteak Tomatoes – large, really good on BLT sandwiches or other sandwiches
Heirloom Tomatoes – large, very flavorful, successful in home gardens
Plum Tomatoes – medium-sized, oval in shape, often used in sauces
That is just a handful of the tomatoes that the world produces. Greg and I planted Beefsteak, Heirloom, Grape, and Cherry tomatoes in the garden. We are hopeful that the deer will stay away and we are looking forward to a plentiful tomato season. I think I might go back to the garden center to buy a jalapeno plant so I can make fresh salsa all summer long.

Looking for more recipes from Beth? Find recipes at bakeitmakeitwithbeth.com.
Beth loves to cook foods of all types and is not afraid to try new things in the kitchen. She has learned a lot through cooking blogs and is happy to share what she has learned in the past few years with you.