Slayer unleashes Hell on Columbia
COLUMBIA, Md — Slayer opened up the Gates of Hell in downtown Columbia on Tuesday with a fire-spewing occultic onslaught for what may be their last time.
Merriweather Post Pavilion served as the host to the evilest of thrash metal's Big Four, (the others being Metallica, Megadeth & Anthrax for the uninitiated) in what's being billed as Slayer's "Final World Tour" which began last year and is currently halfway through Leg Five of the journey, covering 16 cities throughout North America.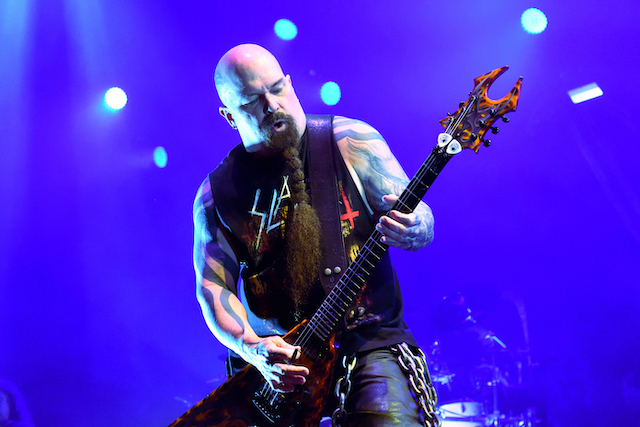 The show was exactly what you've come to expect from the guys, loud, fast, and the full-on aggression that has been their trademark for nearly 40 years.  Their set clocked in at a little under two hours and while not covering every album, the 20 song performance gave a pretty thorough look back at the Slayer catalog.  The majority of the set took from the band first decade of music with 14 songs coming from the first six studio releases.
There are no ballads in a Slayer setlist unless you count the more grinding crunch moments of a song like South of Heaven.  Fans in their patch-heavy battle jackets thrashed along, and while the scene in the pit may have been more subdued than the early days, it did have its moshing and crowd surfing moments.
Everyone has their personal favorites, but if we're going to give a few gold stars to highlights of the night I'll stick mine on Payback, from God Hates Us All. The album released on September 11, 2001, and listened to as a whole in the context of all that went on that day is truly one of music's all-time most surreal coincidences. A true thrash prophecy of all that happened and was soon to follow.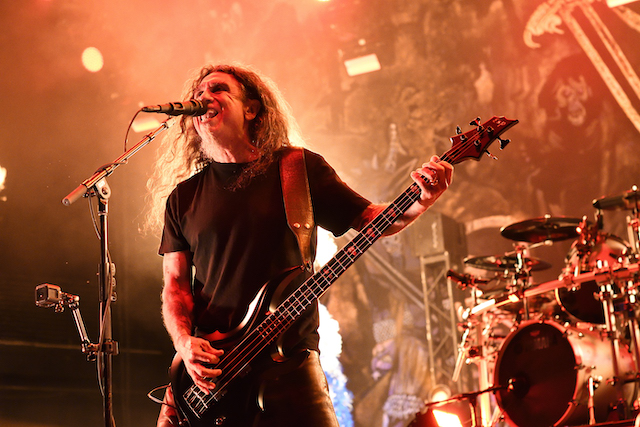 Other biggies of the night included Seasons In the Abyss, Raining Blood, Hell Awaits, and the show's finale Angel of Death, complete with Tom Araya's signature scream, still in fine form even at the end of a long night.  Take a listen to the complete Spotify playlist of the show's setlist HERE.
Sharing the stage with Slayer for this leg of the tour were Cannibal Corpse, Amon Amarth & Lamb of God.  I always love it when they put multiple bands on the bill, adding value to the concert dollar. If you timed your ticket purchase right and got in on the $20 deal that's only five bucks per band. Who says there aren't any great deals in live music anymore?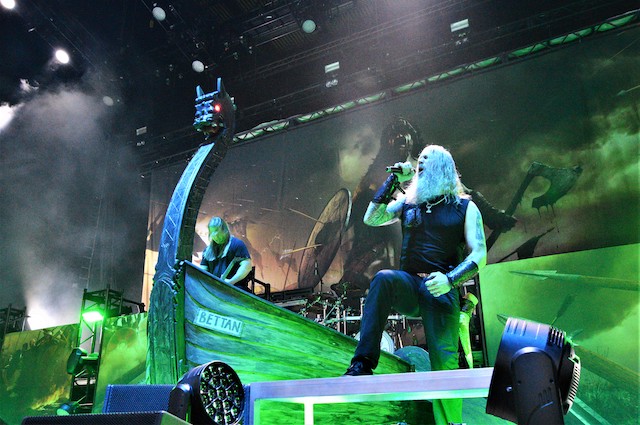 It's also an opportunity to get a few more acts added (Cannibal Corpse & Amon Amarth for me) to the "saw em" list.  Last year's leg of the Slayer tour stopped at Jiffy Lube Live in Bristow, and featured four opening bands. Even though last years lineup included fellow Big Four members Anthrax, I liked this current setup better since it allowed for a longer set for each of the supporting acts.
So it's been a hell of a run.  Slayer touring history includes a lot of Maryland shows, beginning with a show at Baltimore's The New Loft in 1984, and continued with no less than 15 stops throughout their career. Area appearances read like where's where of Metal/Rock joints, including Hammerjacks, Network, Painter's Mill, The Recher Theater, Michael's 8th Ave. and 1st Mariner (Royal Farms) Arena
The night before Slayer's last Baltimore stop, Pier Six Pavilion in July of 2017, they performed on the Tonight Show with Jimmy Fallon dropping a ferocious Raining Blood on an unsuspecting audience and almost certainly giving the network censors fits.
Adding to it's 2 Grammy wins, In 2015 Slayer's longtime service to this great nation was officially recognized  by the Smithsonian Institution's National Museum of American History, when they were featured as part of the video exhibit Places of (Musical) Invention, Slayer: The Origins of Thrash in San Francisco, CA
Leg six of the marathon tour will see the band on summer run of shows across Europe.  If you need one more fix before they jump across the Atlantic, the tour makes one more regional stop at BB&T Pavilion in Camden NJ on May 25 Get tickets HERE.

Chris Swanson is a live music and sports fanatic and a long-time Maryland resident. He holds tightly to what some consider an unreasonable affection for the Baltimore Orioles and older music venues. Chris has a Communications Degree from the Franciscan University of Steubenville.