Six Flags America Firebird coaster one smooth, thrilling ride
UPPER MARLBORO, Md — One of the bigger regrets I've had as a YouTuber was turning down an invitation to cover the 2012 grand opening of Six Flags America's standing coaster, Apocalypse, due to a day job with an inflexible schedule. I was so jealous later that day when I saw all of the local news anchors riding the coaster and having a blast. "Stupid day job," I said. "Never again!"
So, when I learned last year that Apocalypse was shutting down and being replaced with a new Bollinger & Mabillard floorless coaster named Firebird, my first thought was, "I gotta hit up Tony Hayes at the Baltimore Post-Examiner and try to get invited to the grand opening media event for Firebird!"
Well, thankfully Tony and Six Flags America came through, and on the morning of May 16, 2019 Hannah and I arrived at my neighborhood park, ready to ride Firebird.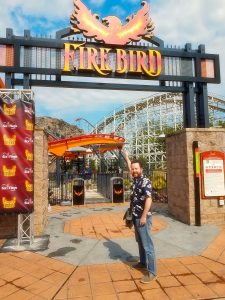 The event started kicking ass as soon as we arrived on property, where we were directed to the Employee entrance and told to park in front of the Human Resources building. I've been to Six Flags America many times and had never been backstage, so this was a real "dark side" treat. Even better, once we got backstage we hopped in a car and were driven through the park, right up to the front of Firebird!
Driving through a nearly-empty amusement park is definitely a unique experience, and I honestly could have gone home at that point and felt like the event had been totally worthwhile. But the best was still in store, as Denise Stokes, the park's Communication Manager, told us it was our turn to head up to Firebird, which had been rigged with a camera and microphones, ready to document our inaugural trip on the new coaster.
I think the video speaks for itself – we obviously had a blast!
Firebird is sooooo much more comfortable to ride than Apocalypse, which being a standup coaster with a floating between-leg restraint could leave you walking like a cowboy for the rest of the day. Firebird, on the other hand, is much smoother and just as thrilling, especially in the curve featuring the large pyro blast, which is a nice "plus" to the theming.
Up next was a culinary demonstration by Eric Poppe, the park's Culinary Services Manager.
As a Season Pass holder, the park occasionally sends me satisfaction surveys, and one of the main suggestions I've always had was that they offer more vegetarian options. Well, it looks like they finally listened, because the new Macho Nacho restaurant has multiple non-meat options, including nachos, burritos, and a cilantro-lime rice bowl.
Eric cooked up one of the rice bowls for me, and I can easily say that it was the best thing I've ever tasted in the park – the quality and taste rival Chipotle, it's a ton of food, and it's relatively affordable, especially for amusement park food. Even better, right next to Macho Nacho is the new bar, La Cantina, which offers beer and frozen cocktails. Six Flags America used to only have one bar in the Mardi Gras section, so this new location is much welcomed by someone like me who enjoys imbibing cool libations while riding coasters and walking around on a hot summer day.
Finally, we were allowed to show ourselves out of the park via the back entrance. Walking through an empty park was a bit surreal, and getting to explore more backstage areas at our leisure was a real treat.
If you're a Maryland, NOVA, or DC amusement park fan and haven't been to Six Flags America yet, you're missing out on some world-class coasters, a hopping water park, and high-quality food and booze. And if you're still on the fence, they're currently offering an insane Memorial Day sale on the Gold Season Pass and the Platinum membership, where you can basically get a full year's worth of admission and parking for the price of a single day's ticket! If I wasn't already a loyal pass holder, I'd jump on this deal in a second.

Leonard Kinsey is the owner of Bamboo Forest Publishing, and the bestselling author of "The Dark Side of Disney", the Anarchist Cookbook of Disney travel guides. He has lived in Baltimore for over 15 years, and enjoys drinking craft beer in unique places, eating nachos and pizza, listening to 80s hair metal, and arguing about Star Trek minutia, often all at the same time. Watch out ladies!