Six Flags America Opens With New Pandemic Safety Protocols
BOWIE, MD — One of the things I look forward to every spring is Six Flags America opening up after a long winter. I love walking around the park in the beautiful March weather, having a few drinks, and riding some coasters. Unfortunately, we all know how that went down this year: Six Flags (and every other seasonal amusement park in the world) never opened because of COVID-19, and we've all been locked down since March. Ugh.
So I was absolutely thrilled when I received my Passholder email, announcing that the park would be opening to Season Pass holders on Wednesday, July 1st, with a bunch of new safety precautions and procedures. Intrigued about the new procedures and excited to get my coaster fix, I contacted Denise Stokes (the park's Communications Manager), made a reservation on the Six Flags America website (everyone entering the park must have a reservation because attendance is limited), called out sick to the day job, hopped in the car, and made a beeline to Bowie, MD!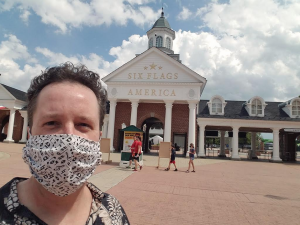 I met up with Denise near the front of the park, and we started off our tour with the mask stand that sits right outside the entrance.
Everybody in the park has to wear a mask at all times (except when you're eating or drinking, or are in one of the designated "mask free" rest areas), so if you've forgotten to bring one, you can purchase one for a reasonable price before you enter the park.
After that, there's a short walk through their technologically impressive new thermal imager, which can detect your body temperature in real-time. If you have a fever, they won't let you into the park, but otherwise you just stroll right through to the new Security scanners.
Unlike the old Security checkpoint, nobody touches your bags or gets anywhere near you unless the scanners detect something dangerous. And even then, you open your own bag for inspection and empty your own pockets – the staff never touches you or your belongings. I was able to test this out in person when they gave me a fake gun to put in my pocket and take through the scanner. And sure enough, the scanner immediately buzzed when I walked through, and then showed on a screen exactly where on my body the gun was hiding. Pretty impressive! But the best thing about all the new safety tech at Six Flags America is it completely eliminates the bottlenecks of the old setup – there's no waiting for anything – you just walk right through!
Quite a few other safety measures have also been implemented. My favorite is the new mobile food ordering, which lets you use their app to place your food order at any participating dining location. You place the order, they send you a message when it's ready, and you pick it up at a designated pickup area. This is a huge improvement to the guest experience, because it means there are no more long lines for food! I wish they'd done this years, ago, to be honest.
Other safety measures include hand sanitizing stations all over the park, markers in the queues designating the proper distance to stand from other people for social distancing, only filling up the rides halfway (half of the entry gates at the coasters are roped off and don't open) for social distancing purposes, and spraying down the rides with sanitizer on a regular basis.
All in all, I had a blast at Six Flags America, and felt very safe.
The reduced attendance meant that even though the coasters were only running at half-capacity, the wait times were still very low. I never felt like I was crammed too close to anybody anywhere in the park, from the entrance to the restaurants to the ride queues.
The staff seemed to be 100% onboard with the new safety procedures and were doing a great job with smiles on their faces. And for the most part, the guests seemed to be adhering to the mask policy. When they weren't, the staff would kindly remind them that masks needed to be worn at all times.
So, if you've been jonesing for your coaster fix after a long lockdown, Six Flags America is open to the public on Friday , July 3rd, as is the waterpark — Hurricane Harbor. In my opinion, they've gone above and beyond to make guests feel safe and healthy amidst this ongoing pandemic. And most importantly, they've gone out of their way to make sure that the experience is still fun!

Leonard Kinsey is the owner of Bamboo Forest Publishing, and the bestselling author of "The Dark Side of Disney", the Anarchist Cookbook of Disney travel guides. He has lived in Baltimore for over 15 years, and enjoys drinking craft beer in unique places, eating nachos and pizza, listening to 80s hair metal, and arguing about Star Trek minutia, often all at the same time. Watch out ladies!