Shave and a Quick Spray: Two Scents
MARITIME VOYAGE by Tommy Bahama (4.2 fl. oz Eau de Cologne spray $84 at Macy's and Amazon)
MANKIND RISE by Kenneth Cole (3.4 fl. oz. Eau de Toilette spray $90 at Macy's $84 at Boscov's)
Thomas Marshall – the colorful and controversial vice president under Woodrow Wilson – once quipped that "What this country needs is a really good 10-cent cigar." Not being a smoker, I can't offer a glib opinion about the going price of dime store stogies. I can, however, put my two cents into two new scents that are a gamble at any price.
The first of these colognes (an Eau de toilette in this case) is MANKIND RISE by Kenneth Cole. If you can get past the obvious sexual innuendo, the name is slightly interesting. It could easily be on the locked down shelf at a super pharmacy chain between the Grey Flannel and the Canoe.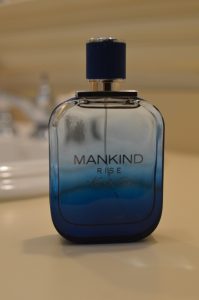 Kenneth Cole was super popular for a while at the turn of the millennium. His clothing line was edgy, bending to ultra-mod; lots of black everything. He then decided, if Ralph Lauren could sell paint and wallpaper, cologne and underwear, so could he.
Not so.
Cole's diversion into the realm of ordinariness didn't have the big following of Ralph Lauren, nor the imagination. Cole's clothes were still in major department stores, yes, but only on the sale racks. So too with his stab at cosmetics. His lack of expertise gave birth to items eternally on the shelf, labeled as either SALE-SALE-SALE or BUY ONE GET ONE FREE.
Back to Mankind Rise, the bottle is very easy to grasp, even with wet hands. The curved edges lend themselves to fitting into a man's hand comfortably. The simple stopper is quite manly and easy to lift. The blue color is great. Blue brings to mind cool clear beaches, Bonnie Blue Butler's eyes, and "I got a right to sing the blues".
So far – so good.
Inside: I used department store methodology, i.e. cotton ball swab, rather than a full splash on. This is when I found out the difference between eau de cologne and eau de toilette.
Apparently, Eau de toilette is French for 'this merde is watered down'.
Rise is quite lemony – ripe lemons, sour lemons, lemon pith. But it's a brisk stroll through a lemon tree grove that doesn't linger. The whole experience can be easily summed up: Spray your palms liberally with Mankind Rise, rub into your skin after shaving. Your face will thank you for the bracing, fresh-scented feel, and 10 minutes later, you'll still feel fresh and clean, but no longer feel – or smell – like a cocktail garnish.
*   *   *   *   *
Next up was MARITIME VOYAGE by Tommy Bahama
If name recognition is your thing, it's right there on the box.
The squat shape of the bottle means it will take up more room wherever you place it. The moniker "Maritime" is catchy; however, the designation "Voyage" may be a misnomer. The mooring lines wrapped around a chrome cleat on the top of the bottle suggests this ship ain't about to sail. Besides, very few men care what the exterior is like. This rope and cleat adornment is complex and overdone. Normal use with body oils, whether splashed or sprayed on, will leave the rope dirty in no time.
I think Tommy also made a mistake when selecting the color for this scent.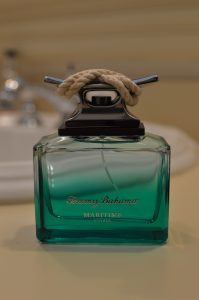 Practically no one would buy green cologne. Green indicates sallow, pale skin. That may work for a vampire but certainly not for a voyager.
As with the Kenneth Cole offering, I imagined myself at the men's fragrance counter at Saks (although, Tommy Bahama would not be there; more like Walmart).
I soaked a cotton ball with the fragrance and let it dry. Then I wet the top of my hand and applied the cotton ball. The sniff I got was like every other citrus-based spray-on, not distinctive and not exciting. As time wore on, it actually became annoyingly cloying.
In fairness to Tommy, one friend tried it too, just before heading off for a night on the town. To his horror, he discovered – once he splashed a small amount on his unsuspecting wrist – that Maritime Voyage wouldn't simply weigh anchor and then wash out to sea. Even worse, after several manful attempts to remove what he described as a backwater odor, his date finally suggested he try using a Brillo pad.
Ultimately, the purchase of a cologne should come down to personal style and a man's unique body chemistry. As decorative fixtures, both Kenneth Cole Mankind Rise and Tommy Bahama Maritime Voyage might look nice on a bathroom shelf. But I would caution men to try each flavor at the sales counter of their favorite department store and let it set for a bit before making a purchase. And I would certainly suggest their significant others think twice before surprising their guy with either scent this Valentine's Day.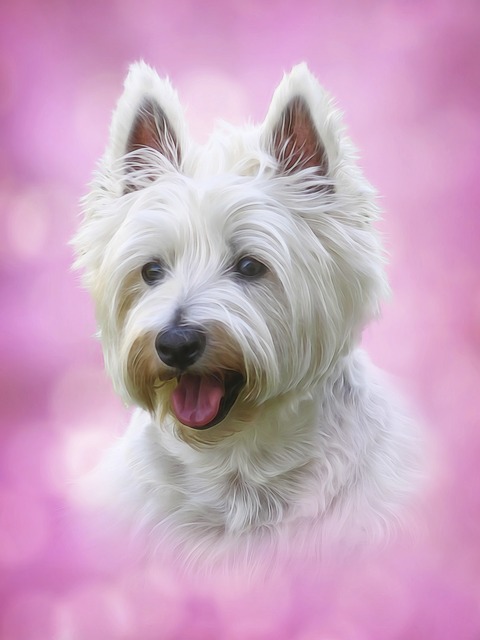 Greg Grenier's career-related travels have taken him around the world – giving the punctilious jet-setter an exacting eye for the finer things in life. An early advocate for the champagne and caviar diet, Greg will try almost anything once; praising unique destinations, crazy kitchen gadgets, culinary delights and exceptional finds, while warning anyone who will listen to avoid mediocrity for sanity's sake. Now retired (or so he says) from his globe-trotting escapades – and safely ensconced with his long-suffering husband – Greg devotes his time to several charitable causes, his canine companions, creative cooking, and the occasional critique.