Baltimore's Shanel James (pictured on the front row fourth from the right in Ravens purple) at a welcome reception for Miss International. (courtesy)
What does it mean to be recognized as one of the most beautiful women in the world? For Baltimore's Shanel James, it means being given an invaluable platform to help people in need. Shanel is in Japan this week representing the USA in the Miss International Beauty Pageant. We spoke with the jet-setting beauty just a few hours before take-off to ask her about her life, beauty pageants and her desire to help homeless people. The Miss International Beauty Pageant takes place in Tokyo on Tuesday, November 14. Check the official website and Facebook page for more information about the event. And look for the live stream of the pageant on YouTube.

BPE: Thank you for taking time away from what must be a hectic schedule. Please tell us about your background and your trip to Japan to compete in the Miss International Beauty Pageant.
Shanel: Well, my parents were in the Air Force, so I was born and grew up in Fort Meade, Maryland. I went to Meade Elementary, Middle and High School, which is kind of unusual for a military brat. I guess somehow we just never moved. I ended up going to Howard University as an undergrad, where I majored in business administration and marketing. From there, I worked in a variety of different places. I've been a schoolteacher's aide; I've worked in marketing and with startup companies. Right now, I work for IBM. IBM is global and my base is in Baltimore, but I'm presently working at the Pentagon.
As for the pageant, I'm heading to Tokyo where, optimistically, I'll be for a month. The pageant is not until November 14th, so at a minimum I will be there for two and a half weeks, doing a variety of activities. But contenders who make the top five are asked to stay an additional week, so that's why I'm hopeful I'll be there for about a month.
BPE: What will you be doing while you're in Japan?
Shanel: While I'm there, I'm doing a variety of events. To be honest, I'm not even sure I will have a free day. There will be a lot of media tours, since we're doing promotions with Panasonic. They'll be taking us to the mountains and some historical places. About seventy countries will be represented, I believe. It's just going to be a lot of fun.
BPE: How long have you been doing pageants?
Shanel: It's going on ten years. I first started doing pageants my senior year of high school. There were several former Miss Maryland's who attended Meade, so they would often come back to the school and visit. I'd see these beautiful, intelligent women and say to myself, 'I think that I can do that'.
My first year, I competed in Miss Teen USA. I didn't win, but I could see the areas where I needed to improve. I took a break and didn't compete again until after my senior year in college, when I contended in Miss Maryland USA. Out of over ninety contestants, I made the top 15, so I was growing and learning.
BPE: And now here you are.
Shanel: Yes!
BPE: Would you mind speaking about your interest in helping the homeless?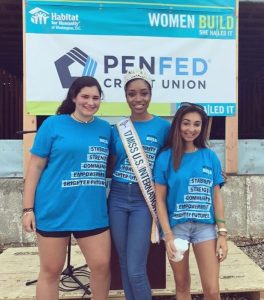 Shanel: Whenever I met the previous winners of Miss Maryland, Miss Teen USA and so forth, I would have a chance to see what they do. One of the counselors at school, along with her daughter, founded an organization called Happy Helpers for the Homeless. Every Saturday and Sunday, they go out and provide basic living necessities for the homeless. Food, books, shoes – whatever they can get from donations. So working with her, I saw firsthand the good that could come from doing it.
I've been trying to make this title something meaningful. Recently, I've built a relationship with Habitat for Humanity in D.C. I actually went out and started to hammer a house together. I don't know why I chose to hammer, but I got a really good arm workout. I was able to assist in building a house in one of the up and coming D.C. communities. From there, they have a campaign called Women Build, which helps single mothers find homes. That really resonates, when you look around the world and see the disparagement in pay between women and men. You see the trafficking issues – the different things which women face – so having a place to call home can help women with a lot of these different problems.
BPE: What goes into preparing for a pageant?
Shanel: Oh, man, a lot! One of the things I like about preparing for a pageant is just becoming your best self. You have to work out to be sure your body is beach ready. It's not necessarily the skinniest person or the one with abs who wins. But the workouts build confidence so you are creating how you want yourself to be perceived. You also have to think about the world around you. You look at current events because you're going to be asked about those sort of things. It's intriguing because people will sometimes try to catch you off guard with a question. I can have an opinion, but I don't want to turn somebody off with my standpoint.
I've learned how to effectively communicate without being rude. Effective communication is needed in every aspect of life.
There is also the question of how you want to be perceived. What's your style? Are you a classic or more modern person? You have to think about that when picking out your clothing and shoes. It's really about creating your image and gaining a better understanding of yourself.
So preparing in these ways is not only helpful for a pageant – it's helpful for interviewing for a job and so many other things.
BPE: Will you be doing anything special to represent the United States while you are there?
Shanel: There is a national costume, so you have to pick attire which represents your native country. I came to creating my costume, because I had to think about what best represents both myself and the United States. There have been countless Statues of Liberty. I didn't want to do the same thing. You don't want to put on a false image, so for my national costume, I took inspiration from the U.S. seal. It's the eagle with the flag, olive branch and the arrows, so my costume is me as that shield. There's nothing more representative of the U.S. than what is conveyed in that seal. And working at the Department of Defense as I do, that's kind of my life anyway, so I thought that was the best way to represent both me and my country.
BPE: Where do see yourself once you hang up your crown?
Shanel: Well, I hope to be upgrading my crown in Tokyo, so if that happens, I'll be traveling the world representing Miss International. But win or lose, I hope to increase my world travel and use my platform abroad in places like Puerto Rico. I know that's a U.S. territory, but Miss Puerto Rico had to inform the pageant that she couldn't compete due to the damage that was done in her country. Knowing her plight and recognizing there are so many places around the world that need help – I hope to have a global platform to bring cultural understanding. I think that would bring more compassion to the people around us.
BPE: You're already working stateside with some great organizations. What makes this particular opportunity unique?
Shanel: There are tons of pageants out there, but this is one of the big four – Miss Universe, which is where Miss U.S.A. competes, Miss Earth, Miss World, and Miss International. What makes this one unique is it is really about cultural understanding. There are some pageants which are primarily about looking at pretty girls, but this is really an opportunity to just build the bridge between the various countries. I think that's the difference – this sharing of culture.
BPE: Do you have any role models?
Shanel: The cliché that "my parents are my role models" certainly applies to me. They are both very active in the community. They're the ones who got me into volunteering and caring about others.
BPE: What is your definition of success?
Shanel: Success to me is figuring out what you were put on this earth to do. What makes you happy and then doing it. Accomplishing your goals in life is success to me. If your goal is to make a lot of money, and you accomplish that, then you are a success. But if your goal is to make someone else's life better, and you're getting out there – volunteering – you may not necessarily seem like a success to someone else, but if that's what is in your heart, then that's success.