Project Homeless Connect offers resources, services for Marylanders in need
If you awoke this morning in a cozy abode, to the smell of coffee and a steaming hot shower, then followed breakfast with a pleasant drive to a well-paying job which provides insurance for your medical care, consider yourself lucky. According to one recent study, 35% of your fellow Marylanders are struggling to just get by.
The most desperate, of course, are the homeless, and those living in poverty. But even people with jobs find it difficult to make ends meet. Lending a hand in these troublesome times, the United Way of Central Maryland brought more than 130 local businesses and organizations together this week for the nonprofit's Sixth Annual Project Homeless Connect. The altruistic event, which attracted some 2,000 "guests" and an equal number of community-minded volunteers on Thursday, wraps up today at 4 P.M.
Project Homeless Connect is being held at the Baltimore Convention Center.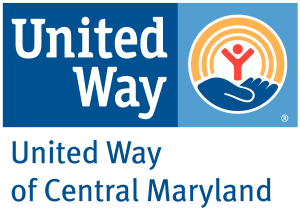 Danielle Hogan – Associate Vice President, Marketing and Communications at United Way of Central Maryland – explained the procedure for guests who are seeking help.
"Basically, what happens is each guest gets paired with a volunteer who helps them navigate all of the services that are being offered. Some of the services we have on site are housing, so that people can get out of a shelter. But we also are offering something as simple as a haircut. You don't think about it, but if you have someone who is trying to find work, their appearance makes a difference. We're also offering employment services. Helping people get their resumes together so that they can look for employment.
"One of the other things I'd like to point out is that this is called Project Homeless Connect, but it's not just for the homeless. Thirty-five percent of Central Marylanders are struggling to get by with basic needs. The United Way recognized this issue in a recent report with the acronym ALICE, which stands for Asset Limited, Income Constrained, Employed. These are people who may be working one or two jobs but are still struggling to make ends meet. They might have to choose between getting a tooth pulled or paying for childcare. Of course, they will pay for the childcare and then live with pain. We can at least offer them the dental services to alleviate their pain.
"With our vision and dental, we partnered with Remote Area Medical and the University of Maryland School of Dentistry. The school provided 200 students to help with everything from fillings and extractions to teeth cleaning and x-rays. Above and beyond the vision and dental care, guests can also access medical screenings as well. It's just amazing."
This year's event will continue, with the second day dedicated to dental services.
Jeff Eastman, Chief Executive Officer of Remote Area Medical, told the Baltimore Post-Examiner that by 2 P.M. Thursday, the medical volunteers had already seen 653 patients walk through the door.
"We do clinics all over the country. What people will do is come in and register. We do ask some basic questions so that we can better assess the needs of each individual patient. Once inside, they are triaged and then sent for whatever care is needed. We have 100 dental chairs set up, along with ten lanes for vision.
With the vison care, guests are able to see an optometrist, then get their eyeglasses cut here on site with the help of a mobile vision lab. There are hundreds of frames to choose from, so they can leave here today with glasses. On the off chance that it's a difficult prescription, we'll go back to headquarters, get them made there, and then send them right back to the patients.
"On the dental side, the University of Maryland has done the heavy lifting. Maryland doesn't allow us to bring in volunteer dentists from out of state, so we're relying on the University to provide us with its students. A few local dentists have also come out, which is great, so we're happy with that partnership with the Maryland Dental Association."
Eastman said about 65% of those seeking care would be dental patients, 30% would be vision patients, and the remainder would be medical.
"At the end of the day, if we need medical care, there is a local hospital that will treat us. But this is a good stop-gap for those who might fall in between."
Abby Detweiler, a student volunteer from the University of Maryland Dental School, was taking a lunch break, when we caught up with her in the entry lobby.
"Yesterday, we did pre-screenings for about 200 patients," Detweiler explained. "Today, they came back and lined up for dental treatments. We're taking more patients as they arrive and we have room for them. There's definitely a big need for this service here in Baltimore.
"At the dental school, we see a lot of patients who can't afford dental care at a traditional private office. The dental school does a good job of filling that void for low-income individuals. But there are still a lot of people who can't afford what the dental school offers, so this free service has been really great for the community."
We asked if she had personally pulled any teeth?
"I'm a third year student, so I have just been assisting. The fourth year students are doing most of the procedures. One lady needed a full mouth extraction. A lot of her teeth were causing abscesses. We sent her on her way with an antibiotic to help clear up the infection. Hopefully, she will recover well enough to do a complete denture at some point in the future.
"This is why we are all in dental school. It's a great way to connect to the community. We hope to send the patients out the door with no problem, but we have offered them the opportunity to come to the dental school for a follow-up appointment if needed. And we've given them specific post-operative instructions. We just want to be sure they are happy and healthy."
* * * * *
Dundalk High-schooler Brejauna Robinson was also in the lobby, waiting for her mother's return.
"We just moved here from New York, so I brought my mother down to get an I.D. It's not like home, but we're adjusting. I think this event is helpful for homeless people, and for people who are not from this area. They give people a chance for things like food and other services."
Inside the main hall, a bright yellow banner caught this reporters eye.
"We have a farmers market specifically for the homeless," said Cynthia Brinkley-Scott. "We set up under the bridge at 421 Fallsway, the third Saturday of each month, from April – December. It's a fresh food market, with fruits and veggies, protein, water and baked goods, so it's fresh nutritious food. It's called The Hopeful Market because we love the hopeful. We don't call our clients homeless – we call them hopeful."
* * * * *
At the entry door to the main hall, Tere Geckle – Women United Vice-Chair at United Way of Central Maryland – was busy as a bee, directing traffic. As each guest stepped forward, she paired them with one of the earnest volunteer guides.
"Oh, you're a reporter. Would you like to accompany one of our guests as they go through the hall?"
We said we would, so Geckle teamed us up with volunteer guides Chris Oven and Bill Foxburrow. A minute later, she returned with Karen and Tim – two friends fresh from the dental and vision hall.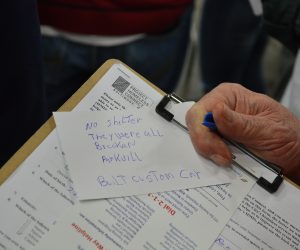 Foxburrow said both he and Oven were part of a group from M&T Bank.
"We decided to come over here and work the morning shift. The bank does a lot of participation with the United Way. Our office is just a few blocks away, so this is a good exercise and a good team cause. So far, I'm seeing a lot of folks helping people get to where they want to go – trying to figure out how to get people connected to the services they need."
With clipboards in hand, our group repaired to a nearby table. Foxburrow said, "We're here to help you get where you want to go."
"Well, my friend and I sure need some help," said Karen. "We don't have much money. He needs transportation help, along with some of things they are providing here. I just need a few things. I'm lucky that I have my housing situation covered, but Tim needs help there. I got my vision checked and they said I have some cataracts starting. That doesn't bother me too much because maybe I can get that fixed and my eyesight will be better. Some procedures are considered elective, but with cataracts, that's necessary."
Squinting over the list of services, Karen said, "I'd like to get a birth certificate. Tim wants some help with a place to live, a cell phone, some clothing and food, if it's available."
Tim carefully nodded in agreement, as the heavy gauze a dentist had just placed in his mouth prevented him from speaking for the duration of the day.
Undeterred by his surgery, Tim continued to communicate with nods, quick notes and expressive hand gestures. Flashing his fingers, he told us he had just had twenty teeth removed in the dental clinic. We winced as he gestured that ten shots of novocaine were administered to dull the pain.
In describing his current predicament, Tim said he was a master mechanic who had to give up the trade he loved due to a debilitating injury to his hand. His other passion – making custom electric guitars – is currently on hold til he can find a housing situation where he can set up a simple shop.
Our first stop in the main hall was the table for a shelter program called Project Plase.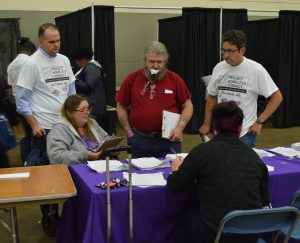 "Project Plase is an emergency transitional homeless facility that is residential," explained Sarah Lynch. "That's what sets us apart from some of the other shelters in Baltimore City. While people are staying with us, we can help them complete their application for coordinated access through the Mayor's office for permanent housing. So our program is not time-limited. They can stay until they get their housing.
"We can also connect our residents with whatever additional services they may need, be-it addiction counseling or any kind of mental heath care. Because we are low barrier, as well as housing first, nothing bars people from obtaining housing. We actually treat the housing issue before we address any underlying problems."
Lynch surprised us when she stressed the importance of staying in touch with Project Plase.
"The homeless population is very transient, and because they have been told "no" so many times, and have been is so many terrible situations, many never follow through on their applications. Even after they've been on the waiting list for a while, and have come to the top, many are unreachable for one reason or another. Unfortunately, there are a lot of barriers when it comes to housing homeless people, even though housing is what they need the most."
* * * * *
Tim's housing questions answered, he decided to venture over to the free cell phone table. Oven accompanied Tim there, while Foxburrow guided Karen to the birth certificate table and then on to lunch.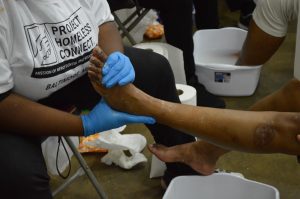 To obtain a cell phone, guests had to produce a Maryland State I.D., plus provide proof of government assistance, either by way of social security, medicare, food stamps, etc. The one additional caveat was that applicants could not have previously received a free cell phone.
The line for cell phones moved slowly, which gave us a chance to speak with Jeffrey Harris – another guest.
"I've never been in this particular event." said Harris, "but it looks nice. I've already picked up a bag with bath supplies, water and energy bars."
Harris' wish list included not only a cell phone, but housing, a birth certificate and a free lunch. He had also checked the box for criminal record expungement.
"That's just a failure to report for trial. I need to get that taken care of," he explained.
Clayton Corley and Katherine Wu were the volunteer guides accompanying Harris.
"I'm here with my job," said Corley. "I'm in a program at CareFirst – Blue Shield called the Graduate Development program. Every year, we pick an event to give our time and efforts to. I think this event is phenomenal. It gives everyone an opportunity to obtain what they need in the form of legal documents to go out and maybe get a job."
"I totally agree," chimed Wu. "It's no small effort to coordinate something of this scale. It's great for the community and it's very effective."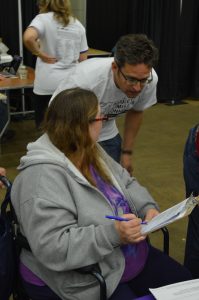 As it turned out, Tim's wait for a cell phone was in vain. He had obtained a phone once before, and even though he explained that he had lost it, the original unit disqualified him from that particular freebie. With a shrug of his shoulders, Tim moved over to the bagged food line and then on to a clothing distribution area.
With time running short, this reporter took one last jaunt around the main hall – stopping briefly to watch as several volunteers washed the feet of appreciative guests.
Our respective missions complete, our tiny group rendezvoused near the entry door and prepared to exit the convention center.
Looking at their modest haul, Karen said that she and Tim had taken the light rail to the event. She then sadly noted that if she had driven, they might have been able to pick up more in the way of food.
"At this point, I think I just need to get him home where he can be comfortable. Hopefully, he got everything he needed done without being able to talk.
"He just needs a lot of help, and that's what I'm trying to do," she said.

Anthony C. Hayes is an actor, author, raconteur, rapscallion and bon vivant. A one-time newsboy for the Evening Sun and professional presence at the Washington Herald, Tony's poetry, photography, humor, and prose have also been featured in Smile, Hon, You're in Baltimore!, Destination Maryland, Magic Octopus Magazine, Los Angeles Post-Examiner, Voice of Baltimore, SmartCEO, Alvarez Fiction, and Tales of Blood and Roses. If you notice that his work has been purloined, please let him know. As the Good Book says, "Thou shalt not steal."