Round House's play on chef James Beard serves laughter in 'I Love to Eat'
"I Love to Eat" is a light-hearted comedy for foodies and kitchen neophytes alike. The one-man show about celebrity chef James Beard  is playing at Round House Theatre Bethesda, Md.
Beard authored more than 20 cookbooks during his career and was the first person with a nationally televised cooking show. The Oregonian made his small screen debut in 1946. The New York Times crowned him the "Dean of American cookery" in 1954. The play is removed from Beard's glory days. Set in 1984, the year before Beard's death, the chef reflects on his career one restless night.

Playwright James Still named his show after Beard's television series. Still's script is in the capable hands of Nick Olcott, who returns comfortably to the stage after a more than decade-long absence. Despite his break from acting, Olcott is a familiar face at Round House, where he has directed 13 productions in the past 20 years.
Still's script is full of witty quips and quotations that would not be out of place on refrigerator magnets. "I have as much use for the word 'gourmet' as I do a tank top." "There's nothing wrong about English food that cannot be corrected by a French or Belgian cook." Or, my favorite line in the play, "If I ever had to practice cannibalism, I might manage if there was enough tarragon." The play should also appeal to history buffs, as Beard's fascination with food facts and history are sprinkled throughout the script.
Set in Beard's spacious New York City brownstone kitchen, with flashbacks to his television studio, Beard comes across as a man most at ease in his workspace. It is the middle of the night, and Beard cannot resist the refrigerator or the telephone-he joyfully solves a stranger's culinary crisis in Kansas because he believes in having a listed phone number and because "I've never been able to say no."
He dishes out chirpy, affirming advice and takes several calls from the distraught Kansan. "Gird your apron closer," he advises her at one point. And later, "It's not Easter. No need to try to bring it back from the dead."
While mostly an upbeat show, the play alludes to some of Beard's difficulties: career missteps, unrequited love. Beard's health is in decline and he refuses the advice of his physician. "I Love to Eat" ends abruptly without delving far enough into Beard's disappointments. The moments of sad seriousness feel disjointed and disconnected from the comical bits about the jolly chef.
For pre-theatre dinner recipe ideas, please see Eating for "I Love to Eat" [insert whatever hyperlink for the sidebar].
"I Love to Eat" is playing at Round House Theatre Bethesda through Nov. 4. Tuesday, Wednesday and Thursday performances start at 7:30 p.m. Friday and Saturday performances are at 8 p.m. Matinees are on Saturdays and Sundays at 3 p.m. Tickets range from $10-$61. Call 240-644-1100 for information.
Eating for "I Love to Eat"
By Adam Goldstein
While the Round House Theatre's production of James Still's "I Love to Eat" does a good job celebrating the life of James Beard for some of your senses, you can honor Beard further—and make an evening out of it—by rolling up your sleeves and cooking a meal in his model after the show.
If cooking is religion, James Beard practiced liberation theology. As empowering as Julia Child was for so many of us, the subtext in her reassurance that we could master the art of French cooking was that, if we wanted to improve our cooking, we should try to cook the way a middle-aged man from a Parisian suburb has been cooking. We felt better about ourselves and we tried new things, but we advanced our technique by sublimating our palates to the will of the Cordon Bleu.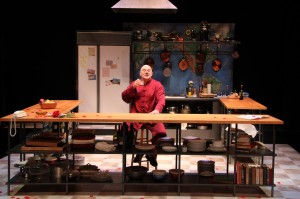 As much as Beard loved French food, he would no more have suggested you labor to create French food in Baltimore than he would have recommended you order the blue crabs in Brest. In Beard's view, wanting to create good food did not mean you should transform yourself into a toque.
At a time when America was insecure about its cuisine, Beard defended it, from chowder to gumbo. American cookery (to use his preferred term for domestic cuisine) was a distinct collection of well-documented regionalized dishes.
And so, if Beard found himself in southern Maryland on a cool night in October, and had time to make a trip to the market, he might well have made something like this for company.
Southern Maryland Ham
This variation of a Saint Mary's stuffed ham isn't so saintly with two bottles of beer in the glaze. Beard wrote about our tendency to stuff hams in his 1980 classic "American Cookery." While he didn't directly mention Maryland's native ham, I think he'd approve.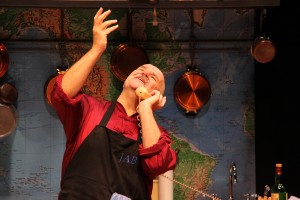 Sauteed Kale and Cabbage Stuffing
2 lb. cabbage, shredded (about 1 medium head)
2 lb. kale, raw, shredded
1 large onion
2 medium russet potatoes, peeled and diced
3 cloves garlic
2 Tbsp. olive oil.
1/4 cup cider vinegar
1/2 cup dry bread crumbs
Dash nutmeg
Salt and Pepper to taste
1. In a large skillet over medium heat, saute onion in olive oil until translucent. Add garlic until cooked, but not caramelized.
2. Add kale, cabbage, and salt. The skillet will hiss and spit at you; ignore this insult and put a lid on it, because the steam is essential to the cooking process.
3. As soon as the kale is wilted (under a minute), lift the lid and add the potatoes and vinegar. Stir and re-cover. Reduce heat to simmer.
4. Cook covered for 5 minutes or until diced potatoes are tender.
6. Uncover and increase heat to medium. Add nutmeg; cook until liquid is absorbed or evaporated.
7. When the kale and cabbage is almost dry, remove from heat and mix in bread crumbs. When cool, salt and pepper to taste.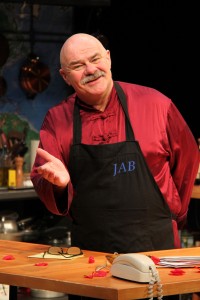 Beer-Glazed Ham
1 10-lb. cooked ham, boned
Kale and cabbage stuffing, above
2 bottles local seasonal beer (consider anything smoked by Stillwater Artisanal Ales)
2/3rds cup light brown sugar
1/2 cup grainy mustard
1/4 cup course ground pepper
salt to taste
Kitchen twine or metal skewers
1. Preheat oven to 300.
2. In a saucepan over a medium fire, reduce beer by half.
3. Add sugar, mustard, and pepper. Reduce until glossy. Salt to taste.
4. Open ham to expose bone cavity. Fill cavity with kale and cabbage stuffing.
5. Roll ham around stuffing; secure ham with kitchen twine or metal skewers, seam side down, in a large casserole or small roasting pan.
4. Cover ham with glaze.
5. Bake ham for 30 minutes or until glaze sets.
In slicing the ham, remember that, when wielding any kind of a knife, one quick confident cut is worth a dozen hesitant gashes.
Adam Goldstein writes about free expression during the day at and curates a collection of regional American cuisine at night. 

Megan Kuhn is a financial literacy advocate by day and a theater fan
by night. One of her favorite possessions is the red jacket from "Dead
Man's Cell Phone" that she purchased at a costume sale at Woolly
Mammoth Theatre.