Robert Timberg: Remembering veteran journalist & friend
I was very sad to learn of the passing of my friend, Robert Timberg. Former Baltimore Sun editor and Aging Newspapermen's Club (ANC) member Ernie Imhoff reported that Bob died of respiratory failure about 8:30 last night at the Anne Arundel Medical Center, according to his son Craig Timberg. Bob had been in rehab recently after suffering two strokes. He was 76.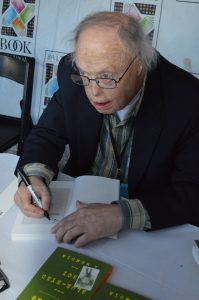 I met Bob at the ANC lunch about five years ago. I guess like most, I was momentarily stunned by his appearance. It was obvious he had been severely burned at some point in his life. I quietly asked my table-mate, writer Rafael Alvarez, what had happened to Bob. Ralph simply replied, "Timberg is a legend".
I later learned that Bob had been grievously injured by an explosion in Vietnam, and survived a torturous road to recover from burns to his arms, neck and face. His life in the Marine Corps done, Bob turned to journalism. He would go on to enjoy a long career (1973-2005) with the Evening Sun, and later the Sun. Bob would also pen four books, including Blue-Eyed Boy, which we excerpted in the Baltimore Post-Examiner.
Bob was always laid back when we met for lunch. I think he enjoyed the camaraderie of the Aging Newspapermen's Club. One-on-one, we usually talked military affairs, politics, or theatre. Bob, as I discovered, was a fan of most anything on the local stage. We'd compare notes on our likes and dislikes, the way savvy critics do.
Last fall, I said Thanks to Bob for his friendship by transcribing an hour-long interview he'd conducted at the Baltimore Book Festival with Senator John McCain. Bob was visibly touched that I'd taken the time to type the entire interview out, but I told him for me, it was an honor.
It still is.
Rest in Peace, Capt.Timberg

Anthony C. Hayes is an actor, author, raconteur, rapscallion and bon vivant. A one-time newsboy for the Evening Sun and professional presence at the Washington Herald, Tony's poetry, photography, humor, and prose have also been featured in Smile, Hon, You're in Baltimore!, Destination Maryland, Magic Octopus Magazine, Los Angeles Post-Examiner, Voice of Baltimore, SmartCEO, Alvarez Fiction, and Tales of Blood and Roses. If you notice that his work has been purloined, please let him know. As the Good Book says, "Thou shalt not steal."