Pappas Seafood still serving up the best crab cakes in Maryland
Operating one restaurant is indeed difficult enough.
Just ask the many restaurant owners no longer in business.  Things get a bit more complicated when someone opens a second restaurant.  It's now double trouble.
But how about a third restaurant.
This is exactly what Pappas Seafood Co. did, opening their third location in early September.  Number one is in Parkville, number two in Glen Burnie, now number three is open in Cockeysville.  As hard as it might be to successfully operate three, with their proven background and history I have a feeling the new addition will be a success.
The original owner, Mark Pappas, came to this country in 1956 with no money and spoke very little English.  Obviously he quickly learned how to own and operate a restaurant.   Mark is still involved but is now ably assisted by his son Steve and son in law Justin.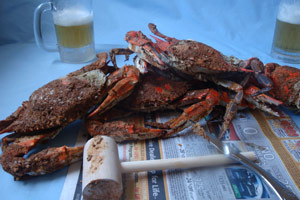 It is located at 550 Cranbrook Road.  It is in the former location of Patrick's, which did have a successful run but still decided to close its doors.  I never did find out why but can say I did enjoy many a fine meal there.  It had a good reputation and despite all of that, it still closed.  Only reinforcing what I said about the difficulty of owning a successful restaurant.
Industry pundits say five years is the benchmark number.  If one can stay open that long, the odds get much better of staying open for years to come, though there are even exceptions to that.
If Pappas is known for one thing, it has to be their crab cakes.  So on my initial visit there, I had to have one, broiled of course.  And you know what, I think it is even better than what is served in Parkville, though it is close.   The one I had was loaded with jumbo lump.  So here's a tip, for $19.99 daily, you can order one of these babies, along with two sides and a drink (non-alcoholic).  Hard to beat that deal.  By the way, you can ship the crab cakes to any part of the country for those poor unfortunate souls who really don't know what a Maryland crab cake tastes like.
There are three dining areas, with the smallest used for intimate groups and for small meetings.  Overall there is seating for about 130.  When you enter, if you go to the right you'll arrive in a large bar area with tables for drinking and eating.  There are about 20 TV's so you wont miss anything.  If anything, you wont know what to watch first.
There also is a huge selection of beer and wine.   Happy hours are celebrated weekdays from 11 a.m. to 7 p.m.
If you show up Wednesdays you can participate in wine tastings all day and receive 50% off all bottles.  That same night is rib night, so if you like them, they're here for you.
Other nights to consider for specials are Mondays for pasta; Tuesdays for crab cakes; and Thursdays for steak.   And if you want to take some of the crab seasoning home, bottles are for sale for just $3.99.
Of course the menu is filled with more than just crab cakes.  Why not try the stuffed shrimp, salmon dijon, orange roughy, sautéed sea scallops, the filet, New York strip, pork chops, the many Italian specialties, sandwiches, wraps, salads and appetizers.   But I guess when it comes down to it, you're probably going to order the crab cakes. And why not.
Incidentally, Pappas took over Hales' carry out in Parkville in 2008.  The dress is casual, I strongly recommend reservations on weekend, carry out available.
Reach them at 410-666-0030.  Family owned and operated since 1972.

Eddie Applefeld is a Baltimore native and a graduate of Towson University. He has been in the broadcasting profession for over 30 years. Currently he is the Promotions Director of WCBM radio. Before that, he was part of the Rouse & Company show on WQSR, host of a cable TV show called Dining Out and adjunct instructor at Towson.
His past accomplishments include being named a finalist in Baltimore Tourism's Employee of the Year Program and winner of Toastmaster's Speaker of the Year contest. He was also twice a heartthrob for the American Heart Association's gala fund raiser.