Otakon: Anime enthusiasts eagerly embrace annual convention
On a blistering weekend where the soaring temperatures had most Baltimoreans in cool cotton shirts, Pratt Street was awash with thousands of people wearing colorful wigs, full-length gowns and paper mache armor. The occasion – for those old enough to remember watching Speed Racer – was Otakon; a convention for fans of Asian pop culture.
Now in its twenty-second year, Otakon is the largest and longest-running Japanese animation (anime) convention on the East Coast of the United States. The festive event which draws people from all over the world, has been held at the Baltimore Convention Center since 1999. Otakon originally began as a get-together for aficionados of anime, but over the years, it has expanded to include fans of all Asian culture entertainment. Many who attend do so in costume, or "cosplay" their favorite anime characters.
Philadelphia photographer Julie Maxwell and her friend Timothy were two of the many costumed attendees on hand. Timothy donned a long flowing blue wig to cosplay Ihadurca from Evil Zone. Julie opted for the delicious but dangerous look of Seong Mi-na from Soulcalibur.
Pausing briefly to regain her equilibrium after posing precariously for countless fan pictures, Julie told the Baltimore Post-Examiner the cosplay is not only an extension of her love for anime, but also her love for Japan.
"I've been to Japan three times for extended stays as a visiting student, and I just love the people and the culture. I'm fluent now in the language, and I can't wait to go back."
Julie said she was very disappointed to learn that Otakon will be leaving Baltimore in 2017. Organizers say the event has simply outgrown the aging Baltimore Convention Center.
"Baltimore is economical and convenient for me. I can stay in White Marsh or Aberdeen. I'm afraid that a move to DC will mean the cost of everything will just go up."
Couple share their love for all things anime
Allegheny County, Maryland residents Courtney Bass and Steve Brehm are both longtime fans of Otakon. 2015 marks Courtney's twelfth year at the event. For Steve, it's his nineteenth Otakon.
What draws the couple to Baltimore for the annual celebration?
"I used to watch the Saturday morning cartoons," said Courtney. "I came here when I was fourteen with a friend from school and just thought it was so amazing. I never knew there were so many people who enjoyed the same things I do. Otakon opened a door for me. I got to talk about things that I really like with the people I would meet here, and I've been coming to Otakon ever since."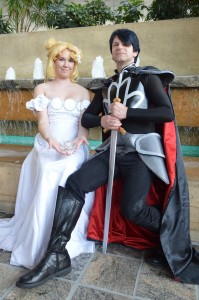 Steve echoed Courtney's story, saying that he too became interested in anime while watching the stylish Japanese cartoons and playing video games.
"Watching the video games was a big part of it. When I realized that the games I enjoyed came from Japan, and that the cartoons I watched looked like the games I played, I thought, 'Wow, that's cool!' So I just started coming to Otakon with my friends.
Steve said the games he tends to gravitate to are the role playing games like Dragon Quest and Final Fantasy. "I also like some of the more obscure ones; games almost no one has ever heard about." Courtney said she is a bit more into the competitive, fighting games, and she also enjoys the first person shooters. As for the anime? "As long as it's got a good story, I'll watch it. I'm pretty eclectic when it comes to anime."
Given their obvious enthusiasm for the genre, we wondered if the couple had met through gaming or their mutual love of anime?
"No", Courtney said. "Actually, we met at work."
Steve seemed to gently correct her, when he explained, "We were in a training class and Courtney was quietly humming a song. I recognized that it was a song from an anime, and that's how we first struck up a friendship. We quickly realized we had all of these mutual interests."
As veterans of Otakon, the couple admit that what they get into depends on the year's programming.
"There are times," said Courtney, "when I'm just hanging out with friends or going to the photo shoots. One year I think I only attended 3-4 of the panel discussions and programmed events, while another year it seemed I was running from one room to another."
One of the highlights for Steve are the Friday Night Fan Parodies.
"Fans take the cartoons," Steve explained, "and then dub in their own dialogue. It's absolutely hilarious. They've been doing that forever, and it's one program I never miss."
For Courtney, Artist Alley is always a must-see.
"I love going to Artist Alley. It's probably one of my favorite things about the convention. In the dealers room, you can buy licensed merchandise from Japan, but that can be expensive; whereas in Artist Alley, you can buy original art work or the artist's renditions of anime characters. Every one is different and they are amazing. It creates a whole new spin on familiar characters and storylines."
When asked about the impending move to DC in 2017, Courtney said, "I'm gonna miss coming to a building where I know where everything is.
"Here in Baltimore, I have the flow down. I'm glad they are moving to a new venue, because they have had problems with overcrowding in the past. But I'm concerned that if they double the space, they will also double the attendance and end up with the same problems once again. We'll see. Perhaps the move will solve the problem."
Steve said overall he thinks the move is a good idea.
"This place has been way too crowded for the last several years, so I'm glad they are moving to the new venue. My very first Otakon, there were 1,200 people. It was held at a small hotel on the outskirts of Baltimore. It was tiny, but you had room to move around. Now it's gotten huge and they have capped it at 35,000 people. I like that it's big, because you've got more things to do; more events and guests and so forth. But it really has reached its capacity for the Baltimore Convention Center.
Even with the crowding, we wondered what's the one thing about Otakon which keeps Courtney and Steve coming back?
"I've been doing it for so long, it's become my tradition; my summer vacation," reported Steve. "It's what people who are into anime and games look forward to. I could go to the beach, but I wouldn't have as much fun at the beach. I have fun here because there are people of like minds. I've met scores of people here – people who I have now been friends with for more than 15 years. Through anime, I've built a lot of lasting relationships."
"For me, it's probably the cosplay," said Courtney. "Otakon is where I come to bring my A-game. I look at this as being my yearly coup de grâce."
Transgender themes in anime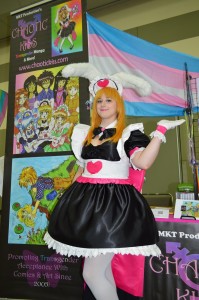 Courtney was high on Artist Alley, so we took some time to wander the aisles of the artist hall.
While many of the people we spoke with said they discovered anime as children or in their early teens, one vendor was selling a decidedly provocative series with a more mature – and timely topic.
New Hampshire native Darcy Dillon was acting for Chaotic Kiss – an original transgender themed comic. "My friend Michele has been doing this for ten years and selling her original comics to pretty much anybody who will read them. The characters in Chaotic Kiss are diverse. There is a bi-sexual character, a straight character and numerous transgender characters representing both sexes. It's pretty much a slice of life comedy which takes place in Boston."
Dressed in a French maid's dress with a heart on her cap and a pair of white rabbit ears, Darcy was cosplaying Sydney Bloom – the main character of the graphic zine.
"Sydney is in her mid-twenties, goes to fashion school," Darcy explained. "She is a post-op transgender woman who escaped her conservative life in the mid-west. Her family did not accept her, so she took a bus to Boston where she worked all of these odd jobs before fulfilling her dream of going to fashion school and becoming the woman she was meant to be."
Anime artist enchants new clients
Just around the corner from the Chaotic Kiss display, we found artist K.S. Brenowitz busy with water colors.
"I really didn't know anything about anime until I hit high school, and became friends with a Taiwanese girl named Andrea. She would find anime on various artist's doodle boards so we would watch it. I still have favorites from that time, like Darker Than Black, which was a series that I will always love. There is just such a variety with the kind of stories which are told in anime. I think that's why it clicked for me.
"I used to work in a comic book store, and for a while it seemed like American made comics were all telling basically the same story. It was very mainstream. With anime, you have the slick production values and the colorful, interesting characters and the crazy special effects you can get with well made cartoons. At the same time, you have these fabulous, funky stories. Kino's Journey – another favorite – is about a girl with a motorcycle named Hermes that talks, and it's sad as heck. I know it sounds weird but trust me – it works. I don't think that Marvel Comics would listen to a pitch about a girl with a talking motorcycle and say, 'OK, we'll back that.'
When asked about her own art style, K.S. replied, "I mostly work in pen and ink, and water color. I am also very well versed with dip pens for crowquill. That's something you normally use quills for, but I prefer the metal nibs. I get a very lively line with that method, which is why I like it so much. I'm known for my cartoon characters with hyper realistic backgrounds and environments, so you have these sort of rubbery characters set in environments you can really sink into. Looking at a page of my comics, you probably see how I got the nickname, "The Masochistic Inker." It's kind of crazy.
K.S. said she originally lived in Charm City but moved to DC for an assortment of reasons. However, she still participates in a group which meets regularly in Baltimore.
"This is my second year as a vendor. It's been very good, but a bit of a challenge, because when I moved to DC, of course my printer moved as well. I don't have a lot of stock from last year, so I was afraid this show I was gonna tank, but I'm having a great time. People remember me from last year, and I'm having a ton of fun. Some people are also stopping by and asking if I can draw them things! That's really nice."
As if right on cue, our interview with K.S. was cut short by a potential customer who stepped up to the table with a photograph in her hand and asked the young artist, "Can you draw something for me from this picture."
* * * * *
Despite the heat and long lines, most of the participants we spoke with felt Otakon 2015 was a resounding success. For those interested in learning more about anime and cosplay please bookmark Otakon. And for the very latest on gaming, check out Lynn Bachman's blog exclusively at Baltimore Post-Examiner.
This reporter also sat down at Otakon with anime voice artist Kaiji Tang. Look for that interview in our sister publication, the Los Angeles Post-Examiner. In the meantime, enjoy this classic anime cartoon!

Anthony C. Hayes is an actor, author, raconteur, rapscallion and bon vivant. A one-time newsboy for the Evening Sun and professional presence at the Washington Herald, Tony's poetry, photography, humor, and prose have also been featured in Smile, Hon, You're in Baltimore!, Destination Maryland, Magic Octopus Magazine, Los Angeles Post-Examiner, Voice of Baltimore, SmartCEO, Alvarez Fiction, and Tales of Blood and Roses. If you notice that his work has been purloined, please let him know. As the Good Book says, "Thou shalt not steal."