NFL Playoffs Are a Tough Call
Top photo of SoFi Stadium by Claudia Gestro
The NFL has confirmed Super Bowl LVI will be here
The NFL Playoffs start this weekend which means, starting this year, three days of NFL football. For the first time a Wild Card Weekend game will be played n Monday night. It was only a matter of time the NFL expanded broadcasting. We now have a 17-game season — more ad revenue — and now playoff games spread over three days. Professional sports are, above all else, businesses. The NFL, the owners and the players treat it as such.
We love watching our favorite teams play every weekend, but often our favorite players trip from one team to another, leaving dedicated fans behind. J.J. Watt, for instance, spent nine seasons with the Houston Texans before heading to Phoenix to play with the Arizona Cardinals. Very fortuitous for Watt, with the team's push for the playoffs and a shot at the Lombardi Trophy. With quarterback Kyler Murray leading the offense, having J.J. Watt leading the defense created a good foundation for a playoff contender.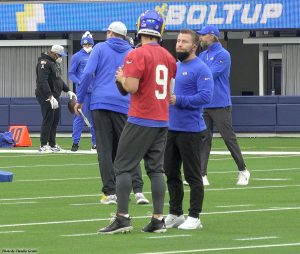 Sub-consciously or probably consciously more than he would like to admit, is the question running through Sean McVay's head right now: "If our team can be owned by the San Francisco 49ers for five years, how can we make it through the playoffs and win the Lombardi Trophy?"
It must be demoralizing for the Rams to lose seven straight times to the same team, a team that, on paper, isn't nearly as good as them with a quarterback, Jimmy "G" Garoppolo, who was reported to be on his last legs.
The Rams management bet the store on Matthew Stafford. This was after betting the store on Jared Goff. The Rams traded away a quarterback that had taken them into the playoffs and won, and getting as far as the Super Bowl, for a quarterback who has never won a playoff game. It makes you wonder why some people consider Rams G.M. Les Snead a football savant.
How much of their future have they given away for these last two starting quarterbacks? Not to mention, the starting QB they kicked to the curb just before trading away their future for Goff actually did lead another team to a Super Bowl victory: Nick Foles with the Philadelphia Eagles. Egg on your face. Oh yeah, he was also the Super Bowl LII MVP.
Then the starting QB that was pushed aside in mid-season — Case Keenum — so the rookie Goff, could start, went on to have a stellar season with the Minnesota Vikings. But let's not put the onus on Jared Goff. He didn't make any of those personnel decisions. He just had trouble consistently connecting for touchdown passes in his last season in Los Angeles so the Rams bet the store once again, this time on Matthew Stafford.
So far this season Stafford and the Rams have won 12 games, including a split with their first playoff opponents, the Arizona Cardinals. Arizona won the first meeting, which took place at SoFi Stadium. Here's my big takeaway from that game: The Rams had 121 yards rushing, 89 of those yards by Darrell Henderson, Jr. Sony Michel had 11 and Stafford had 21. Compared to the Cardinals who had 216 yards rushing. Chase Edmunds had 120 yards, James Conner had 50 and Kyler Murray had 39.
That kind of pounding wears down a defense and Conner had two TDs in the game, to go with the two passing TD's Murray threw to Maxx Williams and A.J. Green.
In their December match up, at State Farm Stadium in Glendale, Arizona.
Just an aside: Does every major city in America have a suburb named Glendale?
Anyway, the Rams won that game 30-23, mainly off Stafford's three TD passes to Cooper Kupp, Odel Beckham, Jr and Van Jefferson. And of course Matt Gay made all three of his field goals. Los Angeles barely won that game, by just a touchdown.
One big knock on the Rams, and Matthew Stafford in particular: He can throw game-changing interceptions, as we saw in the final game of the season, at SoFi Season. One can sympathize with Rams head coach Sean McVay when he says it's best to move on with that loss to the San Francisco 49ers, but it begs the question, asked by our friend Claudia Gestro: "The Niners had five sacks and 13 quarterback hits on Sunday. What types of adjustments do you need to make? Is that something of concern going into this next game?"
McVay replied, "You got to be able to move forward. You look at the film and then you say, 'Alright, how do we shift our focus and concentration towards the Cardinals?' The Niners are an excellent front. There were certainly some things that I know I can do to help put our guys in some better spots. Which, I want everybody to always look inward first and figure out how we can be solution oriented, but there's definitely some things that I can do to help our guys. Then we can execute better, but you give respect to the Niners."
Obviously he sees some flaws in their offensive schemes that resulted in the San Francisco defense winning that game. No surprise, because the Niners have the third best defense in the league.
But, if the Niners could cause so many problems for the Rams offense, can the Cards do the same? As a coaching staff that is something they have to study and fix.
Stafford gave up two decisive interceptions and the vaunted Rams defense allowed the Niners to score 27 points. Why was that? Last season the Rams had the best defense in the league. This season they aren't even in the top 10. If they Rams expect to win that first playoff game and go deep into January, the defense needs to improve immediately and Stafford has to fix his problem of throwing interceptions.
The Rams should win on Monday Night, but anything can happen. I'd say that game is a toss-up.
Another game that looks to be a toss-up is that between the Cincinnati Bengals and the Las Vegas Raiders. This is why the Raiders could move on to the second round: Pride. This Raiders team lost their top wide receiver Henry Ruggs III after he caused a fatal accident, allegedly while drunk, in Las Vegas and was fired by the team. He is most likely going to prison for some time.
Right before that it was revealed their former head coach, the celebrated Jon Gruden, displayed some very racist, homophobic and misogynistic thoughts and attitudes. He was fired by the Raiders — and the NFL — and the team named assistant coach/special teams coordinator Rich Bisaccia as the interim head coach.
Through all this tragedy and adversity, the Raiders managed to finish with a season record of 10-7, winning that final game against the Los Angeles Chargers, in Las Vegas. In overtime, 35-32. The big questions surrounding that game have to do with the decisions by Chargers head coach Brandon Staley, especially towards the end when, instead of letting the clock run down, Staley called a time out, giving the Raiders incentive to plan some plays to win the game. A tie would have put both team in the playoffs, but no, not this season.
So, the Raiders have a steely-eyed leader in interim head coach Rich Bisaccia and an on field leader in Derek Carr who, no matter what, keeps a positive attitude. That might be the biggest reasons the Raiders can go deep into January.
When Ruggs was arrested Carr said, ""I will always be here for him. That won't change. I'll prove that over the course of time to him. Not to anybody else," Carr added, "He needs people to love him right now. He's probably feeling a certain type of way about himself right now. He needs to be loved. If no one else will do it, I'll do it."
He also said his heart went out to all the families involved.
When Gruden lost his job Carr was upset, telling the media he doesn't condone such language, but once again reached out, saying, "I think more than anything coach (Jon Gruden) needs people to help him, to love him in whatever areas that we can."
Carr's message remains consistent: Love is the answer. "Love the man, hate the sin," he said about Gruden and that that kind of attitude goes a long way to inspiring a team. Every person on that sideline can feel Carr's love and feeds off it. In that final game they didn't give up and their coaching staff kept working and now here they are, about the play in Derek Carr's first ever playoff game. I hope Las Vegas wins this one.
The next game (today) will be the New England Patriots vs the Buffalo Bills. Anyone who thought Bill Belichick and his teams would be out of the playoffs for a long time after Tom Brady left, was sorely mistaken. The Patriots are another 10-7 team, that looks like they peaked from October to early December. They lost three of their last four games, including a 33-21 drubbing on their home grass.to the Bills.
On the other hand, the Bills quarterback Josh Allen is said to be struggling with the cold weather … ahh, dude, you're playing in Buffalo, New York, one of the coldest places in the league. You better get over that shit, right quick.
On paper the Bills are the better team, but as any football fan knows — and sometimes we learn this the hard way — the games aren't played on paper. How many times have the Patriots won Super Bowls they were picked to lose? Hell, they weren't even supposed to be in Super Bowl LV last year — effin' Packers …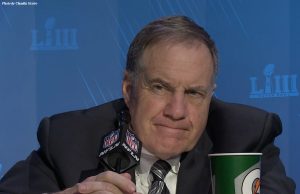 The Bills had a good season, but Bill Belichick and his team are a good bet to win this game.
On Sunday it all gets started with the Philadelphia Eagles playing the Buccaneers in Tampa. Eagles QB Jalen Hurts says they have revolutionized their offense since the last time they played Tampa Bay. Well, that's Tom Brady leading the Bucs in Tampa and no self-respecting football fan is betting against Tom Brady, especially not in the first round, when they game is on their grass. Maybe next season Jalen.
After that comes the San Francisco 49ers playing the Dallas Cowboys in Arlington, Texas. A note to the Niners: The Dallas Cowboys ain't no Los Angeles Rams. Especially when they play at home. QB Dak Prescott is having a great season, Ezekiel Elliott is having a great season, CeeDee Lamb is having a great season and Amari Cooper is having a very good year. And then there is tight end Dalton Schultz is having a very good season.
The Cowboys are going to win and I don't think it will even be close, although the Niners have the third best defense in the league. If they can control the Dallas offense in the first half, this could be a close game.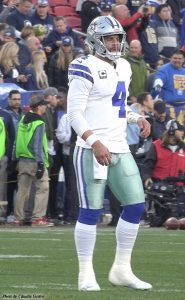 The final game on Sunday will most likely be Ben Roethlisberger's final game in a Pittsburgh Steelers uniform, his final game ever. Pittsburgh has to face the Chiefs at Arrowhead Stadium in Kansas City. The Chiefs started the season poorly, but turned it around, winning nine of their last 10 to end the season, and they beat a playoff team in that span. On December 26 the Chiefs beat the Steelers, 36-10.
It's hard to picture the Steelers winning this one. We all were amazed by the Steelers' win over the Baltimore Ravens, in Overtime, in Baltimore. And we were cheering for Big Ben, hoping that once again he could get to the Super Bowl, one last time.
That's about it, although the real playoffs start next weekend when the Green Bay Packers and Tennessee Titans get in on the action. I'm still not happy about Aaron Rodgers being dishonest about getting a vaccination, but I'm a Packer fan.
The Raiders-Bengals game has started and the Bengals are leading 20-13. Cincinnati hasn't won a playoff game in 31 years. Ickey Woods is at the stadium (of course) and we should expect to see the Ickey Shuffle a few times, especially if the Begals stay in the lead like this. Man, I wanted the Raiders to win this one …
Enjoy the NFL Playoffs.

Tim Forkes started as a writer on a small alternative college newspaper in Milwaukee called the Crazy Shepherd. Writing about entertainment issues, he had the opportunity to speak with many people in show business, from the very famous to the people struggling to find an audience. In 1992 Tim moved to San Diego, CA and pursued other interests, but remained a freelance writer. Upon arrival in Southern California he was struck by how the business of government and business was so intertwined, far more so than he had witnessed in Wisconsin. His interest in entertainment began to wane and the business of politics took its place. He had always been interested in politics, his mother had been a Democratic Party official in Milwaukee, WI, so he sat down to dinner with many of Wisconsin's greatest political names of the 20th Century: William Proxmire and Clem Zablocki chief among them. As a Marine Corps veteran, Tim has a great interest in veteran affairs, primarily as they relate to the men and women serving and their families. As far as Tim is concerned, the military-industrial complex has enough support. How the men and women who serve are treated is reprehensible, while in the military and especially once they become veterans. Tim would like to help change that reality.