Mountain Lake Park Chautauqua celebrates historic spirituality, science, song
Mountain Lake Park, MD — A century ago – when the automobile of choice was the Model T – Americans who wanted to travel any distance usually opted to journey by rail. One popular destination for many seeking relief from the summer heat was the idyllic town of Mountain Lake Park in western Maryland.  Conceptualized as a vacation resort by B&O Railroad Magnate John H. Garrett, Mountain Lake Park rose to fame in the early 1880s as an important cog in the celebrated Chautauqua Movement.
This past weekend, the Garrett Lakes Arts Festival, Mountain Lake Park, Maryland Humanities, the Garrett County Arts Council and other entities, hosted its first ever "Mountain Chautauqua, Then & Now" within the shady confines of the Mountain Lake Park Historic District. The event included historic house tours, live music, hymn sings, and performances recalling well-known speakers from the glory days of the Chautauqua Movement.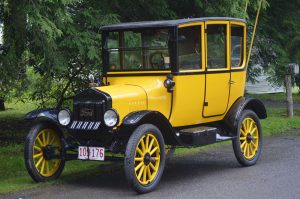 Chautauquas – so named for the original site near Jamestown, NY – were initially conceived shortly after the Civil War as summer camp schools for Methodist laymen. The subsequent "camps" – largely shaped after the Methodist model – brought scientists, scholars, politicians, preachers, entertainers, authors and professional lecturers to small-town America.
As a vaunted vacation destination with easy rail access, several large hotels, a sturdy auditorium, an enclosed amphitheater, and ties to the Methodist Church, Mountain Lake Park hosted Chautauquas for more than 50 years. Featured speakers – such as President William Howard Taft, William Jennings Bryan, Jane Addams, Russell Conwell and Billy Sunday – were joined at Mountain Lake Park by the likes of Matthew Henson (Arctic Explorer,) Miss Sybil Sammis (Soprano,) Charles Carter (Magician,) Miss Ruth Anderson (Violinist,) Prof. Eugene C. Foster (Chemist,) Fred High (Ventriloquist,) and Mrs. Maude Ballington Booth (Prison Reformer and "A Queen Among Women".)
Taft, Sunday, and Henson are all long gone, but their – and others' spirits – were channeled at Chautauqua Then & Now by an able group of living historians.
Saturday's lively Big Tent program (which this reporter attended) included Albert Feldstein as John W. Garrett; Doug Mishler as Billy Sunday; a rousing community hymn sing; and a terse conversation between Thomas Edison (Will Meagher) and Nikola Tesla (Patrick Lee).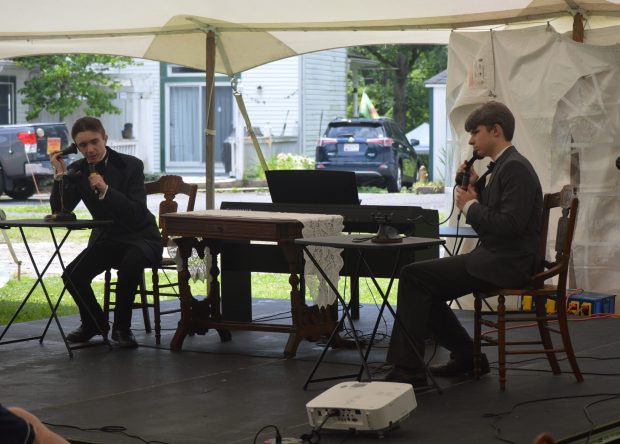 Presentations by other speakers were held concurrently at the local Town Hall.
We took a break from the Big Tent offerings for a self-guided walking tour of the town before moving on to the evening program of song by Soprano Danielle Pastin, and a look at the life of Jacques Cousteau (Mishler.)
Our only regret was that we could not attend this Chautauqua for all three days.
Chautauquas were designed to uplift the individual; to educate as well as entertain. What we experienced last weekend at Mountain Lake Park certainly covered all of the bases.
Including the bases stolen by former ballplayer Billy Sunday.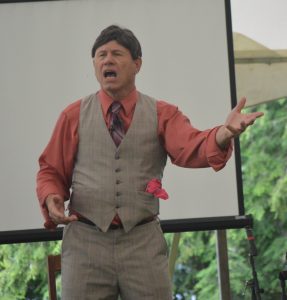 "You all know the Bible says 'Thou Shalt Not Steal' barked Historian Mishler as Evangelist Billy Sunday. "But I figured if baseball would let me steal second and third, I might as well take them."
Mishler may have also stolen the show with Sunday's gesticulating oratory, evoking laughter with the lines, "If you turn Hell over you'll see 'Made In Europe' written on the bottom," and "You could end all dancing in just two weeks, if you passed a law which said a man can only dance with his wife."
Sunday also decried jazz music, unfettered immigration, weak-kneed Christians, backsliding, slothfulness and saloons in the hour-long presentation.
Some of his homespun observations about this country's mountain of moral failings might have sounded outlandish were they not so prescient to modern-day America.
Sunday's temperance talk was somewhat tempered by the conversation between Edison and Tesla.  Though testy at times, the audience was treated to high-voltage history, courtesy of Meagher and Lee – two talented, teen-aged members of the Garrett County Robotics Team 1629.
There were also nods to Sunday and the spiritual side of Mountain Lake Park in the community hymn sing, led by area musicians Sean and Debi Beachy.
The hymn, "There Is Power In The Blood" for example, was written by Lewis E. Jones – a classmate of Billy Sunday at the Moody Bible Institute. Jones composed the lyric/poem at Mountain Lake Park after attending an impassioned revival service in 1899.
A special visual treat was offered by Albert Feldstein, who dug into his personal postcard collection for his presentation, "For Jesus' Sake, Go To Mountain Lake."  This slide show of picturesque vistas was largely described using the words written on the back of the century-old postcards – cheerful observations penned by enthusiastic visitors to Mountain Lake Park.
The festivities concluded on Sunday night with a Maryland Humanities program.
Maryland's Chautauqua revival began at Garrett College in 1995.  Since then, the summer event has spread to eight locations around the state.  Always free, Chautauqua combines scholarship, reenacting and performance art to present interactive programs which engage Marylanders in thoughtful dialogue.
A complete list of this summer's programing – Making Waves – may be found by visiting Maryland Humanities.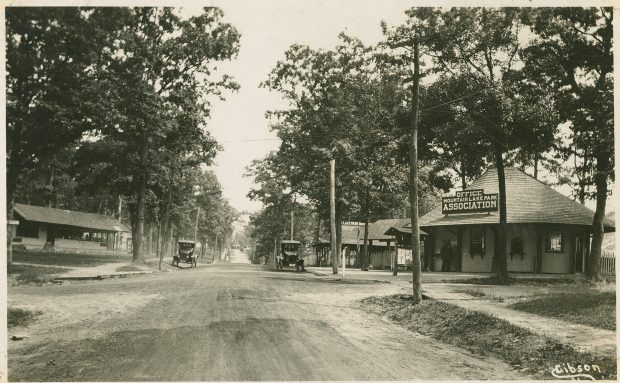 Anthony C. Hayes is an actor, author, raconteur, rapscallion and bon vivant. A one-time newsboy for the Evening Sun and professional presence at the Washington Herald, Tony's poetry, photography, humor, and prose have also been featured in Smile, Hon, You're in Baltimore!, Destination Maryland, Magic Octopus Magazine, Los Angeles Post-Examiner, Voice of Baltimore, SmartCEO, Alvarez Fiction, and Tales of Blood and Roses. If you notice that his work has been purloined, please let him know. As the Good Book says, "Thou shalt not steal."