Morgan State Architecture Student's Internship sheds light on Historic Preservation, Career Pathways
By Zahaira Williams
This summer, I was proud to participate in an internship, "Touching History: Preservation in Practice," which introduces African American students to the field of historic preservation. This program was developed by the Advisory Council on Historic Preservation (ACHP), the National Park Service (NPS), and the National Trust for Historic Preservation's Hands-On Preservation Experience (HOPE) Crew. As an architecture major at Morgan State University in Baltimore, which is a Historically Black College or University (HBCU), my role was to work alongside five other architecture students on historic preservation projects in Jackson, Wyoming; Baltimore, Maryland; and Washington, D.C.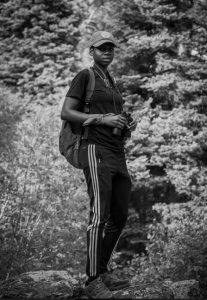 In Wyoming, my team and I worked with the NPS in Grand Teton National Park, where we were tasked with preserving a cabin from the Bar BC Dude Ranch. I learned multiple skills in working on a log cabin, such as mixing the right amount of sand, lime, and water to make mortar and how to chink and daub. In addition, we participated in a "Guiding Principles for Implementing Field-Based Historic Preservation" course where I got to interact with even more people working in preservation, as I learned more about the importance of historic preservation and the processes required for the treatments of preservation, restoration, rehabilitation, and reconstruction of historic property. Our stay in Wyoming was filled with fun, learning, breathtaking scenery, and beautiful wildlife. We also went on outings and took a trip to Yellowstone National Park. As a nature lover and an aspiring architect, working with the NPS was like a dream come true.
Returning to the East Coast, we worked with the HOPE Crew doing hands-on preservation on the Peale Center in downtown Baltimore. The job at hand was to restore the brickwork on the ground of the courtyard–a job that I caught on to quickly and came to love doing. We also spent a few days restoring the windows of our very own chapel at Morgan State University. Prior to this, I had never imagined scraping, glazing, and painting any type of window.
In D.C, I got to learn even more about the people who are involved in historic preservation. From lunches and meetings with executives at the National Trust to being part of a Communications, Education, and Outreach Committee meeting with the Presidentially-appointed members of the ACHP and having a meeting with staff members of the NPS, I became more aware of historic preservation as a field, the importance it serves, and the passion it requires.
Completing the hands-on work with my colleagues was the most meaningful experience of this internship to me. My love for getting my hands dirty and learning new skills coupled with my growing taste for preservation was the experience I most enjoyed.
It was an incredible feeling doing what I love and knowing that I was preserving something historic and significant to people, a cause, or even the nation as a whole. I have become more mindful of preservation and also have met many people excited about my interest who I can now reach out to in pursuit of my career goal in landscape architecture and historic preservation.
The most important thing I learned was the impact preservation has on protecting histories that should not be erased. Therefore, I would encourage students to participate in this internship as it not only benefits you as a person but also influences the projects that you work on and the decisions you can make in the future as they relate to historic properties. This internship is extremely beneficial to HBCU students because it exposes more young black people to the field, strengthening the diversity. It also benefits the community by raising awareness. When people asked me what I was up to, I was proud to say I was preserving our history. With this awareness and a little curiosity, just like me at the beginning of this program, other people can contribute to something greater than themselves.
Ms. Williams is from the Commonwealth of Dominica and is a Morgan State University in Baltimore, MD student entering her final semester as a senior studying Architecture and Environmental Design. She is set to graduate December 2019.