Let Baltimore entertain you
One of the best things about Charm City is the array of entertainment options not far from your front door.  But what are Baltimore's Best Bets? Let us tell you:
April 6 & April 7 —  "Memphis" – Hippodrome at France-Merrick Performing Arts Center, 12 N. Eutaw Street. Here's the event site. More information: 410-547-SEAT; www.ticketmaster.com. Tickets; $20 to $75.
You know how you sometimes just want to go to the theatre to be entertained and not worry too much that you'll be exposed to – let's just say too many adult themes — especially when you're with the kids? This four-time Tony Award winner is what you want. Dancing. Singing. Fame. Love. All inspired by the true story of a white radio DJ who wants to change the world and a black singer craving a shot at fame.
April 7 – Alabama Shakes – Rams Head Live – 20 Market Place; 410-244-1131. Here's the event site. Tickets: $15.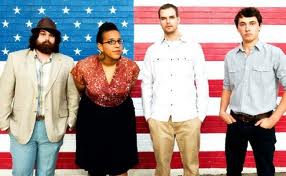 Musicians know that bands signed to U.K. label Rough Trades are worth a listen. Alabama Shakes, also signed to ATO in the U.S., is no exception. Did you check out their new album, "Boys and Girls," that is streaming live on NPR? Well, go to this link and listen to the souls-root blend. Then get those tickets!
April 10 – Kaiser Chiefs – Rams Head Live. Here's the event site. Tickets: $25.
This band has to be the U.K.'s coolest import in, well, years. Not only do they keep reinventing their form of punky rock but they just get grittier. Check out a sample of their latest sound on the video "On the Run" from the new release "Start the Revolution Without Me" Bummer that the show is sold out now – so is the next night's show in Philly –but check online to see if any tickets become available.
April 12 – David Sedaris – Meyerhoff  Symphony Hall, 1212 Cathedral St., Baltimore. Here's the event site. More information: 410-547-SEAT. Tickets: $43.
David Sedaris has got to be something akin to Andy Warhol (stay with us a minute) in the '60s and '70s. He's not yet a household name but those that know him adore him. And maybe Sedaris is a household name now that he's sold millions of his books including "Holidays On Ice" and "Me Talk Pretty One Day." And don't even get us started on the "Santaland Diaries" (which was performed in a local theater a few years ago and was fairly fun except the actor kept laughing at his own lines). For those that don't know, Sedaris is a master at the art of self-deprecating humor and wry observation. He's touring in support of his latest book "Squirrel Seeks Chipmunk: A Modest Bestiary."
April 12 – YouTube Show and Tell – Creative Alliance at The Patterson, 3134 Eastern Ave., Baltimore; 410-276-1651. Here's the event site. Tickets: Free to members; $5 for the public.
We know you want to keep it a secret, but come on now – share. You'll be among friends – maybe some you just have yet to meet – at the Marquee Lounge. Have a few drinks (which some of us would need to do this) and share your favorite video – under five minutes please. Worried it'll be too crazy, perhaps with a club kid showing his or her videos on an endless loop? Filmmaker Bob Rose will host the event and, undoubtedly, keep it movin'.

Nancy Dunham is a music journalist based in Washington, D.C. Her work appears in Relix, YRB, Spinner, M Music & Musicians, American Songwriter and other publications.