Today our adventure takes us to Monkton and Bel Air…So gas up the car and let's get going. I promise you'll enjoy your time.
Let's begin at the Ladew Topiary Gardens, 3535 Jarrettsville Pike, Monkton, Harford County. I took exit 27B off the beltway (Dulaney Valley Rd) and followed the sign to the Pike. From there it's a straight shot to Ladew.
I haven't been there in what has to be over 15 years. It shouldn't have been so long. This is a wonderful treasure to be enjoyed by all visitors. It was named One of the Top 5 Gardens in North America by the Garden Club of America. A high honor indeed.
There are 22 acres, that feature more than 100 topiary forms. I was amazed at the talent necessary to turn shrubs into recognizable objects. My favorite is the man on a horse jumping over a fence.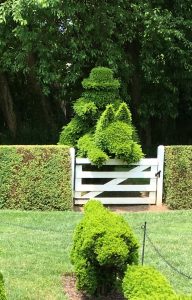 The grounds were designed by Harvey Ladew (1887-1976). He purchased the land from the Scarff family in 1929. Today Ladew is a non-profit organization whose mission is 'to maintain and promote the gardens, House and facilities in keeping with the creative spirit of Harvey Ladew.'
When arriving go to the Visitors Center to get your ticket and pick up a brochure. From there it's a self-guided tour. The only organized tour is that of the House. I would suggest you go in. Ladew designed it to look like an English house.
The interior is filled with valuable artifacts. Some going back a few centuries. One room actually goes back to the mid-1700s. The house is also filled with photos, statues, and prints of foxes and hounds. They're everywhere. This is horse country after all.
Be sure not to miss their Sunday Summer Concerts in the Great Bowl, from 6 p.m. to 8 p.m., beginning June 16. Ladew receives more than 40,000 visitors a year and they host over 130 programs and events.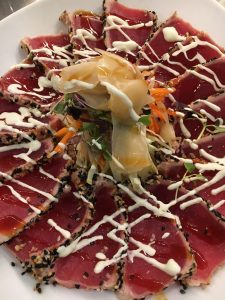 Ladew is open April 1 through October 31. Adult admission to the Gardens, House and Nature Walk is $18.00. Members free. Reach them at 410-557-9466 or go to ladewgardens.com.
By the way, opening June 17 through September 30, from 10:30 a.m. to 4 p.m., a Butterfly House. I'm told the butterflies are native to the area and will be caught on the grounds.
I don't know about you, but after all that walking, I'm hungry. So let's head to Bel Air and Barrett's on the Pike, 588 Baltimore Pike in the Bel Air Town Center.
Talk about your new restaurant. It opened in late May. It's owned and operated by Stonebridge Restaurants. They also have Glyndon Grill in Owings Mills and Barrett's in Hunt Valley.
Barrett's is open seven days for lunch and dinner. They have a full bar. The chef conjures up innovative creations to your basic comfort foods.
There's a Saturday and Sunday Brunch (10-3), a weekday Happy Hour (2-7), plenty of free parking, upscale casual, two private rooms and reservations are not necessary, but I think it's a good idea on weekends.
I'm told so far a few of the favorite items from the menu are the shrimp cargo, French dip sandwich, braised beef short ribs, sesame seared ahi tuna, and the crab and roasted corn soup.
I think this will be a welcome addition to the Bel Air restaurant scene. You can reach them at 443-371-7516 or by going to barrettsonthepike.com.