Helen Delich Bentley: Artwork Celebrates Life of Port's Ardent Advocate
During the course of her long and storied life, former Maryland Congresswoman Helen Delich Bentley wore an astonishing array of hats.
A native Nevadan and copper-miner's daughter – who was once the secretary of a Missouri senator – Bentley settled in Baltimore in the late 1940s to pursue her dream of being a big-city reporter. Here she parlayed her journalist pursuits to become a television pioneer; a port promoter; Chairwoman of the U. S. Federal Maritime Commission; an antiques store owner; a champion of area museums; a highly valued consultant and guest speaker; and an irascible occasional voice on talk radio shows. Bentley was also a mentor to opposition party officeholders – not for any political gain – but for the betterment of Baltimore. Yet for all of her chapeaus, Helen Bentley never captained a cargo ship. Which is pretty amazing when one considers that Baltimore's maritime industry has never had a finer First Mate.
Bentley is being remembered today by friends and colleagues – who lovingly recall her many hats – with the unveiling of a stained glass artwork depicting some of the highlights of her remarkable life.
Helen Bentley passed away at the age of 92 in 2016. Ten years earlier, the Port of Baltimore was renamed in her honor.
The unveiling of the stained glass panels will take place this morning on the 21st floor of the World Trade Center. Following the unveiling, the artwork will be installed in the lobby of the same Inner Harbor building, which sits at 401 E. Pratt St. in Baltimore.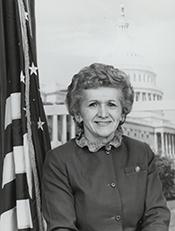 The World Trade Center was selected in part because it houses the Maryland Department of Transportation – Maryland Port Administration.
Dignitaries expected to be on hand to speak for the unveiling include Gov. Larry Hogan; Congressman Kweisi Mfume (D-7th); Maryland Transportation Secretary James F. Ports, Jr.; and Port Administration Executive Director William P. Doyle.
Nancy Nicholson – the New York-based artist who created the tribute panels – is also expected to offer a few words for the unveiling.
Longtime Annapolis lobbyist Bruce Bereano – who headed fundraising for the stained glass panels – told the Baltimore Post-Examiner the task was truly a labor of love.
"I got to know Helen Bentley in the course of my political activity in the state of Maryland," explained Bereano. "Like many other people, I grew extremely fond of her. She was an absolute pioneer for women and just the queen of getting things done.
"I continued my relationship with her after she left politics. I visited her prior to her passing, which gave me a lot of comfort. And then, a number of years later, Dr. Mike Galiazzo – another friend of Helen's – approached me with the idea for this stained glass art. The panels would depict stages of Helen's life, as well as her community and surroundings. Mike asked me if I would raise the money for it, which I gladly agreed to do.
"The idea pre-covid was – once the panels were complete – to install them in the World Trade Center where the Department of Transportation Port Administration is located. COVID delayed us, but as things now have somewhat stabilized, I contacted Gov. Hogan and arranged with his office a time and place that he would be available for this event."
Bereano said that, in putting the event together, he made an earnest effort to reach out to as many of Helen's supporters as possible. That long list laid the groundwork for the generous donations which completely covered the project.
"Frankly, I knew that some people would be upset if this project moved forward without their financial support. We raised the money pretty quickly – ten thousand dollars – which I though was a very reasonable stipend for such a talented artist as Nancy Nicholson."
Bereano told us he is expecting about 160 people for the event. Attendees will receive a lovely keepsake booklet. "I think people will be very pleased with it," he proudly added.
"This is the least I could do. Hopefully, this will remind younger generations of who she was and what she did, and how significant she was for the state of Maryland. She broke a lot of glass for women – a lot of glass – just by her actions and efforts; not by speeches or anything like that. She broke a lot of ceilings."
Bereano said he was certain almost everyone in the room would have their own cherished Helen Bentley story. But as stories about legendary characters go, one tale sums up the dogged determination of Helen Delich Bentley.
"This may sound like an exaggeration or something somebody made up, but it's absolutely true. Helen became so well known for her reporting and promotion of the port community – not only here in Maryland but throughout the country – that President Nixon invited her to be appointed to the Federal Maritime Commission.
"And she turns it down!
"Helen said, 'I will only go on there if you make me the chairman.'
"Now, that went back and forth – how many times I don't know. But the pressure continued so greatly from the Maritime Commission that Nixon relented and Helen was appointed chairman. In fact, she held the highest position of any woman in the Nixon administration. And you know why she was so insistent? Not ego, or anything like that, but she knew that only by going on that body and being chairman could she get anything done. Otherwise, why go on there? Very simple. It wasn't prestige or whatever. She wanted to get things done, and the way you get things done on any committee is – you chair it!
"She was an absolute action person. And I remember talking to her about this incident. How many people have the stature to back down a President of the United States?"
We wondered if Bereano had one particular personal memory of Bentley? He paused at first, but as he momentarily opened up, it was clear that Helen's friendship had touched him profoundly.
"Years ago, I went through a time in my life that was exceedingly difficult. I won't go into detail, but I will tell you the incredible part of the story is that she did not have to do what she did to help me. I was not a close friend of hers back then, but Helen was the type of person that – when she saw a wrong – she tried to right it.
"I'll just be so grateful to Helen for that for the rest of my life."
(This story has been updated with pictures from the event)
©Copyright 2022 Baltimore Post-Examiner. All Rights Reserved

Anthony C. Hayes is an actor, author, raconteur, rapscallion and bon vivant. A one-time newsboy for the Evening Sun and professional presence at the Washington Herald, Tony's poetry, photography, humor, and prose have also been featured in Smile, Hon, You're in Baltimore!, Destination Maryland, Magic Octopus Magazine, Los Angeles Post-Examiner, Voice of Baltimore, SmartCEO, Alvarez Fiction, and Tales of Blood and Roses. If you notice that his work has been purloined, please let him know. As the Good Book says, "Thou shalt not steal."