BMI Set to Reopen July 3rd
SHUTTERED – a heart-wrenching photography exhibit currently at the BMI – presents Images from the Fall of Bethlehem Steel by J.M. Giordano. (credit Anthony C. Hayes)
BALTIMORE – It may be hard to believe, but the last time the Baltimore Museum of Industry (BMI) was open to the public, Helen Bentley had a weekly television show on channel 2; newspapers were still being printed with metal type created by a Linotype machine; the Sparrows Point mill was the largest steel producer in the world; and you could fill the tank of your Packard at the neighborhood Crown for 29 cents a gallon.
Wow, has it been that long? With many Covid restrictions well into their second year, it certainly seems that way!
All right – so the BMI hasn't really been closed since John Moscato started selling kit TV sets from his radio repair shop in Highlandtown. In fact, even during the shut-downs, the BMI continued to work (on a truncated schedule) to preserve the past while engaging the public in an assortment of modern ways.
Now the BMI is looking forward to this coming July 3rd and a good old fashioned Reopening Day. We learned what's on tap during a recent walk-through of the museum with Claire R. Mullins – Director of Marketing & Events at the BMI.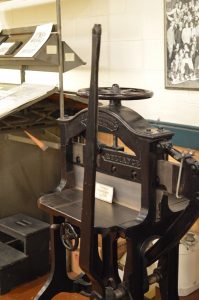 "For the past two years or so we've been working on a project we're calling 'Reframing the Narrative,'" said Mullins. "You know, here at the Baltimore Museum of Industry, we've tended to focus on industry with a capital 'I'. So really looking at the companies themselves, we wanted to devote more time to focusing on the workers. What we found, in doing an analysis of our galleries, is that there was a real lack of stories about people of color. We wanted to make sure that we were accurately reflecting the legacy that people of color had in terms of making Baltimore the industrial powerhouse it became."
Mullins said the staff has been doing an intensive dive into the machine tool shop, the meat processing, and the print shop galleries to "suss out stories" of the contributions made by people of color.
"We're weaving those stories into the current narratives – creating entire panels where we highlight the contributions of people such as the gentleman (John H. Murphy, Sr.) who founded the Afro-American newspaper here in Baltimore, and Henry Parks, who founded the Parks Sausage Company. Parks was actually the first black owned company to go public in terms of selling their stock. These are really important stories for Baltimoreans to hear – I think especially for children of color. So we are pulling these stories out and making them front and center for visitors."
Of equal importance in reframing the narrative is the award-winning (and free to view) exhibition which currently adorns the exterior fence along Key Highway.
"Women of Steel is an outdoor exhibition, so it's free of charge," explained Mullins. "It consists of 10 panels that show the faces, and quotes experiences, of women who worked at Bethlehem Steel between the 1930s and 2012, when the plant closed.
"We went all in on that steel these last few years – creating a podcast series, in conjunction with WYPR radio here in Baltimore, that details a lot of the experiences of Bethlehem Steel Workers. This September, we're opening up a brand new huge exhibition all about Bethlehem Steel, which is the culmination of a years-long project called 'The Bethlehem Steel Legacy.'
"Bethlehem Steel was Maryland's largest employer and was actually the third largest company in the United States. At one point, it was the largest steel mill in the world. At its peak, I think it employed 30,000 Marylanders. So we've done numerous programs about the mill. We have the Women of Steel exhibition; and then this huge exhibition which opens in mid-September."
Perhaps most exciting for long-time followers of the port – and fans of the museum – is the project to preserve the television work of the late Congresswoman, Helen Delich Bentley.
"Helen was a big part of the museum, and she was a remarkable woman," said Mullins. "She was the nation's first female maritime reporter. And at one point, when she was a Congresswoman, Helen was the highest ranked woman in the federal government.
"She was on our board of trustees, and actually helped get the museum off the ground. Helen was a big proponent of making sure the stories of Baltimore's industrial history and the port were shared. She wanted them captured here at the museum to be preserved for future generations. So now we have 15 years of her television shows. We have footage, scripts, and still photos. And we are working with a film preservation company in Northern Virginia, to preserve them all, and then digitize them. Once that's done, they'll be made available on our website for historians or people who are just curious about Helen."
With so many entities shuttering forever because of the pandemic, we wondered how the BMI has fared financially?
"Well, for more than a year, we've been shut down, so we had essentially no visitors. No school groups, which is a huge chunk of income for us. And practically no private event rentals. Only a handful of small weddings went ahead. Typically we do about 150 events a year, and the bulk of those – probably 140 – either canceled or had to reschedule for a future date. So there was a massive lost income on behalf of the museum. We were lucky enough to work with a great bank, Howard Bank, who was able to get us two PPP loans. Frankly, that saved us. We were also really lucky to have a dedicated group of generous members and donors that were able to help provide support.
"Staff was furloughed by 20%, so it was a struggle. I mean, we really tightened our belts and put off anything we could. As long as the core staff and the core artifacts and the galleries in the museum proper were cared for – which it was – we felt good about our chances to survive. We're turning a corner now and really looking forward to reopening to the public on July 3rd. We really miss the general public, the events and the school kids, and we're looking forward to having everyone back."
Does that mean hosting the museum's July 4th celebration if the city has fireworks?
"The city just announced it is not having fireworks again this year, so we have canceled our typical Fourth of July event. But we hope to bring back our annual Independence Day celebration next year for 2022. In the meantime, we open to the public on Saturday, July 3rd. For our opening, we'll have photographer Joe Giordano here to walk visitors through his photography exhibition about steel. And Steve Cole – who's a volunteer here at the museum – will be on site that day, running the Linotype machine. That's something your newspaper friends would certainly enjoy. It's one of those machines that I think is so entertaining to see.
"After that, we'll be open Fridays and Saturdays from 9:00 to 3:00 each day until further notice. Hopefully, we'll ramp back up to six days a week sometime soon."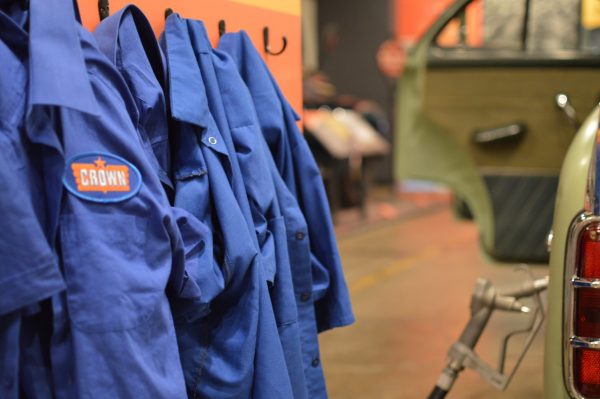 VISITOR INFORMATION:  The museum is located at 1415 Key Highway, Baltimore, MD 21230.  Free onsite parking is available to visitors.  General museum information can be found at www.thebmi.org.  Follow the BMI on Facebook, Twitter and Instagram: @BMIatWork.
© Copyright 2021 Baltimore Post-Examiner. All Rights Reserved
* * * * *
PRESS RELEASE
The Baltimore Museum of Industry (BMI) will reopen to the public on Saturday, July 3, 2021, from 9AM – 3PM.  The museum has been closed since March 2020 due to the pandemic.
Tickets are available online and at the door.  In order to adhere to safety guidelines, up to 50 tickets are available for entry every hour.
A full day of programming is set to welcome visitors back:
·       9AM – 1PM:  Enjoy local produce, baked goods, craft spirits, and fresh flowers at the waterfront farmers market on the BMI campus.
·       9AM – 3PM: Take a guided tour of the museum galleries.  Included with admission.
·       10AM – 12PM: Print shop volunteers demonstrate historic presses including the Linotype, the machine that Thomas Edison declared 'the eighth wonder of the world.'
·       10AM – 1PM: Give feedback on the new BMI exhibition under development, Fire and Shadow: The Rise and Fall of Bethlehem Steel.
·       11AM – 12PM: Meet photographer J.M. Giordano whose photographs are on display in SHUTTERED: Images from the Fall of Bethlehem Steel.
Visitors can park for FREE in the onsite lot.
For more information about the opening, safety and visitor policies, visit the reopening page. Beginning Friday, July 9, the museum will be open on Fridays and Saturdays, 9AM – 3PM until further notice.

Anthony C. Hayes is an actor, author, raconteur, rapscallion and bon vivant. A one-time newsboy for the Evening Sun and professional presence at the Washington Herald, Tony's poetry, photography, humor, and prose have also been featured in Smile, Hon, You're in Baltimore!, Destination Maryland, Magic Octopus Magazine, Los Angeles Post-Examiner, Voice of Baltimore, SmartCEO, Alvarez Fiction, and Tales of Blood and Roses. If you notice that his work has been purloined, please let him know. As the Good Book says, "Thou shalt not steal."