Hagerstown joint venture sees big profits in medical marijuana
HAGERSTOWN — For nearly a century, workers at the sprawling Statton furniture factory in Hagerstown crafted traditional solid cherry dressers, dining-room tables, chairs and display cabinets for customers across the United States.
Today, the renovated 180,000-square-foot facility — under strict security controls and a constantly evolving legal landscape — churns out an array of cannabis products ranging from Kalm Fusion powdered tincture and chewable tablets to LucidMood vape pens and Healer drops.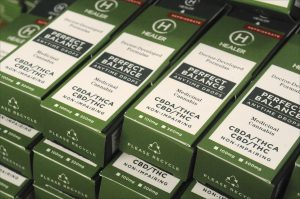 Located across the street from a livestock auction house, the year-old operation ranks among the East Coast's top suppliers of cannabis for the booming medical marijuana industry.
"Hagerstown is very depressed — one of the most economically depressed areas in the state — so we're bringing life and jobs to this area," said Abigail Diehl, director of business development and sales at Kind Therapeutics USA. "We're already Maryland's largest indoor cannabis grower."
Kind Therapeutics holds a license to produce cannabis in this state under a management deal with Boston-based MariMed. The venture's various offerings contain both cannabidiol (CBD) and tetrahydrocannabinol (THC), the main psychoactive compound in cannabis.
Investors hope expanding U.S. legalization of cannabis for medicinal use will boost sales of its products to treat everything from skin cancer to multiple sclerosis.
To date, Maryland, 32 other states and the District of Columbia have declared medical marijuana legal. In D.C. and 10 states — Alaska, California, Colorado, Maine, Massachusetts, Michigan, Nevada, Oregon, Vermont and Washington —recreational use is also now allowed, even though the federal government still considers marijuana in all its forms illegal.
"The laws are constantly changing, so it's difficult to get an accurate number. But this is going to be a $70 billion industry in coming years," said Diehl, whose family has distributed fruit and vegetables throughout Maryland for five decades. "When the state legalized cannabis in 2016, my friends said I needed to get into this business too, so I jumped in full throttle."
She added: "Some solid business people are in it for the money, medical professionals are in it for the medicine — and then there are the hippies who just love marijuana. It's a mix, but from what I've seen in this industry, if you have only business guys, they're not going to know about growing. And if you have all stoners, they're not going to know how to run a business."
Ryan Crandall, MariMed's chief production officer, clearly is a little of each.
A veteran of the computer software industry, Crandall said it's crucial that cannabis products be affordable as well as effective. For example, a 100 mg bottle of "Healer" tincture costs $32 and lasts one to two weeks.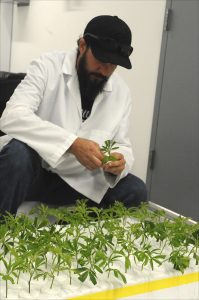 "This is the best way to naturally extract cannabis," he said. "It's a premium product at a very economical price point, because we want to get this medical product into patients' hands economically."
Another product, Rick Simpson Oil— named after the Canadian cannabis activist who developed it — is notable because it's a full-plant extract that contains higher levels of THC.
"The lion's share of people using RSO are getting incredible medical benefits from it, and I've met two people in the last month alone who are on maintenance doses and have been cancer-free for years," Crandall said. "One patient with stage 3 lung cancer was given six months or less to live. He was on chemo and his doctor recommended an RSO regime. He believes the thing that's keeping him cancer-free is RSO. He told me he will never come off his RSO."
In June 2018, the U.S. Food and Drug Administration made history when, for the first time ever, it approved a marijuana-derived therapy for the first time to treat any disease. In this case, the cannabidiol was Epidiolex — developed by Britain's GW Pharmaceuticals — to treat two severe forms of epilepsy known as Dravet and Lennox-Gastaut syndromes.
"This FDA ruling speaks volumes," Diehl said. "They're saying, 'guys, cannabis is not just for people who want to get high. This is a real medicine that can help everyone, including children.'"
Yet this is an extremely regulated industry. Here in Hagerstown, the premises are under constant surveillance, all plants are accounted for, and all 61 employees had to pass a thorough criminal background check before joining Kind Therapeutics.
And because medical marijuana isn't legal in all 50 states, the company can't bank with Wells Fargo, Bank of America or any other multistate institution. Instead, it's turned to Annapolis-based Severn Saving Bank for about 90 percent of its financial needs.
About 83,000 patients have registered with the Maryland Medical Cannabis Commission, which entitles them to buy cannabis products at an authorized dispensary. Diehl said it's been an uphill battle to convince authorities in Anne Arundel County and elsewhere to approve new dispensaries around the state— although the landscape does appear to be changing as medical cannabis gains national acceptance.
"A lot of counties just treat us as a CVS now, which is how it should be. Some people are still completely opposed to it, and scared that it's an illegal drug," Diehl said. "They don't want dispensaries in their back yard, but things change when it hits home, when someone they love gets sick and this is going to benefit them."
Even so, she said, "I don't want to have it come to that just to get them on board."

Larry Luxner is news editor of The Washington Diplomat and former editor of CubaNews. Born and raised in Miami and based in Bethesda, Md., since 1995, Larry has reported from every country in the Western Hemisphere. His specialty is Latin America and the Middle East, and he's written more than 2,000 articles for publications ranging from National Journal to Saudi Aramco World. Larry also runs an Internet-based stock photo agency at www.luxner.com.