The Fairmont Hotel's Juniper has excellent food
First of all, I realize when you are thinking about eating out, a hotel restaurant may not be the first thing that comes to mind.
OK, fair enough.
But let me say a few words about Juniper, a restaurant located inside the Fairmont Hotel, 2401 M Street, N.W. Washington, which is about three blocks from Georgetown.
I have dined there three times and I am looking forward to my fourth visit.
For breakfast I have to recommend two things.
First, I suggest trying the buttermilk pancakes with Vermont maple syrup.
Second, ask for Oscar, who is an excellent server. He's from Peru and will make you feel quite at home. I am told many diners ask for him. I know I will from now on.
For lunch, the chef's choices are the saku tuna tartare ($18.00) and the burger of the month ($22.00). For January, it's the North African spice angus burger.
Melissa, who is one of the managers, told me that the most popular item is the rooftop honey wheat walnut bread, and the chef concurs.
The words rooftop and honey are included together because the honey comes from the bees on the roof.
Next time I'll have to have a look.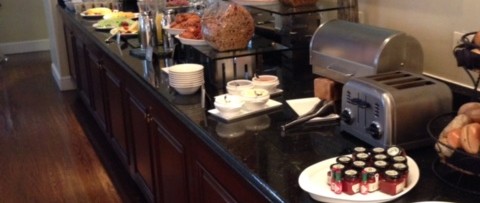 For dinner the chef recommends fish and chips ($32.00), probably because he's from Sheffield, England. He also recommends slow braised beef ragu ($29.00).
For some reason, I decided to ignore his selections and went straight for the grilled beef tenderloins with foraged mushrooms, pommes anna, baby carrots and port wine demi glace.
Would you believe that is something I rarely make for myself at home?  Of course my definition of home cooking is something I have seldom done.
On Sundays, the breakfast buffet has more items than during the week ($48.00). In short there's plenty for everyone. But by all means go hungry.
During the warmer months, you can dine in the Courtyard. I would describe Juniper as classically modern.
Actually, the director of public relations Diana Bulger said that.
Call the restaurant  at 202-429-2400. Or you can go to fairmont.com/washington.

Eddie Applefeld is a Baltimore native and a graduate of Towson University. He has been in the broadcasting profession for over 30 years. Currently he is the Promotions Director of WCBM radio. Before that, he was part of the Rouse & Company show on WQSR, host of a cable TV show called Dining Out and adjunct instructor at Towson.
His past accomplishments include being named a finalist in Baltimore Tourism's Employee of the Year Program and winner of Toastmaster's Speaker of the Year contest. He was also twice a heartthrob for the American Heart Association's gala fund raiser.