EWA Last Rites presents real test for Tjay Sykes
Ivan Ali (black trunks) sets John Berg up for a body-slam at EWA Evolution 2K15. (Anthony C. Hayes)

Eastern Wrestling Association (EWA) will return to Tall Cedars Hall in Parkville, MD on Saturday, October 24th for it's annual Last Rites event. Another full house is expected for Last Rites as anticipation is running high amongst Baltimore's wrestling fans following EWA's exciting September event, Evolution 2K15.
Despite his second successful title defense at Evolution, EWA Heavyweight Champion "Starstrukk" Tjay Sykes will need to grow eyes in the back of his head to protect his title at Last Rites. A result of Evolution's Double Ring Ladder Match Battle Royal, Sykes is set to defend against #PatAnthony (that's not a smudge on your glasses). Anthony will compete with a clear advantage, as he is only one of three people Sykes must prepare for. The second is Anthony's new Social Media Advisor, Violet, who interfered on his behalf and guided him to victory at Evolution. Violet is certain to be an obstacle for Tjay as well.
The most dangerous of the trio will be Sykes' previous opponent, Cory Bush. Bush has been a thorn in the side of the Heavyweight Champion since Summer Sizzler, where Bush interfered during Sykes' match with Desert Storm. Bush also prevented Sykes from earning a clean victory at Evolution when his plan to strike Sykes with the heavyweight belt backfired. Sykes deflected the belt into Bush's face with a Super Kick, leading the referee to disqualify Sykes for use of a foreign object.
If Sykes, inundated with a plethora of "what-ifs," can overcome the odds and leave Last Rites victorious, he will prove himself an elite EWA Heavyweight Champion.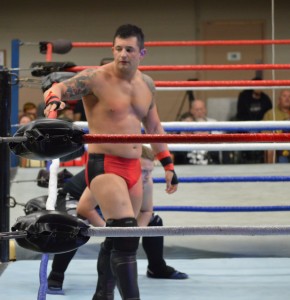 Co-headlining Last Rites will be a match deciding the second and yet undetermined winner from Evolution's main event. Wes Mercer and Joey Badami, the pair who ripped the second available contract in two during the Double Ring Ladder Match Battle Royal, will meet in Maryland's only Casket Match to fight for rightful ownership of the contract, granting the winner the right to challenge any EWA title holder for their respective championship, as well as a heavyweight title match at the Sweet 16 Tournament in March, per surviving the Battle Royal.
Former EWA Tag Team Champions John Berg and "The Baltimore Butcher" Blood will get a chance to bounce back and regain their titles from first-time champions The Dark Horses. If Dark Horses can keep their momentum from Evolution, where they defeated three teams on their path to victory, they can easily subdue Berg and Blood back-to-back.
EWA Maryland Champion "The Hampden Hammer" Bill Ward will face a mystery opponent at Last Rites, where he will defend his title in a Maryland Championship Open Challenge. Perhaps former champion Apollo Cruz answers the call?
The EWA Cruiserweight Championship will be on the line at Last Rites. Champion Chris Burns will defend against Davey Havok, who bled following a strike with the Cruiserweight belt from Burns at the end of the nail-biting Six Pack Ladder Match at Evolution. Only a month in to a return from a four year hiatus, Havok will be the talk of the EWA fans if he comes out as Cruiserweight Champion.
Desert Storm seeks to humiliate his former subordinate, J.T. Moore. Moore, as well as Storm's former manager, Alexis Divine, were fired from the Department of Defense following Storm's tirade at Evolution, where he criticized Divine for her "lack of support" during her lengthy hospital stay earlier in the year.
Rounding out the exciting card, Alonzo Thunder will compete one-on-one against "The Show" Mr. Jones
*   *   *   *   *
Don't miss out on EWA's Halloween spectacular, EWA Last Rites, Saturday October 24th at Tall Cedars Hall in Parkville. Tall Cedars is located at 2501 Putty Hill Avenue, Baltimore, MD 21234. The EWA often draws sell-out crowds so purchase tickets early by calling 443-858-2755. Front-row seats are $15, with general admission at $12. Remember, the card is subject to change. For more information, visit EWA online and be sure to stop by EWA's Facebook page.

Having recently graduated from the broadcasting program at The Sheffield Institute for the Recording Arts, Jack Hash is working fervently to break into business of professional wrestling as a commentator. To keep his dream alive, Jack hosts a weekly podcast, Shooting Star Cast, where he satirically tears apart all the ridiculous happenings in pro wrestling, while singing the praises of the rays of sunshine that break through the clouds of the squared circle.