EWA crowns tag team champs at Evolution 2K15
Hoisting their hard-won Tag Team Championship belts high are the victorious Dark Horses. (Anthony C. Hayes)
Fans of the Eastern Wrestling Association (EWA) packed-out Parkville's Tall Cedars Hall last Saturday for EWA's premier event of the year, Evolution 2K15.
The event took off with a surprise start outdoors. Waiting anxiously for the doors to open, fans were greeted by EWA Heavyweight Champion "Starstrukk" Tjay Sykes. Disrupting this encounter was Cory Bush, Sykes' scheduled opponent, chucking him into the back door of a box truck.
Prior to the first match, Desert Storm teased a wedding proposal to his manager, Alexandria, praising her fighting spirit following a brain aneurysm she recently suffered. As he was about to drop down on one knee, he rescinded, blaming Alexandria for his loss at Summer Sizzler due to her lack of support during her recovery, then firing both her and cohort J.T. Moore from the Department of Defense. In a pathetic attempt to rebound from his recent loss, Storm attempted to lay a kiss on Maria Manic, provoking an attack from Joey Badami.
The opening match on the card saw F.T. Jones defeating Naranga for the privilege to participate in the Six Pack Cruiserweight Championship Ladder Match, an annual hallmark of Evolution.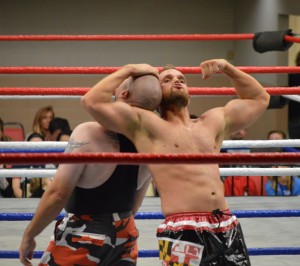 The Dark Horses defeated J.T. Moore and Joey Badami, D.T.P., and defending Tag Team Champion John Berg and interim champion Blood (replacing Berg's usual partner, J.D. "Bam Bam" Browning) in an Eight Man Elimination Tag Team Match. Dark Horses were a clear favorite among the almost sold-out crowd. A burst of excitement erupted from the spectators after ring announcer Michael Delss pronounced Dark Horses the new EWA Tag Team Champions.
The celebration was sadly short lived. Desert Storm and EWA Maryland Champion Apollo Cruz ransacked the ring, leaving the Dark Horses in ruin and smugly held the Tag Team titles high over their heads.
Following the crowning of new Tag Team Champions, fans were treated to the Six Pack Cruiserweight Championship Ladder Match, featuring defending champion Chris Burns, Alonzo Thunder, Davey Havok, Aaron Shadows, Pat Anthony and F.T. Jones. In a match that can only be described as pure carnage, six men's skulls and spines made contact with unforgiving steel ladders in a scramble to be called Cruiserweight Champion. In the end, Chris Burns successfully defended his title after knocking Davey Havok off the top of a ladder when he struck his cranium with the championship belt.
"The Hampden Hammer" Bill Ward found the retribution he has sorely sought for months following a car "accident" that left him out of commission at the hands of Maryland Champion Apollo Cruz. Still suffering from his injury, Ward eventually forced Cruz to submit to a Figure-Four Leg Lock, awarding him Cruz's coveted title.
Though EWA Heavyweight Champion TJay Sykes stood tall and retained his title against Cory Bush, Sykes was less than satisfied with the outcome. Easily the finest match of the night, their stand-out competition ended abruptly following a controversial call from referee Corey Berger.
When the 400-pound Bush commandeered the Heavyweight Championship in an attempt to knock Sykes out cold, Sykes reversed with a Super Kick, inadvertently striking Bush in the face with the gold-plated belt, leading the referee to disqualify Sykes for use of a foreign object, a curious decision.
A fighting champion, Sykes argued with the ref, pleading for the match to restart. Bush, knocked out from the kick, eventually rose to his feet, leading to an all-out brawl between the two wrestlers and six intervening security guards.
The final bout, a Double Ring Ladder Match Battle Royal ended with a big surprise. Pat Anthony was the first to secure one of two contracts in this match after referee Violet blinded Michael Lanz with the flash from her smartphone's camera, giving Anthony the opportunity to recover and knock him off the ladder, snagging the contract. Violet has since resigned her position and is now serving as Anthony's manager.
While Joey Badami and Wes Mercer were struggling atop a ladder to obtain the second contract, it became detached from the rafters while remaining in each wrestler's hand. Fighting for control of the contract, both men fell off of the ladder, splitting the contract in two. This led promoter Jim Christian to book Badami and Mercer in the dreaded Coffin Match at Last Rites, where the winner will be the sole holder of the contract, moving onto the Triple Threat Match in the main event, along with Pat Anthony and TJay Sykes.
* * * * *
Don't miss out on EWA's Halloween spectacular, Last Rites, Saturday October 24th at Tall Cedars Hall in Parkville. Tall Cedars is located at 2501 Putty Hill Avenue, Baltimore, MD 21234. The EWA often draws sell-out crowds so purchase tickets early by calling 443-856-2755. Front-row seats are $15, with general admission at $12. Remember, the card is subject to change. For more information, visit EWA online and be sure to stop by EWA's Facebook page.

Having recently graduated from the broadcasting program at The Sheffield Institute for the Recording Arts, Jack Hash is working fervently to break into business of professional wrestling as a commentator. To keep his dream alive, Jack hosts a weekly podcast, Shooting Star Cast, where he satirically tears apart all the ridiculous happenings in pro wrestling, while singing the praises of the rays of sunshine that break through the clouds of the squared circle.