Dead Man's Curve: Bio Clocks High-Octane Life of Jan Berry
Singer, songwriter and producer Jan Berry at work in the studio circa 1966 (credit Dean O. Torrence)
Well, the last thing I remember doc, I started to swerve,
And then I saw the Jag slide into the curve.
I know I'll never forget that horrible sight,
I guess I found out for myself that everyone was right.
As the storyteller of one of the most foreboding tunes of the 1960's, Jan Berry cemented in song the danger of cruising through life at break-neck speed. Yet Berry's own fierce ride – and resolute return from his personal Dead Man's Curve – far eclipsed any fictional car race and continues to amaze music fans today.
Author Mark A. Moore brings Berry's fascinating journey to life in his forthcoming biography: Dead Man's Curve: The Rock 'n' Roll Life of Jan Berry (McFarland & Co., Summer 2021.) We recently spoke with Moore to get a quarter-mile glimpse of the real Jan Berry.
BPE: First off, tell us a little bit about Mark A. Moore and your interest in the life of Jan Berry.
Moore: Well, I'm 55 now, but way back when I was 12 years old, there was a television film about Jan & Dean called Dead Man's Curve. That film, which aired in February 1978, hit me pretty hard. I was already getting interested in late 50s/early 60s rock & roll, so the music in the film is what got me originally. Of course there were the dramatic aspects of the film that had a bigger impact on me when I was older, but it was initially the music that brought me in,
BPE: This new biography isn't your first stab at a Jan Berry-related project. Along with numerous magazine articles, you also wrote an exhaustive chronology of Jan & Dean's work – both on and off the stage – and you co-produced a Jan Berry tribute album a few years ago?
Moore: Yeah, that album was something that we put together with some terrific guest artists, including Mike Deasy, Don Grady, Michael Carey Schneider, Vic Diaz from The Matadors, Jan's former girlfriend Jill Gibson, and other people that worked with Jan or with the Beach Boys. The whole concept of the project was to use the original scores to recreate some of the music. We have all of Jan's original scores from the 60s – the charts and the scores that the Wrecking Crew used to record the songs. Our album may not sound as good as Jan's originals, but we never had a budget to take this music into a studio with all live musicians and really pull it off. To do it that way would be the ultimate goal.
BPE: Lisa Mychols also appeared on this album?
Moore: Oh, she's so great. Wow! She sang lead on It's As Easy As 1, 2, 3. That had been a Jan & Dean track that Jan and Jill Gibson sang as a duo, but Jan also produced the solo version for Jill Gibson that had different lyrics. We had Lisa do Jill's solo version vocally, and it is great. She just nailed it. That's the best track on the album.
BPE: Getting back to the made for TV movie – at that point in the late 1970s, weren't Jan & Dean kind of lost on the younger generation?
Moore: Yes, they were. You know, Jan had had the car accident 12 years earlier (where he was partially paralyzed and had a severe brain injury) and the film literally rekindled interest in them overnight. The film resonated with baby boomers for nostalgic reasons, but they gained a whole new generation of fans from the younger set. I'm a perfect example of that. That's what ended up fueling their tour and reunion in the late 70s.
BPE: Once your interest was kindled, did you start researching Jan Berry specifically or Jan & Dean as a duo?
Moore: Early on, I was interested in the music in the act, but when it came to light to me that Jan was the force behind it all, of course I was interested in him.
The movie had been based on an article by a writer and attorney, named Paul Morantz, that was published in Rolling Stone in 1974. It's a great article and a landmark piece, in that it was kind of the first nationwide journalistic piece about Jan Berry, and Jan & Dean, since the car accident. The movie is kind of a fictionalized version of their career and Jan's life. The article is a lot more accurate. But yeah, so that article sort of lit the fire in me, and then in 1981, I saw the liner notes by Dave Marsh…
BPE: That was in the Jan & Dean anthology album, right?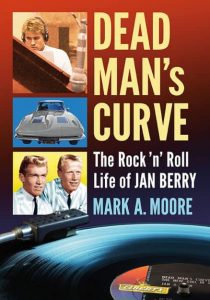 Moore: Yeah, exactly. The album was released in '71. I saw it 10 years on from when it debuted. And that piece! I read it over and over and over again, because this 21-year-old Creem Magazine guy was writing about Jan and Dean, and it blew my mind. I was a little too young for it at the time, and some of the lines he was drawing from Jan & Dean to Iggy Pop and Alice Cooper were over my head. But I was like, 'Wow, I need to bone up and learn a little more here.' So, that was the next stepping stone for me.
As I got older, I just kept up that interest. Fast forward: I'm a published author, and I've done some stuff in different types of history. When I decided that I wanted to write about this subject matter, I just approached Jan and his wife, told them what I wanted to do, and was able to get his career archives to help underpin the whole thing.
BPE: Was music an important part of the Berry household while Jan was growing up?
Moore: Well, Jan was the one who really brought music to the Berry household. His grandfather played the banjo, and there were some singers on his mother's side but nothing that would have been heard in the household. Jan just liked music. He had a little ukulele and he would sing Little Brown Jug. Then, when he was in high school – like most teenagers of the era – he was enraptured by rock and roll. But in Jan's case, his main love was black R&B music. He was into some eclectic artists – not just the mainstream artists of the era. Later on, that style would get labeled Doo-Wop.
So that was really the catalyst.
When he was in high school, Jan loved the music so much; he came up with this scam for a fake radio station, and he called it "KJAN." He put together this letterhead in print shop at school that looked very official, and sent it out to record companies saying, 'We're a radio station and we want promo records.' It worked like a charm. Jan ended up with hundreds of records. He would get records from acts before they were even released nationally. It was a spectacular success and helped to broaden his horizons in terms of what he was listening to. And that's really what led to him writing his own songs with his friend Arnie Ginsburg, launching his career.
BPE: What sort of student was Jan in high school?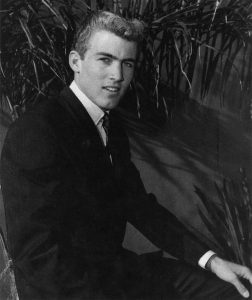 Moore: From an early age, Jan was gifted intellectually. He had an extremely high IQ, and his reading level was well above his peers as a young fellow.
BPE: When you say a high IQ, I've seen some guesses it was as high as 170. Is that a realistic number?
Moore: I don't know if it was that high. When I talked to his mother about it, she didn't give me a number. I have all kinds of documentation on Jan, and I've never seen a specific number. All I know is it was high, and the thing about it was, he just wasn't challenged in school. I have all of his transcripts, and the other commentary from his teachers.
He was fidgety; he wouldn't pay attention; but he was cold consistent A's and B's in class, unless the subject didn't interest or challenge him. That being the case, he was looking to have a good time and sorta became a rebel, so he got by in school with good grades, without having to put a lot of work into it.
BPE: Coming out of high school with lots of As, but not much in the way of attitude, was Jan a good fit for medical school or was his temperament better suited to rock'n'roll?
Moore: Well, that's an interesting question. I think his temperament was definitely suited to rock'n'roll, but his intellect was suited for medical school. I mean, he had a plan all along. His father was a brilliant electrical engineer who worked for Howard Hughes.
BPE: Jan's father was part of the team that worked on the Spruce Goose, right?
Moore: Yes, and Jan's maternal grandfather was no slouch either. He was a chemical engineer and a PhD — just brilliant. So I think Jan, as the oldest child of his parents, felt some pressure to measure up. Early on, he knew he wanted to go to college, but then the whole explosion of having a hit record and being a rock'n'roll star happens. He had a top 10 record on the national charts at the age of 17, before he even graduated high school.
BPE: Did Jan meet cohorts Arnie Ginsburg and Dean Torrence in high school?
Moore: Yes, they all went to University High together. So, back to your other question, Jan always knew he was going to go to college, and he did enter UCLA in February 1959 as pre-med. He did not graduate from college. What he did was he earned the credit hours he needed to apply to medical school, and he passed the Medical College Admissions Test (MCAT). Once that happened, he withdrew in good standing from UCLA and entered the California College of Medicine. All that happened as a backdrop to his rising rock'n'roll career. I mean, it wasn't one or the other. It all happened at the same time.
BPE: You mentioned Jan having a hit record at 17. How exactly did an encounter with a famous stripper factor into tipping the scales towards music?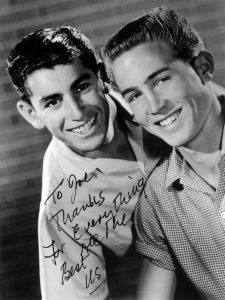 Moore: Well, that whole stripper story with Jennie Lee – that's kind of like the lore of Jan & Dean and Jan & Arnie. It's sort of ubiquitous, and even people who were in Jan's inner circle, like Sandy Nelson, repeat it. But Arnie Ginsburg –who wrote the song Jennie Lee – swears that it was not written about the stripper. There's a whole backstory of that, but it's an interesting dichotomy from the lore and what this guy (Arnie) who wrote the song actually says about it.
BPE: Doesn't Dean also maintain the song was based on a trip the boys made to a seedy nightclub to see Jennie Lee?
Moore: Yeah. Jennie was a stripper, and she was famous well before 1958. And there really was a New Follies Burlesque there in LA. So Jan and several others said they saw the show and that Jennie Lee inspired the song. But what Arnie says is that Jan used that tale because people would think it was really interesting, and that he would just tie it to her because it would make so much sense. It's really kind of funny.
BPE: Is Arnie Ginsburg still alive?
Moore: I've interviewed Arnie, and as far as I know, he is still with us.
BPE: Did Arnie express any regret for eventually bowing out of the act?
Moore: No; in fact, he's adamant that he made the right decision. The thing about it is, Arnie was in ROTC in high school and already a member of the naval reserves. When Jennie Lee came out and started rising on the charts, Arnie came right out and said, 'I have a military commitment – I'm going into the Navy.'
So that's one issue, and eventually, he did go into the Navy.
But the other issue is, once he and Jan got on the road and toured with popular acts like Frankie Avalon, the Kalin Twins, and Sam Cooke, Arnie got a look at some really super talented musicians, and he felt like he didn't measure up. He said he just didn't have the drive and told me several times, he never regretted leaving the act.
BPE: How helpful were Joe Lubin, Lou Adler and Herb Alpert in the early years of Jan's career?
Moore: Well, Joe Lubin is really the catalyst for Jan's success. Jan and Arnie wanted to make an acetate disk of their self-made song Jennie Lee, which is just very basic two part harmony with Jan singing the bass parts and Arnie singing the lead. Well, they go to get an acetate made of it to play at parties – you know, to impress the girls and that type of thing – and encounter Joe Lubin, an A&R executive who ended up being a vice president of Marty Melcher's record company, Arwin records. Marty also had a publishing firm called Daywin Music.
BPE: Was Marty Melcher rock musician Terry Melcher's father?
Moore: Very much his father, and Doris Day's husband. And Joe Lubin ended up writing music for Doris Day's films.
To go back a little bit, Joe heard Jennie Lee when Jan was trying to get it made into an acetate, and he liked it. Joe was from England, and he had come over after World War II. He was looking for musicians to develop, so he created a label called Carmel records and started putting together these now super famous black musicians, like Earl Palmer, René Hall, and Plas Johnson. Joe was using these guys on records, and so when he heard Jan & Arnie, he goes, 'I'm gonna buy that record and put it together with these black musicians'.
And that's exactly what happened.
Joe made Jan and Arnie sign contracts to him that probably were not legal, but he wanted them to understand that he would be their manager. They ended up having to go to court under the Jackie Coogan law, because they were still teenagers. But so yeah, that's what happened with Jan and Arnie's garage tape. Joe made them re-record it to see exactly how they did it. They cobbled it back together and then Joe took that tape and put those really talented black musicians on it.
BPE: So that's Earl Palmer on the drums and Plas Johnson playing the sax on Jennie Lee?
Moore: Yes it is, and René Hall on guitar. Then Joe added some professional background singers, and that was Jan's introduction to the Hollywood music studio system. That lit the fire in Jan. He was already writing songs. Now he was learning about production from Joe Lubin, and from Ernie Freeman, who synced up the tapes to the studio people and did the arranging. Jan watched that very closely. He was fascinated by the process and eventually wanted to produce his music. And that's exactly what happened.
BPE: And then Lou Adler and Herb Alpert enter the picture?
Moore: Yep. Lou Adler and Herb Alpert got their start by working under "Bumps" Blackwell at Keen Records in the Culver City area. Bumps was one of the best producers in the industry. He worked with Little Richard. Bumps taught Herb and Lou how to evaluate talents; what makes a song right for a certain type of artist; that type of thing.
By that time, Arnie had moved on. Dean had always been around during the Jan & Arnie era, so Jan chose him to keep making music and to keep the act going.
Jan remembered seeing Lou Adler during that Jan & Arnie tour with Sam Cooke, and he wanted to meet him. So, one of his classmates – an ambitious guy named Kim Fowley – introduced them and said, "How about a blonde Everly Brothers?" Lou was like, "Well, okay, that sounds interesting," and so they met.
The thing about that is: Lou looked at Jan and Dean, and he was struck by their physical appearance – tall and blonde. They looked nothing like the popular teen artists of the era. You mostly have Italian guys from the northeast…
BPE: Frankie Avalon, Dion, Fabian…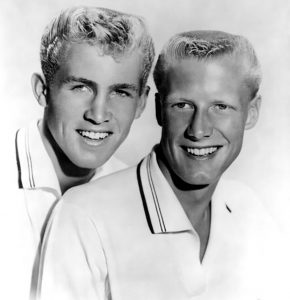 Moore: Right, and Jan and Dean are these tall, short-haired, West Coast looking guys. Just the look alone really intrigued Lou Adler. Then he heard that Jan and Dean had started working on some basic ideas that Jan had. Lou listened to that and thought, "Well, this is okay, but I want to look for other material. There might be other stuff that might be as good or even better for you." So Lou and his partner, Herb Alpert started looking for material, and Herb Alpert chose this song called Baby Talk. It had been released by an obscure New York group but wasn't a hit – just a regional thing. Herb chose that song, and Jan started working on it. Jan produced it in his garage in Bel Air. Then, Herb and Lou took it and matched it with pretty much the same musicians that were on the Jan & Arnie records. So that's how Baby Talk was released.
BPE: Where do The Beach Boys come into the story?
Moore: The Beach Boys come into the story in 1962. The Beach Boys were formed in '61 and had their initial release Surfin', which was a very big hit locally but only reached number 75 nationally. Jan & Dean were already famous – not only huge in the LA area – but big nationally. Jan & Dean were the headliners when the Beach Boys performed, and – being a duo without a self contained band – the Beach Boys would back them. It just progressed from there. Jan and Brian Wilson became friends. They wanted to work together, but it was really Lou Adler that pushed the idea of putting Jan Berry and Brian Wilson together as songwriters.
BPE: Did Lou see a natural connection with these "two tall blonde guys" and the burgeoning surf music scene?
Moore: Yes, that's the thing, because when Lou was struck by their appearance, he immediately understood that the surf scene was something that Jan and Dean actually lived. They were beach boys. Both liked to surf, and both were interested in cars and drag racing; Dean was especially interested in drag racing. It's not something that was just made up by songwriters. Drag racing was huge in Southern California. And surfing was huge in Southern California, from the Mexican border all the way up to Santa Barbara, and probably beyond. It was just a big thing that Jan & Dean and The Beach Boys took to a national audience.
BPE: Is it true Brian's father, Murry Wilson, flipped his lid over the Surf City collaboration?
Moore: Yeah, he did. He thought that Brian was giving away songs, but the thing is, he despised Lou Adler for putting Brian and Jan together as songwriters. First of all, Jan had wanted to record Surfin' and Surfin' Safari, after those records were hits for the Beach Boys. Jan wanted to put them on a Jan & Dean album. Brian loved that idea, because that helps Brian as a songwriter, and co-writer Mike Love as well. And Brian really admired Jan, because Jan already had the basics in record production and arranging music.
Jan was getting label credit as a music arranger for Jan & Dean's music – even before he became the producer – as part of his evolution as an artist. And he was getting label credits while Lou Adler was still in charge. But then gradually, in late '62, Jan took over. He signed major contracts with Nevins-Kirshner associates in New York, and then they were bought out by Screen Gems. So Jan was a staff songwriter and a staff record producer for a major production company nationwide. That was interesting to Brian, and it kind of blew his mind. Brian learned a lot from Jan's knowledge in the studio, while at same time Brian also influenced Jan as a songwriter and a vocal arranger. It was a great fit.
The thing is, when Surf City hit number one, it really angered Murry.
Murry Wilson was a blue collar guy who managed his sons and loved them, even if he was a little overbearing and kind of a strange guy. He viewed Jan & Dean as being part of the Hollywood system. He would tell whoever, "My boys aren't Hollywood – don't take them Hollywood."
Murry had the mistaken idea that Brian was giving up publishing because of Jan's deal with Screen Gems. But Brian also got a healthy songwriting royalty by working with Jan and having a hit record with Jan. You know, I think it was just Murry's insecurity, because the Beach Boys were doing very well with their original songs and their own publishing company: Sea of Tunes. They did not lose a step. And when Lou Adler decided to put Jan and Brian together as writers and pushed that idea, it was natural for Brian to dust off Surf City – a song he was never going to finish anyway.
BPE: Was Jan the one who turned Brian on to the idea of working with the studio musicians that drummer Hal Blaine called The Wrecking Crew?
Moore: I asked Brian about that recently, and Brian said yes: Jan was one of the catalysts for him working with The Wrecking Crew. You know, famously, Brian was influenced by Phil Spector's, "Be My Baby" and that whole thing. But here's the reality of it: Brian was never part of Phil Spector's inner circle.
Over the years Phil Spector has never shown anything but derision for Brian Wilson. And that's okay. Brian still loves the Wall of Sound and that whole production thing. But the truth is that Jan and Brian were actual personal friends, and Brian spent more time in the studio with Jan, watching him work, than he did with Spector. So Brian got to observe Jan working with the best musicians – The Wrecking Crew – and with the best recording engineers in Hollywood: "Bones" Howe and "Lanky" Linstrot. It really had a profound impact, and it helped Brian's growth as a record producer. Brian has said, "Watching Jan cut records was a righteous trip." And that's an exact quote. So, Brian and Jan really learned from each other. When Brian had his nervous breakdown, came off the road and started recording while the Beach Boys were out on tour, that's when he really started working with The Wrecking Crew.
BPE: I've read that Jan was back in the studio within a year or so after his accident, but I've always wondered if that is post-accident Jan singing on Carnival of Sound, or were those his vocals recorded prior to the wreck?
Moore: Jan did not sing on most of Carnival of Sound, but he co-wrote most of the songs, arranged all the music, and produced the album (with help). The vocals were recorded by studio singers after the accident, including Ron Hicklin, Glen Campbell, and others.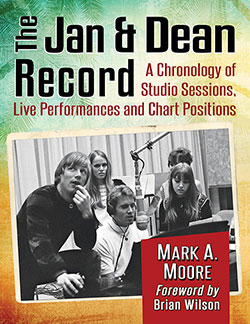 However, Jan did sing lead on one track, "Only A Boy." The only reason they included that ill-fitting song on the album was because Jan recorded the entire thing before the accident, and he tweaked it in the studio after the accident.
Moreover, Jan began producing some of the instrumental tracks used for Carnival of Sound before the accident.
Tracks with origins predating the accident include "Girl, You're Blowing My Mind," and the oldies "Louisiana Man," Stay," "In the Still of the Night"; and "Yakety Yak" (though "Yakety Yak" was not used for Carnival).
BPE: Were you able to speak with any surviving members of The Wrecking Crew, and if so, how do they remember Jan?
Moore: Yes. I spoke to Billy Strange, who was one of the well known guitarists in The Wrecking Crew. Billy told me that Jan was business-like in the studio. Very professional but also very demanding. Jan would do take after take after take, and things would get a little tense, but then he would do something to lighten the mood, and that's what Billy Strange remembers.
Of course, Hal Blaine – the most famous drummer of that whole era – was not only The Wrecking Crew drummer but also a close personal friend to Jan. They'd socialize together outside of work, so I had the most insight from him. Hal loved Jan like a brother, so I mean there's not much else to say. Beyond that, Hal said all the players really admired Jan's leadership and his ability to go to medical school and to produce the records. Hal was also a tremendous help to Jan. In addition to playing drums, Hal served as the contractor to get everybody together for the session. Jan would say, "I've got an idea. We're going to the studio; we need this, this and this person; we need this block of time, etc." and Hal was the guy who made it all happen. It was a tight relationship throughout his career.
BPE: Did any other Wrecking Crew members weigh in?
Moore: Guitarist Don Peake came to Jan & Dean kind of later in 65, but he was blown away by the studio dynamic – especially because Jan always had two drummers playing live in the studio.
BPE: Two drummers?
Moore: Yes – Hal Blaine and Earl Palmer. Of course Earl had played on all the early jazz and R&B stuff, so Earl was no stranger to how Jan operated. Having two drummers playing the same parts in unison was one of Jan's innovations as a record producer. Jan was influenced by Phil Spector and his dense, rich, reverb Wall of Sound, but when you hear Jan's instrumental tracks without the vocalist, it's just this really tighter, cleaner sound. That's really what Don Peake remembered.
Mike Deasy played on Carnival of Sound, and that was after the accident. Oh, and bassist Carol Kaye played on a lot of famous hit records. Like everybody else, she just marveled at Jan going to medical school while also producing records and said Jan had "heavy musical ideas." I mean, she thought the music had value.
Another thing about these Wrecking Crew musicians – if you think about the dynamics of playing in the studio – is they never heard what the record was gonna sound like with the vocals, because they didn't play with the vocalists. All the instrumental tracks were recorded first, then the vocals were added later. The musicians were just playing parts based on charts that Jan had given them. Every part – the bass line, the guitars, the piano – were written out note for note. All these charts that I'm talking about still exist today, and when you examine them, you see they're exactly what's on the record.
BPE: We've talked about some of the various musicians, the producers and Arnie Ginsburg. How does Dean remember Jan?
Moore: Well, Dean Torrence remembers Jan both positively and negatively. They had good times and tough times together. Jan was the controller of everything, and it's sad to say it, but in many ways Dean was treated like a second class citizen. Jan ran the show, and because Jan was the one signed to Screen Gems as a songwriter and record producer (two separate contracts), it was not an equal partnership money-wise. Jan and Dean shared the artists contract 50/50, but Jan's Screen Gems contract was so lucrative that he got paid to produce Jan & Dean records, even if the songs weren't hits.
The hits Jan produced for Jan & Dean obviously speak for themselves, but Jan also produced records for other artists at other labels under the Screen Gems umbrella. Jan made big bucks, whether they had a hit or not, so there was resentment there, too. Add to that, Jan not only made all the decisions about the material they were gonna do or the tours they'd take, but he was kind of heavy handed about it.
Jan would say, "My way," and he could back it up, so he was really in control of the act.
Today, Dean says everything was fine and he was just along for the ride so he'd have money to buy a new Sting Ray. But if you look at Dean's public comments over the years, you can track his resentment. That's the nature of their relationship, so it's interesting how, after the car accident, the tables got turned. Jan is not himself anymore, and Dean becomes the business operator. He's the guy booking the tours; he's the guy making the decisions. So Jan got to feel what it was like to not be in control and to be told what to do. It's an interesting dichotomy.
BPE: Given Jan's rapid rise and mercurial nature, do you think the car crash was inevitable?
Moore: Well you would think so, because you can look at his record. The fact is he was a reckless driver, and this is attested to by "Bones" Howe. Jan had numerous fender benders before the big one; and parking tickets? Juggling his music commitments with college and medical school, Jan would just park his Sting Ray wherever he wanted to park – regardless of whether it was a designated space or not. He would amass all these parking tickets, and sometimes his car would get towed, but he happily paid the fines. He didn't care. He just did what was convenient for him.
It was the same when Jan got into the studio. He'd be like, "I know I booked the studio for two hours, but I'm not quite finished yet." And he would stay over, and that would back up people that were waiting their turn. Jan could get away with that stuff. He had made so much money for Liberty records and for Screen Gems that he was able to manipulate the system and get by. If he held the engineers over, he would have to pay them overtime, which he gladly did. The money came out of the J&D royalties, which hurt Dean here. He just wanted to pay whatever it cost to get the record done his way. "Here's how it's gonna be," you know?
BPE: Getting back to the car accident, do you think that served as a metaphor for what was going on in Jan's life?
Moore: Yeah, it might have been because the reckless driving is one aspect of it. But he was also taking pills – legal pills – just to stay awake. He was just stretched so thin, because of the demands of songwriting, the recording studio, and his medical schooling. In addition, Jan & Dean had also gotten their own television series, called On the Run. Filming that thing started in late '65 with the premier set for 1966. Oh, and he'd lost the love of his life (Jill Gibson) by screwing around on her. So, when you put it all together, that's not a sustainable world there. His closest colleagues said, "You know, he's been in so many accidents; who would ever thought that one would hurt him?" But at the same time, they said, "Yeah, you really could see that this was something that was brewing."
BPE: What surprised you the most in researching this book?
Moore: Well, I think the thing that surprised me most was just the fact that it's all true. I mean, "Bones" Howe said to me all the folklore about Jan really did happen.
It's not exaggeration to say that Jan had the intellect to do it all. You know, that's that's thing. There's plenty of documentation from Screen Gems, and it's all written out in black and white.
That was a really surprising thing to me.
Dean will tell you that they didn't tour much in the early days, because they were both in college, but that's not true. I mean, it's not like they went on these major tours, but they played a lot of gigs outside of California and made appearances all around the country, all during the year. It wasn't on the same level as the Beach Boys, who didn't have any gig aside from the music and could go to Australia. But Jan & Dean really were a rock 'n' roll act who played for a lot of people.
BPE: Why aren't Jan & Dean in the Rock and Roll Hall of Fame?
Moore: Well, that's a question that's been asked a lot, and there are a lot of theories, too. Dean says it's because they didn't take music seriously; that there is a tongue-in-cheek aspect to the songs they created. I just think that if Jan's story had been told from the beginning – meaning from right after the accident – that things might be a little bit different.
You set aside Jan's relationship with Dean, and understand his working relationships as a songwriter and producer, then Jan & Dean might be viewed a little bit differently. They're never going to be viewed like the Beach Boys or the Beatles – they're not at that level. But they were a very successful rock'n'roll act. Jan & Dean – or say specifically Jan with Jan & Arnie – already had their first top 10 record barely three years after the moniker Rock'n'Roll was coined. They had a lot more hit records than many people that are already in the Hall of Fame, so you can make all kinds of arguments there. I just think it comes down to the way they've been portrayed over the years. It's not an accurate picture and I think that's a big contributing factor.
BPE: Do you think another, more accurate, movie about their lives will ever be made?
Moore: I hope so. I mean, I want to see a multi-part streaming series based on my book. That fictionalized 1978 TV movie really was a major rating success; kinda like a 33 share. It really was the impetus for Jan & Dean returning to the road as a nostalgic touring act. There are so many great things about that movie that are rooted in the actual history, but also so many things wrong with it that you think, 'Wow, if that fictionalized film was so successful, what would it be like if we really told the actual story today on screen?'
That would be amazing.
© Copyright 2021 Baltimore Post-Examiner. All Rights Reserved

Anthony C. Hayes is an actor, author, raconteur, rapscallion and bon vivant. A one-time newsboy for the Evening Sun and professional presence at the Washington Herald, Tony's poetry, photography, humor, and prose have also been featured in Smile, Hon, You're in Baltimore!, Destination Maryland, Magic Octopus Magazine, Los Angeles Post-Examiner, Voice of Baltimore, SmartCEO, Alvarez Fiction, and Tales of Blood and Roses. If you notice that his work has been purloined, please let him know. As the Good Book says, "Thou shalt not steal."